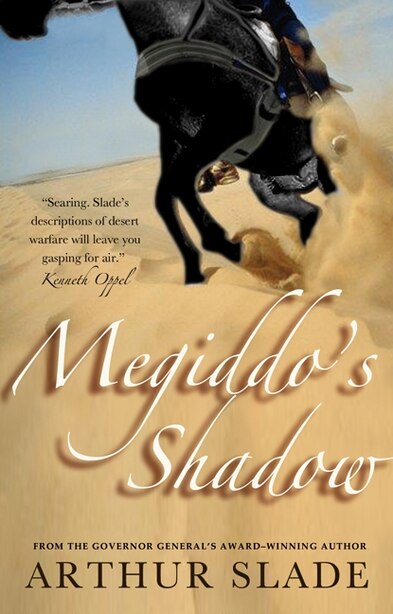 Prices and offers may vary in store
Arthur Hercules Slade, whose British cavalry regiment fought in Palestine against the Turks in World War I, was once asked, "What was it like to be in the war?" He answered, "I was everywhere that Jesus was, but I couldn''t find him anywhere." Fascinated by the idea of his grandfather charging enemy machine guns with asabre in one hand and his horse''s reins in the other, bestselling author Arthur Slade has created a tale of a teenager who finds the true face of war behind the shinyveneer of patriotism, honour and duty.
Megiddo''s Shadow is the story ofEdward Bathe, a 16-year-old prairie farm boy who, giddy with the romantic ideals of war and desperate to fight the Huns in France, enlists in 1917. To his disappointment, he is assigned to a horse- training regiment, where the only consolation is Buke, his horse, and Emily, the pretty young nurse he befriends. But when he is sent to fight the Turks in Palestine, Edward learns that what he thought he knew about right and wrong, about heroism and courage, and about God and country, no longer holds true.
Much more than a powerful and shockingly realistic work of historical fiction, Megiddo''s Shadow is a poignanttestament to the terrible legacy of war, seen through the eyes of a character with whom readers will instantly connect. An intelligent, provocative and breathtaking read, Megiddo''s Shadow affirms Arthur Slade as a literary superstar.
Title:
Megiddo's Shadow
Format:
Paperback
Product dimensions:
304 pages, 8.25 X 5.5 X 0.75 in
Shipping dimensions:
304 pages, 8.25 X 5.5 X 0.75 in
Published:
October 16, 2006
Publisher:
HarperCollins
Language:
English
The following ISBNs are associated with this title:
ISBN - 10:0006395686
ISBN - 13:9780006395683
Look for similar items by category: