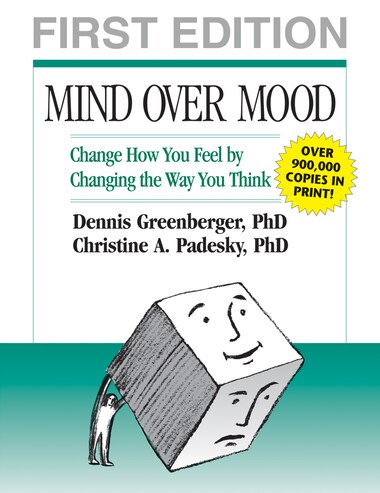 Mind Over Mood: Change How You Feel by Changing the Way You Think
Paperback

|

March 15, 1995
Pricing and Purchase Info
$34.50
Prices and offers may vary in store
Developed by two master clinicians with extensive experience in cognitive therapy treatment and training, this popular workbook shows readers how to improve their lives using cognitive therapy. The book is designed to be used alone or in conjunction with professional treatment. Step-by-step worksheets teach specific skills that have helped hundreds of thousands people conquer depression, panic attacks, anxiety, anger, guilt, shame, low self-esteem, eating disorders, substance abuse and relationship problems. Readers learn to use mood questionnaires to identify, rate, and track changes in feelings; change the thoughts that contribute to problems; follow step-by-step strategies to improve moods; and take action to improve daily living and relationships. The book''s large-size format facilitates reading and writing ease.

Association for Behavioral and Cognitive Therapies (ABCT) Self-Help Book of Merit

Title:
Mind Over Mood: Change How You Feel by Changing the Way You Think
Format:
Paperback
Dimensions:
243 pages, 11 X 8.5 X 0.68 in
Published:
March 15, 1995
Publisher:
Guilford Publications
Language:
English
The following ISBNs are associated with this title:
ISBN - 10:0898621283
ISBN - 13:9780898621280
Look for similar items by category:
Preview Your Review
Your Review Has Been Submitted
NO, I do not recommend this product.
Educational/Developmental Value:
Thank you. Your review has been submitted and will appear here shortly.
Table of Contents
Foreword
Prologue
1. Understanding Your Problems
2. It''s the Thought That Counts
3. Identifying and Rating Moods
4. Situations, Moods, and Thoughts
5. Automatic Thoughts
6. Where''s the Evidence?
7. Alternative or Balanced Thinking
8. Experiments and Action Plans
9. Assumptions and Core Beliefs
10. Understanding Depression
11. Understanding Anxiety
12. Understanding Anger, Guilt and Shame
Epilogue
Appendix A Worksheets

From Our Editors
Ideal for client assignment, this treatment manual draws on the authors' extensive experience as clinicians and teachers of cognitive therapy to help clients successfully understand and improve their moods, alter their behavior, and enhance their relationships
Editorial Reviews
"What are you struggling with in your life? What patterns in thinking have held you trapped over the years? How can you develop and automatize a new way of seeing things that helps get you out of ruts you have maintained over the years? Drs. Padesky and Greenberger give you practice in learning how to make sense of your moods, to identify your own irrational thinking and to base your thinking fully on facts. They even give you a means to challenge old thinking patterns that you developed as a child. I saw Dr. Padesky demonstrate these skills at a cognitive therapy conference. I walked away very impressed with her warm, sincere, knowledgeable, creative and rational approach to helping people change. I am delighted to recommend this workbook."--Ellen Kenner, PhD, clinical psychologist and host of The "RATIONAL" Basis of Happiness, a nationally syndicated radio talk show. "I believe it is already reducing the number of distorted automatic thoughts that I have throughout my day. As a result I''m seeing myself become "less" afraid and "less" withdrawn. (The) Thought Records have helped to diffuse my overwhelmingly hot thoughts and have helped me feel a sense of control. Just writing it all down gives me a sense of it being ''emptied out of me'' and released. It gave me concrete tools to use to trace my own thinking and arrive at more balanced thinking. It has given me a belief that my past doesn''t have to "control" my present and my future. It''s given me a sense of inner healing. All of the worksheets have been the key for me--concrete. They also add to the sense of progress when looking back over them and pointing out blaring themes." --from a patient who used the book "Cognitivetherapy is the wave of the future and Greenberger and Padesky are riding the crest. "Mind Over Mood" offers deceptively simple but powerful and sophisticated strategies for coping with depressed and anxious moods and interpersonal difficulties. This is a book for hands-on'' use; it provides step-by-step descriptions of strategies that have been shown in controlled outcome studies to be effective. "Mind Over Mood" makes an outstanding contribution; I recommend it without reservation." --Jacqueline B. Persons, PhD, Center for Cognitive Therapy, Oakland, California "My cognitive appraisal of "Mind Over Mood" is that it is clearly written, solidly grounded in research, and truly helpful. Readers will get more than a pep talk; they will get the information, skills, and practice they need to change self-defeating thoughts into self-enhancing ones." --Carol Tavris, PhD, author of "Anger: The Misunderstood Emotion" "This is an excellent manual for clients in cognitive therapy. The authors have distilled the essence of Beck''s insights into clear, nontechnical language, and the book is filled with practical examples of how thinking and feeling are related. Structured assignments and worksheets help readers apply the principles of cognitive therapy in their own lives. This is a valuable book for clients and therapists alike. I recommend it highly." --Michael J. Mahoney, PhD, University of North Texas "I spent many years in and out of therapy battling depression. "Mind Over Mood" gave me the tools I needed to climb out of my black moods. One year later I am still depression-free and empowered by the knowledge that I have the tools to defeat it should it return." --K. D., California"Depression left me searching desperately for ways to help myself, calm my anxiety and regain my lost self-esteem. This workbook was a constant companion during the months of recovery, as it empowered me to actively participate in the process, rather than wait passively for my next therapy session with expectations that the doctor alone would ''fix'' me up. Especially useful were the activity records, which forced me to track my daily activities, rate their effect on my mood and then analyze thoughts that contributed to my various moods. This workbook served me well as a problem solving tool. I literally didn''t leave home without it." --Suzanne S., client. "I spent many years in and out of therapy battling depression. When my therapist recommended a workbook, "Mind Over Mood," I was, at first, very skeptical but the book was clear and easy to follow. I read it cover to cover. I did the exercises. They gave me the tools I needed to climb out of my black moods. One year later I am still depression free and empowered by the knowledge that I have the tools to defeat it should it return." --K.D., client "I believe it is already reducing the number of distorted automatic thoughts that I have throughout my day. As a result, I''m seeing myself become less afraid and less withdrawn. Thought Records have helped diffuse my overwhelming hot thoughts and have helped me feel a sense of control. Just writing it all down gives me a sense of it being ''emptied out of me'' and release. It have me concrete tools to use to trace my own thinking and arrive at more balanced thinking. It has given me a belief that my past doen''t have to control my present and my future. It''s given me a sense of innerhealing. All the worksheets have been key for me -- concrete. They all add to the sense of progress when looking back over them and point out blaring themes." --M.P., client "Prior to using the thought record, I had a lot of free-floating anxiety and panic. Since using the thought record, I have found that the act of writing out my moods and thoughts in a step by step process have given me greater understanding and acceptance. by the end of the process, my moods usually have changed to a more balanced and positive outlook." --G.D., client "I''ve been in Cognitive Therapy for five months now and was introduced to "Mind Over Mood" after about three and one half months. I didn''t really know what to expect from this manual but I knew I''d try anything to make me feel better. I can tell you honestly, after reading the first three chapters my initial thought was I wish I had it from day one. If I have to identify my sources of depression, it would be: lack of self-esteem, self hatred, personal disappointments in my life, the death of my sister, my spouse''s loss of employment and currently dealing with ''Empty Nest Syndrome.'' This manual has helped me to follow up after my therapy session. I use it as an aide when I''m thinking about my relationships and other aspects of my life. even after five months of therapy I tend to blame myself for situations I view as going badly (i.e., a woman I supervise at work gave her two weeks notice. I immediately blamed myself for her leaving). This manual helped me to sort out the negative assumptions. I wrote down what evidence I had to support the assumptions, then used the chapter on Alternative or Balanced Thoughts to rationalize she was leaving forher own reasons. I found myself identifying with each of the people portrayed in the case studies. This made it easier to complete the exercises. My therapy sessions alone didn''t always force me to put action plans to the test, but with the help of my therapist and this manual, I''m learning the skills needed to make my life better and more productive." --Q.R., client ""Mind Over Mood" is an eye opener! For the first time I understood what I was going through, what caused it and what I could do about it. It was helpful for me and helped my family understand what I was going through and why I responded the way I did." --Client "Since I have read "Mind Over Mood," I find myself identifying and changing my thoughts in different aspects of my life...parenting, marriage and work related situations. I am able to identify my feelings and work out solutions before stress, anxiety or depression occur. I am able to approach conflicts in a methodical manner and get positive resolutions. "Mind Over Mood" is always with me. I have one copy in the car and one in the house. "Mind Over Mood" has taught me how to change my mood by changing my mind." --Client "For me, a person currently working on conquering depression, panic attacks and anxiety," Mind Over Mood" has, in simple language, helped me understand their meaning and cause. Through the use of" Mind Over Mood" I am moving towards healing these disorders." --Client "I have found the techniques set forth in "Mind Over Mood" the most effective I have known in reducing and eliminating anxiety." --Client "Written by two exceptionally skilled therapists, this book can help you change your life. Cognitive therapy has been shown to bean effective treatment for a wide range of emotional problems including depression, anxiety, panic, and anger. The careful step-by-step exercises in the book will show you how to use cognitive therapy to understand and overcome your mood problems." --David M. Clark, DPhil, Department of Psychiatry, Oxford University "Alcoholics and addicts in their first year of sobriety often struggle with managing rapidly changing moods. Failure at this task predicts relapse. This text provides a step by step process to help alcoholics and addicts understand these mood shifts and, more importantly, to develop skills to intervene in self-destructive thought processes. It is a simple, easy to use handbook invaluable to recovering people and the therapists who work with them." --Nancy Waite-O''Brien, PhD, Clinical Director, Betty Ford Center at Eisenhower