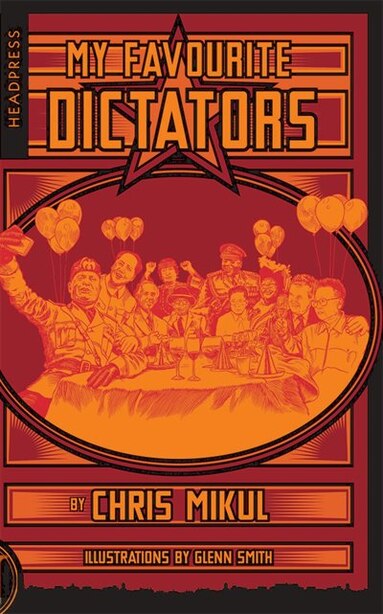 My Favourite Dictators: The Strange Lives of Tyrants
Paperback

|

July 21, 2020
Pricing and Purchase Info
$33.95
Prices and offers may vary in store
Dictators may be among the worst people in history, but that doesn''t mean we shouldn''t laugh at them. In My Favourite Dictators, Chris Mikul tells the stories of eleven of the twentieth century''s most colourful and reviled human beings, including Benito Mussolini, Mao Zedong, Muammar Gaddafi, Idi Amin, Saddam Hussein and Kim Jong-il. In each case, he examines the political backgrounds to their rise to power and eventual downfall, but the focus here is on the personalities, peculiarities and private lives of these very strange men. You''ll be amazed and appalled by their effortless cruelties, voracious sexual appetites, absurd personality cults, ostentatious uniforms, promotion of dreadful art and pretensions to being great writers - not to mention their terrible taste in interior decoration.
Title:
My Favourite Dictators: The Strange Lives of Tyrants
Format:
Paperback
Product dimensions:
330 pages, 8 X 5 X 0.75 in
Shipping dimensions:
330 pages, 8 X 5 X 0.75 in
Published:
July 21, 2020
Publisher:
Headpress
Language:
English
The following ISBNs are associated with this title:
ISBN - 10:190939470X
ISBN - 13:9781909394704
Look for similar items by category:
Preview Your Review
Your Review Has Been Submitted
NO, I do not recommend this product.
Educational/Developmental Value:
Thank you. Your review has been submitted and will appear here shortly.
Read from the Book
The gold-plated statue of Saparmurat Niyazov, arms raised to the sky and a billowing flag behind him, was 39 feet (12 metres) tall. It stood atop a huge, rocket-like structure with three arched legs at its base, in the centre of Ashgabat, the capital of Turkmenistan. By night the statue was floodlit, by day it revolved imperceptibly so that it always faced the sun. The statue was the most visible symbol of the rule of Niyazov, dictator of the oil-rich, former Soviet republic from the early 1990s to his death in 2006. Originally appointed the republic''s leader by Mikhail Gorbachev in 1985, he jettisoned communism as soon the country gained independence, embraced nationalism and adopted the title of Turkmenbashi - ''Father of all Turkmen''. There followed a flood of edicts as Niyazov reshaped the tiny country in his image. He renamed the months of January and April after himself and his mother. He banned car radios, smoking, lip-syncing to songs, opera, circuses and beards on young men. He had ten thousand statues of himself erected around the country, explaining "I''m personally against seeing my pictures and statues in the streets, but it''s what the people want." And he poured all his wisdom into a quasi-religious book, the Ruhnama (''Book of the Spirit''). Everyone in the country was expected to study the book - Niyazov declared that reading it three times would guarantee you a place in heaven - and questions about it were asked during driving tests. Even more worryingly, when Niyazov developed a hatred of doctors towards the end of his rule and dismissed thousands of them, the Ruhmana supplanted medical textbooks throughout the country. In his youth, Niyazov studied to be an electrical engineer. Had he remained an electrical engineer, he may very well have led a totally unremarkable life. But becoming a dictator does peculiar things to people. We have the word ''dictator'' from the ancient Romans. It originally signified a magistrate who, during a time of crisis and for a limited time (no more than six months), was given absolute authority over his fellow magistrates to lay down the law. So, if there was some terrible portent like a comet in the sky, a dictator would order the appropriate religious rituals; and during a period of civil unrest, he would do what was necessary to reimpose order. The term fell into disuse for around a century, but was revived by the general Lucius Cornelius Sulla when he and his army seized control of Rome in 82 BC. [...]
Editorial Reviews
"A fantastic reminder of the variety of human behavior" -Paul Sieveking, Fortean Times