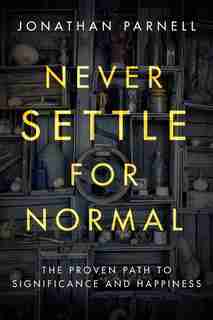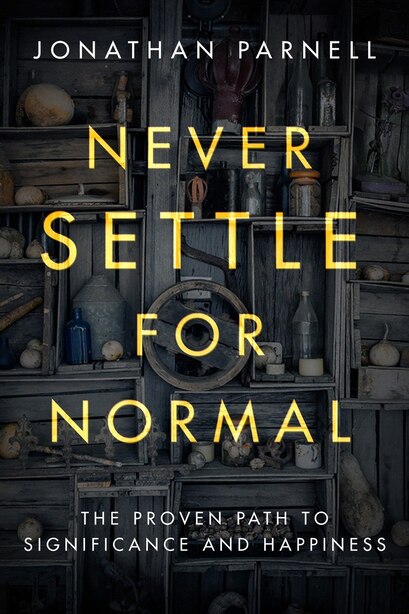 Never Settle For Normal: The Proven Path To Significance And Happiness
Paperback

|

July 18, 2017
Pricing and Purchase Info
$19.99
Prices and offers may vary in store
Discover the personal meaning and gladness you hunger for—without settling for normal!

Every human wants to matter and be happy, which is as it should be. God made us to resemble and reflect His worth as we enjoy our true identity in Him.
 
But we too often swap that calling for the trifles of this world, pursuing cheap substitutes to fill the craving of our souls. As Jonathan Parnell puts it, we settle for "stupid normal" over the transcendent, even though this world can never satisfy our hopes and dreams.
 
In Never Settle for Normal Jonathan speaks to the heart of both skeptics and searchers by addressing their deepest longings. With insight and passion, he examines the key tenets of Christian faith—creation, fall, redemption, new creation—and reveals the life-changing glory of the Christian story in a fresh, new light.
Title:
Never Settle For Normal: The Proven Path To Significance And Happiness
Format:
Paperback
Product dimensions:
160 pages, 7.98 X 5.16 X 0.45 in
Shipping dimensions:
160 pages, 7.98 X 5.16 X 0.45 in
Published:
July 18, 2017
Publisher:
The Crown Publishing Group
Language:
English
The following ISBNs are associated with this title:
ISBN - 10:1601429061
ISBN - 13:9781601429063
Look for similar items by category:
Preview Your Review
Your Review Has Been Submitted
NO, I do not recommend this product.
Educational/Developmental Value:
Thank you. Your review has been submitted and will appear here shortly.
Read from the Book
Though you have not seen him, you love him. Though you do not now see him, you believe in him and rejoice with joy that is inexpressible and filled  with glory. —1 Peter 1:81.THE STUPID NORMAL And I don''t want a never ending lifeI just want to be alive while I''m here.-"Spirits," The StrumbellasThere is nothing necessarily wrong with normal. It all depends on how you're using the word.A lot of times normal is good for you, like that garbage bag that needs to be taken out—the one with the little hole in the bottom that leaks a trail of some unidentified substance from the kitchen to the front door and demands an extra five minutes to retrace your steps on hands and knees with a paper towel.Normal like that is an everyday sacrament meant to train humble hearts and level heads. That's why it's good for us to put on our socks one at a time, scrub the frying pan with a sponge, and stand in line for an hour just to buy a sheet of stamps so we can mail out our Christmas cards. This book is not about turning your nose up at menial things.We need menial things.Instead, this book is about not settling for the normal that has become our cultural mind-set. I'm talking about the kind of normal that pretends God doesn't exist, that casts a vision of life devoid of ultimate reality and then acts like we're better off that way.I'm not talking about your nine-to-fivejob that feels boring. God bless your boring job—and I think most books that would tell you anything different are a sham. So I want to be clear from the start.You're not going to find in these pages a message that runs with the whole "find your inner champion" glibness. You don't have an inner champion. You have an inner brokenness that desperately needs to be healed by Jesus. All of us, including me, are sinners who have bought into the lies around us, at least at some level. And if we're really honest, we've likely fallen for them hook, line, and sinker. That's because the lies are so many and so common that we don't recognize them as lies. They've become too normal. It's what I like to call "the stupid normal."LIFE IS LIKE [A CUP OF HOT] CHOCOLATEI first heard my daughter Hannah use this phrase when she was four. It was a cold Minnesota night as we were getting ready to leave our local YMCA. Hannah was standing beside her brother and sister as they waited patiently for our van to warm up in the parking lot, which is the sort of thing you do in Minnesota. The kids had been so compliant the whole evening that I promised them each a cup of hot chocolate when we got home. Hannah, however, was not impressed by my reward, so she tried to sweeten the deal."Can we get it at Ana's house?" she asked.Ana was our girls' best friend who lived a couple of doors down. We had sipped hot chocolate with her and her family several times to wrap up afternoons of winter sledding, but on this particular night we just didn't have time."No," I replied smiling, "we're going to drink it at our house tonight."And that's when she said it, with the unforgettable face of unfiltered disappointment. "But we just have the stupid normal!"Now, my four-year-oldwas not a hot chocolate connoisseur. She had no extensive research on which to base her claim that the hot chocolate I made was somehow inferior to others'. In that moment she just knew that the hot chocolate she drank at Ana's was better than the stuff I made at home. Maybe it was the whole experience itself, maybe the company, maybe some extra marshmallows —I don't really know. But for whatever reason, my hot chocolate just wasn't the same. She knew there was something missing. She knew there could be something more. According to her assessment, our house just had the stupid normal.And too often, that's what many of us would say about our lives.If we were to sit back and consider our everyday routines compared to the depths of reality—the depths we've at least heard to be true—a lot of us might look as disappointed as my daughter. Even if we know the right things to say, we're rarely satisfied by how this knowledge contributes to the way we live. The grind of this life can get so monotonous. The labor never pays off the way we imagine it will. The vacations never deliver what we hope for. Even our most anticipated joys fizzle, leaving only fractured memories.Is this it? Is this all there is? Something has to be missing. Surely there is something more.We all wonder those things sometimes, even those of us who consider ourselves Christians.We think about the bigness of this planet: all this life, all this action, all these sunrises. And then we take a look at the stack of trifles we've been buying into from this world: the ads that define the essence of joy, the pop lyrics that determine our value system, the magazine covers that set our standard for beauty. Not to mention the "calculated barrenness" being shoved down our throats.1 It doesn't take much reflection to realize that all this air we've been breathing is a smog of lies. We've been running after something deep, but we're not even scraping the surface. The psalmist tells us it's the fool who says there is no God (see Psalm 14:1), and yet that's the anthem we've all learned to sing. It has become normal. That's why I call it "the stupid normal."THIS WORLD IN WHICH WE LIVEYou shouldn't feel strange if you've felt disappointed about these things. Instead, you should feel strange if you have not.This is the issue at the center of the human experience.It's the issue our ancestors dealt with before us, and it's the issue especially worth dealing with today since we live in such a secular age— an age that has "progressed" beyond the need for genuine faith, or so it seems.We now live in this moment of history in which our everyday existence plays out in what one philosopher has called "the immanent frame."2"No," I replied smiling, "we're going to drink it at our house tonight."   And that's when she said it, with the unforgettable face of unfiltered disappointment. "But we just have the stupid normal!"   Now, my four-year-old was not a hot chocolate connoisseur. She had no extensive research on which to base her claim that the hot chocolate I made was somehow inferior to others'. In that moment she just knew that the hot chocolate she drank at Ana's was better than the stuff I made at home. Maybe it was the whole experience itself, maybe the company, maybe some extra marshmallows—I don't really know. But for whatever reason, my hot chocolate just wasn't the same. She knew there was something missing. She knew there could be something more. According to her assessment, our house just had the stupid normal.   And too often, that's what many of us would say about our lives.   If we were to sit back and consider our everyday routines compared to the depths of reality—the depths we've at least heard to be true—a lot of us might look as disappointed as my daughter. Even if we know the right things to say, we're rarely satisfied by how this knowledge contributes to the way we live. The grind of this life can get so monotonous. The labor never pays off the way we imagine it will. The vacations never deliver what we hope for. Even our most anticipated joys fizzle, leaving only fractured memories.   Is this it? Is this all there is? Something has to be missing. Surely there is something more.   We all wonder those things sometimes, even those of us who consider ourselves Christians.   We think about the bigness of this planet: all this life, all this action, all these sunrises. And then we take a look at the stack of trifles we've been buying into from this world: the ads that define the essence of joy, the pop lyrics that determine our value system, the magazine covers that set our standard for beauty. Not to mention the "calculated barrenness" being shoved down our throats.1 It doesn't take much reflection to realize that all this air we've been breathing is a smog of lies. We've been running after something deep, but we're not even scraping the surface. The psalmist tells us it's the fool who says there is no God (see Psalm 14:1), and yet that's the anthem we've all learned to sing. It has become normal. That's why I call it "the stupid normal."   But as much as I disagree with this philosophy, I'm really not writing this book to bad-mouth the world. Enough people have done that and could do it for years to come, so I'm trying to not go there. At the same time, I'm also not writing this book to explain how we can change the world, at least not overtly in some concerted, high-adrenaline kind of way. You certainly can change the world, but it won't come by the clichés we see printed on T-shirts. My goal in this book is to help us live in this world. That's because this world, after all, is the world in which we live. That's how G. K. Chesterton navigated the waters of pessimism and optimism about the world in his day. He simply called himself a "cosmic
Editorial Reviews
"Never Settle for Normal may be the key to help you doubt your doubting of God, because the god you are doubting might not be the real God. And if you lose reality while turning from the imaginary, you lose everything. You long for happiness and significance. Jonathan Parnell makes a compelling case that the whole history of the world exists to show you where this is found. This book is a journey from eternity to eternity. You may find what you are longing for not in a collection of ideas organized around themes but in a kind of earthy itinerary from creation to the end of the world. I hope so." —John Piper, founder and teacher at desiringGod.org and chancellor of Bethlehem College and Seminary, Minneapolis"Jonathan Parnell shares astounding truth, making what it means to be a Christian understandable for any reader—from the wanderer to the veteran in the faith. Never Settle for Normal is a helpful primer and tool for anyone exploring Christianity."—Trillia Newbell, author of Enjoy, Fear and Faith, and United"Jonathan Parnell has written an engaging book about our relentless quest for satisfaction that takes us down thousands of culs-de-sac and dead-end streets—until we follow Jesus. It's refreshing to read about God as a happy, loving Father in a book that doesn't minimize his wrath against sin. Never Settle for Normal shows sin for what it is and does, exalts Christ, and powerfully portrays his violent rescue of his people." —Randy Alcorn, author of Heaven, Happiness, Truth, The Treasure Principle, and other books"In moments of true awareness we look around at one another and this world and we know. Deep in our soul we know there is more than what we can see with our eyes. Proverbs tells us to get wisdom and insight; there is no quest as noble as this. The stakes are high and we need real help for the journey. Parnell's book is a trustworthy guide for all who are seeking God or any who are unsure where to begin." —Gloria Furman, author of Glimpses of Grace and Alive in Him"Most people I meet have a gap between the life they live currently and the life they believe they were born to live. The frustration that comes from wanting to live a life that matters, while seemingly never getting there, can be maddening. The way to bridge that gap is through the way, truth, and life—Jesus. Jonathan Parnell has written a captivating book to help show this reality. Read it, embrace it, and share it with someone you know who is searching for more." —Alvin L. Reid, senior professor of Evangelism and Student Ministry and Bailey Smith Chair of Evangelism at Southeastern Baptist Theological Seminary"Never Settle for Normal is a great help to anyone seeking more than this life offers. I'd encourage believers to read this book and take careful note of the clear way Parnell teaches biblical truth. Then buy a few copies to give away to skeptical or curious neighbors and friends."—The Gospel Coalition