Ouija Board: Me,The Ouija Board and My Ancient Friend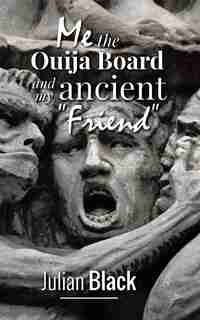 Buy In Store
Prices and offers may vary in store
This is a story about a young man who lives alone and the lives life of isolation and fear of himself and the world around him. He cannot find peace and contentment in his life something he craves yet fear's at the same time. Out of the blue while cleaning his attic he comes across a Ouija board something he instinctively associates with evil but a board he is fascinated at the same time.
Through the Ouija board he contacts "people" and a world he becomes to have to no control over as his body becomes possessed by something or somebody he thinks is a "friend".
Very strange and disturbing and paranormal things start happening to the young man as his communication with the Ouija board gets far more intense and he gets taken into a world he has no control over and finds he is helpless to stop his body being over and used to commit evil acts towards his gay community.
He has to find a way to save his own soul by coming face to face with evil itself and asking God to save his soul from the very claws of the evil.
Title:
Ouija Board: Me,The Ouija Board and My Ancient Friend
Format:
Paperback
Product dimensions:
46 pages, 8 X 5 X 0.11 in
Shipping dimensions:
46 pages, 8 X 5 X 0.11 in
Published:
2 avril 2019
Publisher:
Matchstick Literary
Language:
English
The following ISBNs are associated with this title:
ISBN - 10:1645500128
ISBN - 13:9781645500124
Look for similar items by category: