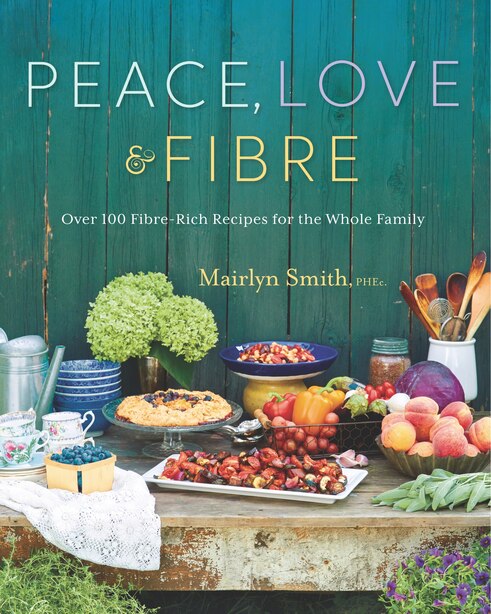 Peace, Love And Fibre: Over 100 Fibre-rich Recipes For The Whole Family
Paperback

|

May 7, 2019
Pricing and Purchase Info
$29.95
Prices and offers may vary in store
"Mairlyn Smith''s hilarious approach to all foods nutritious and fibre-filled has made her a daytime television favourite. We live for her tasty recipes, her easy-to-digest prep advice, and, of course, her ability to never take herself too seriously." --Tracy Moore, host of Cityline

The world''s funniest professional home economist and self-appointed Queen of Fibre is back with a beautiful cookbook and a guide to healthy living!

Mairlyn Smith, media personality, professional home economist, and author of six bestselling cookbooks, has made it her mission to bring healthy living and flavourful, fibre-rich eating to the masses. But, living healthfully isn''t only about the food--it''s about your whole approach to life, from how much you exercise to how you cope with stress and the types of people you surround yourself with. And it''s because of Mairlyn''s belief in the overall power of mind, body, and
spirit that her personal motto is "peace, love, and fibre." She invites peace into her life through quiet moments in nature and a practice of gratitude; love comes from family, friends, and a fulfi lling career. As for fibre? Well, Mairlyn and fibre go way back. In fact, Mairlyn believes that in order to be on top of your game, you absolutely must have a fibre-rich diet.

In her newest cookbook, Mairlyn breaks down exactly what fibre is, and why it is such an important part of a healthy life. In Fibre 101 or How to Get an A+ on Your Colonoscopy, Mairlyn covers all the basics, using her trademark sense of humour and enthusiasm. You''ll learn how fibre positively affects your blood sugar levels and gut health, and how it reduces the risk of certain types of cancer. Then, Mairlyn will teach you exactly how to create a more balanced, fibre-rich diet, without going overboard. Moving into the recipes, you''ll find a mouthwatering assortment of choices for every meal and occasion, with dishes such as Pumpkin Spice Griddle Cakes, Cheddar Cheese Mini Dinner Biscuits, Lentil & Wheat Berry Salad with Strawberries & Mint, Slow-Cooker Pulled Pork, Chicken & Chickpea Curry, and even desserts like Chocolate Fudge Cake!

Each recipe has full nutritional breakdowns and helpful icons to highlight the vegetarian, vegan, lactose-free, and gluten-free dishes. Sprinkled throughout are Mairlyn''s musings on life, love, and everything in between.

Both a beautiful cookbook and a guide to healthy living, Peace, Love & Fibre will have you feeling your best--inside and out--in no time at all.
Title:
Peace, Love And Fibre: Over 100 Fibre-rich Recipes For The Whole Family
Format:
Paperback
Product dimensions:
240 pages, 10.1 X 8.1 X 0.7 in
Shipping dimensions:
240 pages, 10.1 X 8.1 X 0.7 in
Published:
May 7, 2019
Publisher:
Appetite by Random House
Language:
English
The following ISBNs are associated with this title:
ISBN - 10:014753092X
ISBN - 13:9780147530929
Look for similar items by category:
Preview Your Review
Your Review Has Been Submitted
NO, I do not recommend this product.
Educational/Developmental Value:
Thank you. Your review has been submitted and will appear here shortly.
Read from the Book
From "Fibre 101, or How to Get an A+ on Your Colonoscopy" Years ago, one of my comedy buddies in my touring company at Second City was diagnosed with colon cancer. After he was finished treatment, a wild and crazy party was organized to celebrate. He spoke that night about the power of the colonoscopy and early detection and urged us to take part in a large study on colon cancer being held in Toronto. I wanted to be a part of the bigger picture and help science, so I immediately signed up. Weeks later I was interviewed to become a volunteer in the study. I was so nervous—I mean, what if I didn't pass? How pathetic would that be? What if the self-proclaimed Queen of Fibre got rejected for a study on poop, bowel function, and GI health? That would be an insult to my belief in the power of fibre. Fortunately, or so I thought, I passed that test and was given a poop bucket to take home with me. The subway was really crowded that day; I had to stand holding the bar and a yellow poop bucket labelled "Hazardous Waste." I knew people were staring, but I proudly clutched that bucket all the way home. I was helping science! I felt incredibly virtuous. The deal was, you pooped into the bucket and called a hotline, and a poop collector would come to your house within a specific time to ensure the poop was fresh, then rush it back to the lab. Weeks later, after my colonoscopy prep (one of the most explosive preps known to man—enough said!), I showed up at the hospital only to be told that I had arrived one week early. Despite my begging, cajoling, crying, guilt-tripping ("I'm participating in a colon cancer study for the betterment of mankind!"), and, in one of the lowest-of-the-low moments of my life, throwing down the "I'm on TV" card, the receptionist was a rock and wouldn't budge. I was instructed to come back in several months so I could go through the whole shebang again. I quietly left the building, hat in hand, and did not submit myself to another colonoscopy prep until I was 50. Fortunately, this time I got the date right, had the colonoscopy, and received an A+. The doctor told me I had the most beautiful colon he'd ever seen, and apparently, he'd seen a million of them—he seemed close to 100 years old. I've considered having this carved on my tombstone: Here lies Mairlyn Smith: She had the most beautiful colon ever seen. Signed, The Unknown Centenarian Colon Doctor You too can get an A+ on your colonoscopy by eating healthy, back-to-basic foods that include fibre-rich vegetables and fruits, berries, whole grains, nuts, seeds, pulses, and fermented foods, as well as going for a walk every day and drinking enough liquids to keep your GI tract happy and moving. It's never too late to start adding fibre-rich foods to your diet. This is the main reason I decided to write this cookbook. Although eating a lifetime of high-fibre foods is great, adding them to your eating style as of today is the best news your body will have heard in ages. Think of it as an investment in your retirement health savings plan. The sooner you start adding to it, the better. Your body is going to be on the winning end, pun intended.
Editorial Reviews
"Mairlyn Smith's hilarious approach to all foods nutritious and fibre-filled has made her a daytime television favourite. We live for her tasty recipes, her easy-to-digest prep advice, and, of course, her ability to never take herself too seriously." —Tracy Moore, host of Cityline"The queen of fun and Fibre, Mairlyn Smith has made it her mission to demonstrate that food can be high in fibre and deliciousness." —Julie Van Rosendaal, The Globe and Mail"Packed with the Canadian home economist's signature warmth and sense of humour, this fibre-forward cookbook is a love letter to whole foods simply prepared into delicious dishes. Smith backs it all up with some solid research on the hows and whys of the importance of fibre to our health." —Chatelaine