PERFORMANCE: DONALD CAMMELL: NIC ROEG: POCKET MOVIE GUIDE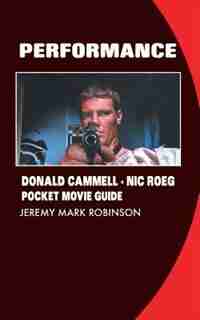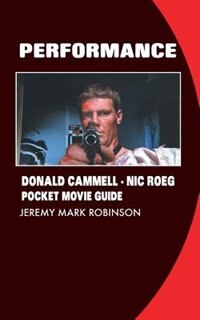 Find In Store
Prices and offers may vary in store
PERFORMANCE: DONALD CAMMELL: NIC ROEG: POCKET MOVIE GUIDE by Jeremy Mark Robinson

This book explores Performance, a classic movie co-directed by Donald Cammell and Nic Roeg and starring Mick Jagger, James Fox and Anita Pallenberg, released in 1970. Among the supporting cast were Michele Breton, Ann Sidney, Johnny Shannon and Anthony Valentine. 'A perverted love affair between Homo Sapiens and Lady Violence', was how Jagger and Cammell described Performance in their telegram to the president of Warners, Ted Ashley.

Performance was a tale of a British gangster on the run who goes to ground in the basement of a reclusive pop star's mansion in London's Powis Square, Notting Hill. Like 1966's Blow-Up (directed by Michelangelo Antonioni, written by Antonioni, Tonino Guerra and Edward Bond), Performance has become a classic portrayal of late 1960s (British) pop culture, and of the London scene.

The book includes chapters on the culture, gangster and pop music worlds of Performance, on directors Nic Roeg and Donald Cammell, on Mick Jagger, and on links to the movie, such as Kenneth Anger and Aleister Crowley.

Although Donald Cammell's credits consist of a very few titles as a film director - Performance (1970), Demon Seed (1977), White of the Eye (1987) and Wild Side (1995) - he remains one of the most fascinating of British filmmakers.

Appendices include films linked to Performance, such as Sympathy For the Devil, Fitzcarraldo, The Man Who Fell To Earth and Stoned. Fans and critics on Performance.

Fully illustrated (including images from the movie, from Cammell's and Roeg's films, from the Rolling Stones, and from the 1960s period of Performance). Bibliography, filmographies and notes. ISBN 9781861715012. 292 pages. www.crmoon.com JEREMY MARK ROBINSON has written many critical studies, including Hayao Miyazaki, Arthur Rimbaud, Jean-Luc Godard, and The Sacred Cinema of Andrei Tarkovsky, plus literary monographs on: J.R.R. Tolkien; Samuel Beckett; Thomas Hardy; Andr Gide; Robert Graves; and Lawrence Durrell.
Title:
PERFORMANCE: DONALD CAMMELL: NIC ROEG: POCKET MOVIE GUIDE
Product dimensions:
292 pages, 8 X 5 X 0.61 in
Shipping dimensions:
292 pages, 8 X 5 X 0.61 in
Published:
October 12, 2015
Publisher:
Crescent Moon Publishing
Appropriate for ages:
All ages