Played to Death: A Scott Drayco Mystery Novel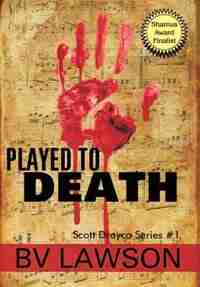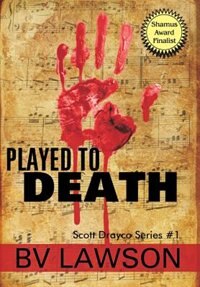 Buy In Store
Prices and offers may vary in store
Description: Former piano prodigy turned FBI agent Scott Drayco is suffering nightmares from his last case as a private consultant. To add insult to injury, he's bequeathed an unwanted and rundown Opera House in Cape Unity, a down-on-its-luck seaside village where vacation homes were once a playground for the rich. His hopes for a quick sale are dashed when a new client with dreams of his own redemption is murdered in the Opera House, the letter "G" mockingly carved into his chest. Drayco soon gets pulled into a tangled web of jealousy and betrayal that reaches across the Atlantic into some of the darkest days of human history. But will he be able to untangle the web before the tensions in Cape Unity explode into more violence and he becomes the next victim?
Reviews: "The storyline creatively ties together two murder mysteries, which occurred decades apart. The small town setting is ideal, the lead character engaging, and the supporting cast interesting and diverse. Overall, a solid start to this series." (Lance Wright, OMNIMYSTERY REVIEWS); Lawson uses the gothic features of the abandoned Opera House to great effect, creating an atmospheric background for the crimes and the solving of them, all of it accompanied with music that's almost like another character. The pace never sagged and it kept me enthralled." (LONG AND SHORT REVIEWS); "Lawson's book was so good, I read it twice from beginning to end...The citizens of Cape Unity are as diverse and multi-layered as any person living in the large cities, and Lawson portrayed them splendidly." (READER'S FAVORITE REVIEWS)
Prizes: Named Best Mystery in the 2015 Next Generation Indie Book Awards, 2015 Shamus Award finalist, Featured Self-E Selection from Library Journal
Author Biography: Author, poet, and journalist BV Lawson's award-winning stories, poems and articles have appeared in dozens of publications and anthologies. BV is a member of Mystery Writers of America, International Association of Crime Writers, Sisters in Crime, Private Eye Writers of America, and International Thriller Writers. BV currently lives in Virginia with her husband and enjoys flying above the Chesapeake Bay in a little Cessna.
Promotional Information: BV Lawson's Scott Drayco mystery series has sold copies in over forty countries with translations into Spanish and Italian and has received rave reviews: "Kept me enthralled"; "Was so good, I read it twice from beginning to end": "BV Lawson has created a memorable character in Drayco"; "The woven layers of character, plot, theme, and mystery mean that you can't read it fast enough." The series has also been honored by the Maryland Writers Association, American Writers Association, Next Generation Indie Book Awards, Shamus Awards, Library Journal, and the Killer Nashville Falchion Award.
Title:
Played to Death: A Scott Drayco Mystery Novel
Product dimensions:
312 pages, 9 X 6 X 0.81 in
Shipping dimensions:
312 pages, 9 X 6 X 0.81 in
Publisher:
Crimetime Press
Appropriate for ages:
All ages