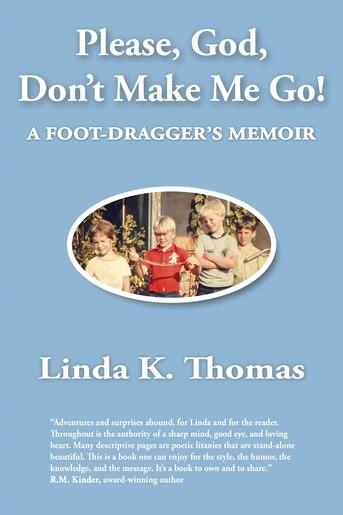 Please, God, Don't Make Me Go!: A Foot-Dragger's Memoir
Paperback

|

June 4, 2019
Pricing and Purchase Info
$23.50
Prices and offers may vary in store
What's a comfortable—and cowardly—suburbanite to do when her husband wants to move their young family to Colombia, South America, so he can teach missionaries' kids?
Linda K. Thomas has always planned to chase the American dream. Adventure doesn't appeal to her, and she's ill-equipped for missions work. She begs God, "Please don't make me go!" but after months of soul-searching, she hears him say, "Go!"
So, with flimsy faith and wobbly courage, she sets out with her husband and kids on a life-changing adventure at the end of the road in the middle of nowhere with Wycliffe Bible Translators.
When culture shock and tropical heat threaten to undo Linda, she's tempted to run away and hike back to the U.S. Instead, she fights to settle in and soon falls in love with her work alongside modern-day heroes of the faith disguised as regular folks. God has sent her where she didn't know she wanted to go.
Once life is under control and easy, she gets a surprise—a request to go to one of the world's most dangerous drug-dealing regions where hundreds of people have lost their lives. Colombia is perilous in other ways, too. Marxist guerrillas don't like Americans or missionaries, proving it with bombs, kidnapping, and eventually murder.
Linda won't trust God to help her make the trip, and she can't trust herself, either. Gripped by anxiety, she longs to stay in the only safe place, the mission center. She prays, "Please, God, don't make me go!" But once again He urges, "Go!" Thus begins a fierce internal battle.
In this heartwarming, sometimes humorous, sometimes shocking memoir, you'll walk alongside a young wife and mother as she faces two universal struggles: choosing between her plans and God's, and choosing faith and courage over fear and cowardice.
Please, God, Don't Make Me Go! will motivate the timid to cancel membership in the Society of the Faint-Hearted, and it will inspire every reader to enjoy God more and embrace new adventures He dreams up.
Title:
Please, God, Don't Make Me Go!: A Foot-Dragger's Memoir
Format:
Paperback
Dimensions:
292 pages, 9 X 6 X 0.61 in
Published:
June 4, 2019
Publisher:
Linda Thomas
Language:
English
The following ISBNs are associated with this title:
ISBN - 10:0692196471
ISBN - 13:9780692196472
Look for similar items by category:
Preview Your Review
Your Review Has Been Submitted
NO, I do not recommend this product.
Educational/Developmental Value:
Thank you. Your review has been submitted and will appear here shortly.
Table of Contents
Dedication
Map of Colombia
Contents
Please, God, don't make me go!
"Strategic times of internal war"
"Terrorism was to affect our lives very significantly. . . ."
Of pescado and jamón and bif, of kind people and cool, damp bedding
Of Andean hairpin turns, vast azure skies, and steaming plains
"Ya wanna see a real, live boa constrictor?"
So much dogged effort
"Failure is not fatal; it is the courage to continue that counts."
Baffled, bamboozled, and befuddled
Learning from strong people
"Happiness, not in another place but this place. . . ."
And God said, "Let there be critters and creepy-crawlies."
"From ghoulies and ghosties and long-legetty beasties. . . ."
They lived on the edge—through many dangers, toils, and snares.
Ordinary folks slogging along because of God's grace
A black Christmas and a life turned around
Wrongly accused—again
Another bomb threat, and a dead pig on the kitchen floor
"Sorting these pieces, finding a pattern. . . ."
A visit from Mom
Airstrip escapades on a trip to Uwa-land
Those were the quirky days the Lord had made.
A matter of life or death
Please, God, don't make me go!
God your Father knows your needs even before you tell Him.
My choice: The pain of courage or the shame of cowardice
Three vulnerable women, three small children—easy targets
He couldn't say the words "plane crash" but. . . .
The Whistling Place
Wayuu-land
Fear is a curious thing.
God, "our last and feeblest resource"
When the going gets tough, you can count on a JAARS pilot.
"We was cripples all of us. . . ."
The mundane, chaotic, unexpected, and seemingly inconsequential
"God's in His heaven—All's right with the world."
Our big decision: Would we stay or leave?
Without young people, how poor our lives would be.
"We're coming back later and if you're here, we'll kill you."
It'll be the hardest thing you've ever done.
If a man's gift is teaching, let him teach.
Better, higher, and finer than anything I could have dreamed
At the hanger in The Evangel one last time
Epilogue
Acknowledgments
About the Author
Glossary
Endnotes
Editorial Reviews
"Before reading Linda's memoir, my image of Colombia was: 'It's dangerous. You go there, you die!' More than once it seemed Linda or others might just do that. Each chapter brought a new challenge, and suspense remained high." Sharon Lippincott, author of The Heart and Craft of Lifestory Writing and The Heart and Craft of Writing Compelling Description, and two memoirs, The Albuquerque Years and Adventures of a Chilehead "In lucid, engaging prose, Linda chronicles her journey. Adventures and surprises abound, for her and for the reader. Many descriptive pages are poetic litanies that are stand-alone beautiful. This is a book one can enjoy for the style, the humor, the knowledge, and the message." R. M. Kinder, award-winning author "Linda's memoir will challenge you, haunt you, inspire you, and entertain you. Thank God for Linda's incredible gift of telling a story. That gift became a gift for me. And it will for you, as well." William A. Sanders, award-winning and Pulitzer Prize-nominated writer and editor, and author of Staying: A Multi-Generational Memoir of Rescue and Restoration "Linda has delivered another captivating memoir, inviting readers to a turbulent time in a volatile region. Her account reminds us that missions work can be uncomfortable, challenging, and sometimes tragic. But she also reveals the amazing work God accomplishes through His people when we trust Him with what seems impossible." Bob Creson, President/CEO, Wycliffe Bible Translators USA "Linda's memoir, written with warmth and wit, is a must-read for anyone wrestling with fear. Her example of 'doing it afraid' encourages readers to do the same. Therein lies the path to greater intimacy with the Lord—something that head knowledge about spiritual matters alone cannot grow in us." Grace Fox, international speaker and author of Moving from Fear to Freedom. "Linda's faith allowed her to question God's role in her life. This story will appeal to readers who struggle with God because she shows that's characteristic of an active, loving relationship. In an engaging, clear writing style, Linda shows Him as a true partner in her journey." G. A. Edwards, speaker, editor, author of Mirror Images, and founder of Writers of Warrensburg "A humorous, adventure-filled, inspirational memoir." Stan C. Smith, author of ten adventure novels