Plough Quarterly No. 26 - What Are Families For?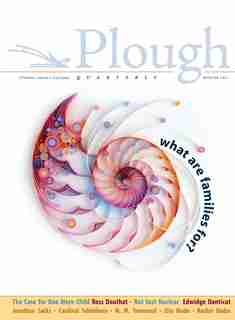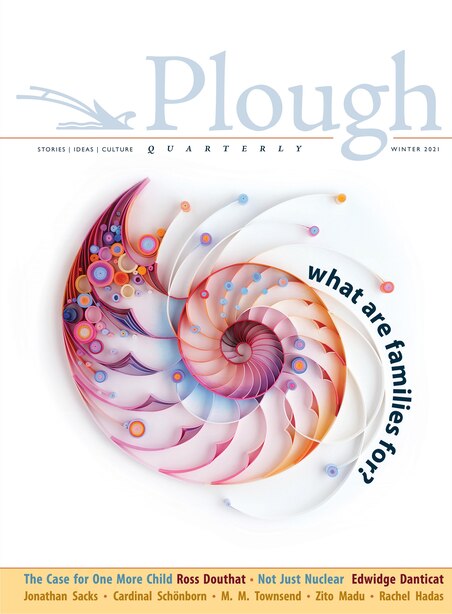 Find In Store
Prices and offers may vary in store
What is a family and what is it good for?

Story 1:Families are in crisis, and the cause is moral breakdown. We urgently need a deep renewal of our family culture, supported by public policies that strengthen traditional marriage and encourage childbearing.

Story 2:Families are in crisis, and the cause is capitalism. We need structural changes in society so that all families can flourish: parental leave, guaranteed healthcare, flexible work hours for parents, restorative justice.

What if both these stories are true?This issue ofPloughreflects on what a family is and what it is for, so that the transformations needed to solve the crisis of the family start from a firm basis, not a nostalgic ideal or progressive theorizing. As always, we take as a starting point the teachings of Jesus. It turns out his idea of family values might not be what people think. He calls us to extend our natural love for our biological family to a vast new throng of siblings - a family of many ethnicities and cultures that includes the widowed, the unmarried, the outsider, and the stranger.

In this issue:
- Ross Douthat asks what is stopping people from having the one more child they desire.
- Edwidge Danticat says families are not nuclear.
- Gina Dalfonzo reveals what singles know best about the church as family.
- Norann Voll remembers a Jewish woman who escaped the Holocaust and married a German.
- W. Bradford Wilcox and Alysse ElHage report on how the Covid pandemic has impacted the family.
- Noah Van Niel asks whether masculinity is OK anymore.
- Cardinal Christoph Schönborn reflects the burden of family history, celibacy, and monument toppling.
- Sarah C. Williams pinpoints the source of feminist pioneer Josephine Butler''s daring.
- Rabbi Jonathan Sacks begins the story of marriage 385 million years ago in a lake in Scotland.
- Zito Madu recalls how his father''s amazing storytelling saved the past from oblivion.

You''ll also find:
- M. M. Townsend on what Louisa May Alcott and Simone de Beauvoir had in common
- A special announcement about Plough''s new poetry contest: the Rhina Espaillat Poetry Award
- A reading from G. K. Chesterton
- Two new poems by Rachel Hadas
- Reviews of Eric Edstrom''sUn-American,Maya Schenwar and Victoria Law''sPrison by Any Other Name,Brian Doyle''sOne Long River of Song,and Martín Caparrós''sHunger

Plough Quarterly features stories, ideas, and culturefor people eager to put their faith into action. Each issue brings you in-depth articles, interviews, poetry, book reviews, and art to help you put Jesus'' message into practice and find common cause with others.
Title:
Plough Quarterly No. 26 - What Are Families For?
Product dimensions:
112 pages, 10.25 X 7.5 X 0.3 in
Shipping dimensions:
112 pages, 10.25 X 7.5 X 0.3 in
Published:
November 17, 2020
Publisher:
Plough Publishing House
Appropriate for ages:
All ages