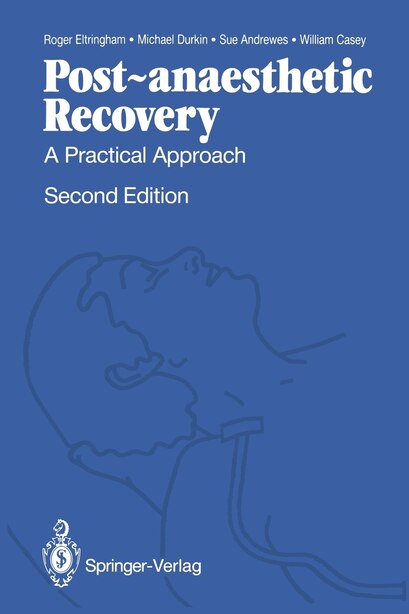 Post-anaesthetic Recovery: A Practical Approach
Paperback

|

February 1, 1994
Pricing and Purchase Info
$141.95
list price
save 22%
Prices and offers may vary in store
Developments in surgery have enabled more ambitious operations to be attempted than ever before, while similar advances in anaesthesia and monitoring have meant that many patients who were previously considered unfit now undergo surgery. It is essential that standards of patient care during surgery are continued post-operatively until the depressant effects of anaesthesia have worn off and it is safe for patients to return to the wards or to their homes. The importance of adequate supervision by well-trained nurs­ ing staff in properly equipped surroundings has been recognised by the introduction of recovery rooms in most hospitals. Despite this, many patients still emerge from anaesthesia in wards or departments where they are supervised by inexperienced nursing staff in unfamiliar surroundings. Recovery from anaesthesia may be accompanied by a variety of dangerous and potentially fatal complications, many of which can be avoided by the detection of early warning signs and the institution of appropriate therapy before an irreversible situation is allowed to develop. This book describes the major complications liable to be encountered and suggests how they may be avoided by careful monitoring, vigilant nursing and sound organisation. The patient''s behaviour at recovery is influenced by his pre-operative condition, by drug therapy pre- and intra-operatively and by the nature of the surgery, and sections have been devoted to these aspects since a basic understanding of them is essential in anticipating events in the recovery room.
Title:
Post-anaesthetic Recovery: A Practical Approach
Format:
Paperback
Product dimensions:
9.25 X 6.1 X 0 in
Shipping dimensions:
9.25 X 6.1 X 0 in
Published:
February 1, 1994
Publisher:
Springer London
Language:
English
The following ISBNs are associated with this title:
ISBN - 10:3540195556
ISBN - 13:9783540195559
Look for similar items by category:
Preview Your Review
Your Review Has Been Submitted
NO, I do not recommend this product.
Educational/Developmental Value:
Thank you. Your review has been submitted and will appear here shortly.
Table of Contents
1. Organisation.- Role of the Recovery Room.- Site.- Reception Area.- Relationship with an Intensive Therapy Unit.- Windows.- Design.- Number of Bays.- Space per Bed.- Lighting.- Power Outlet Points.- Communication Systems.- Telephones.- Noise Levels.- Heating and Ventilation.- Equipment.- Safety.- Pollution.- Fire Risk.- Infection Control and Staff Protection.- Advice for Recovery Staff.- Anti-static Precautions.- Routine Cleaning.- Flooring.- Equipment Disinfection and Sterilisation.- Staffing.- The Senior Nurse.- Nurse-Patient Ratio.- Twenty-four Hour Staffing.- Staff Training.- Nurse-Doctor Collaboration.- Policies of a Recovery Unit.- Further Reading.- 2. Normal Recovery.- Physiology of the Elimination of Anaesthetic Gases.- Progress of Normal Recovery.- Care Plan Nursing.- Reception of the Patient.- Basic Nursing Position and Safety.- Routine Observations.- Assessment of Colour.- Peripheral and Central Cyanosis.- Assessment of Respiratory Function.- Assessment of Cardiovascular Function.- Tissue Perfusion.- Pulse Measurement.- Blood Pressure Measurement.- Assessment of Level of Consciousness.- Recognition of Blood Loss.- Maintenance of the Airway.- Insertion of Oropharyngeal Airway.- Insertion of Nasopharyngeal Airway.- Suction of Upper Airway.- Care of the Intubated Patient.- Endotracheal Suction.- Extubation.- The Ventilated Patient.- Oxygen Therapy.- Administration of Oxygen.- Maintenance of Fluid Balance.- Intravenous Infusion Drip Rates.- Intravenous Fluid Therapy.- Intravenous Infusions.- Intravenous Injections.- Blood Transfusion.- Drainage Systems.- Record Keeping and Charting.- Criteria for Discharge.- Transfer of Patient to Ward Staff.- Further Reading.- 3. Pain Relief and Local Anaesthesia.- Gate Control Theory of Pain.- Methods of Pain Relief.- Analgesic Drugs.- Partial Antagonists.- Patient Controlled Analgesia.- Local Anaesthetic Techniques.- Management of Toxic Reactions.- Local Anaesthetic Agents.- Specific Local Anaesthetic Blocks.- Spinal Blockade.- Epidural Blockade.- Caudal Blockade.- Local Infiltration.- Intercostal Nerve Blockade.- Intrapleural Catheterisation.- Inguinal Field Blockade.- Penile Nerve Blockade.- Brachial Plexus Blockade.- Intravenous Regional Anaesthesia (Bier''s Block).- Digital Nerve Blockade.- Femoral Nerve Blockade.- Patient Management in the Recovery Unit.- Further Reading.- 4. Complications.- Respiratory Complications.- Upper Airway Obstruction.- Inadequate Ventilation (Hypoventilation).- Hypoxaemia.- Bronchospasm.- Aspiration of Gastric Contents.- Chemical Pneumonitis (Mendelson''s Syndrome).- Pneumothorax and Haemothorax.- Tension Pneumothorax.- Cardiovascular Complications.- Hypotension.- Hypovolaemia.- Diminished Cardiac Output.- Other Causes of Hypotension.- Hypertension.- Bradycardia.- Sinus Bradycardia.- Heart Block.- Tachycardia.- Sinus Tachycardia.- Supraventricular and Ventricular Tachycardia.- Dysrhythmias.- Premature Atrial Contractions.- Premature Ventricular Contractions.- Atrial Fibrillation.- Cardiac Arrest.- Miscellaneous Complications.- Delayed Return of Consciousness.- Restlessness, Excitement and Delirium.- Nausea and Vomiting.- Shivering.- Convulsions.- Hypothermia.- Hyperthermia.- Malignant Hyperthermia.- Blood transfusion Reactions.- Febrile Reactions.- Allergic Reactions.- Haemolytic Reactions.- Problems Associated with Massive Blood Transfusion.- Hypothermia.- Acidosis.- Citrate Intoxication.- Hyperkalaemia.- Micro-emboli.- Failure of Coagulation.- Oliguria.- Further Reading.- 5. Recovery in Different Branches of Surgery.- Emergency Surgery.- Surgery for Trauma.- Surgery in the Accident Department.- Gastroenterology.- Endoscopy.- Upper Gastrointestinal Tract Bleeding.- Surgery for Intestinal Obstruction or Peritonitis.- Bowel Surgery.- Orthopaedic Surgery.- Plaster Casts.- Traction.- Reduction of Fractures.- Hip Operations.- Fractured Vertebrae.- Obstetrics and Gynaecology.- Caesarean Section.- Evacuation of Retained Products of Conception; Suction Termination of Pregnancy.- Laparoscopy.- Hysterectomy.- Ear, Nose and Throat Surgery.- Tonsillectomy.- Laryngoscopy.- Tracheostomy.- Operations on the Nose.- Middle Ear Surgery.- Thyroid Surgery.- Airway Problems.- Thyroid Crisis or Storm.- Dental and Faciomaxillary Surgery.- Post-operative Bleeding.- Wiring of the Jaw.- Fracture of Zygomatic Arch.- Mentally Handicapped Patients.- Ophthalmic Surgery.- Neurosurgery.- Thoracic Surgery.- Bronchoscopy.- Thoracotomy.- Vascular Surgery.- Genito-urinary Surgery.- Prostatectomy.- Nephrectomy.- Circumcision.- Paediatric Surgery.- Maintenance of Airway and Adequate Ventilation.- Maintenance of Adequate Cardiovascular Function.- Temperature Regulation.- Fluid Balance.- Further Reading.- 6. Pre-existing Factors Affecting Recovery.- Premedication.- Anaesthetic Technique.- Intravenous Induction Agents.- Long-acting Inhalational Agents.- Analgesic and Relaxant Technique.- Regional Anaesthesia.- Induced Hypotension.- Ketamine.- Pre-operative Drug Therapy.- Anti-hypertensive Agents.- Monoamine Oxidase Inhibitors (MAIOs).- Corticosteroids.- Insulin and Hypoglycaemic Agents.- Anticoagulants.- Diuretics.- Antibiotics.- Digoxin.- Respiratory Disease.- Chronic Bronchitis.- Asthma.- Cardiovascular Disease.- Coronary Artery Disease.- Hypertension.- Cardiac Failure.- Pacemaker.- Neuromuscular Disease.- Myasthenia Gravis.- Muscular Dystrophy.- Paraplegia.- Liver Disease.- Renal Disease.- Endocrine Disorders.- Diabetes Mellitus.- Thyroid Disease.- Hypothyroidism.- Hyperthyroidism.- Phaeochromocytoma.- Porphyria.- Haematological Disease.- Iron Deficiency Anaemia.- Haemophilia.- Sickle Cell Disease.- Deficiency of Clotting Factors.- Musculoskeletal Disease.- Rheumatoid Arthritis.- Osteoporosis.- Ankylosing Spondylitis.- Geriatric Patients.- Pregnancy.- Malnourishment.- Obesity.- Further Reading.- 7. Recovery and Day Surgery.- Patient Selection.- Procedures Suitable for Day Surgery.- Documentation.- Anaesthetic Techniques.- Recovery from Anaesthesia.- Discharge from the Day Unit.- Post-anaesthetic Complications.- Regional or Local Anaesthesia.- General Anaesthesia.- Further Reading.- 8. Monitoring.- ASA Classification.- Routine Monitoring.- Respiratory System.- Cardiovascular System.- Metabolic Systems.- Neurological System.- Specific Monitors.- Electrocardiograph (ECG).- Arterial Pressure.- Pulmonary Artery Pressure.- Oxygen Saturation.- Neuromuscular Blockade.- Carbon Dioxide Tension.- Further Reading.- Appendix A. Drugs Commonly Used in a Recovery Room.- Appendix B. Translations of Standard Recovery Phrases.