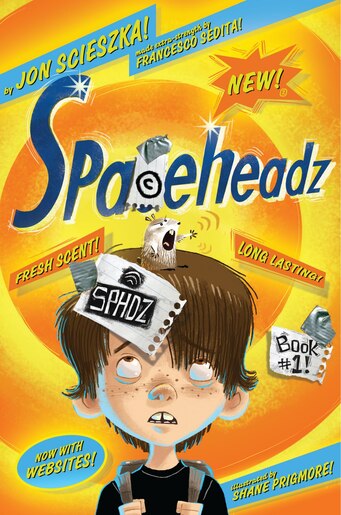 SPHDZ Book #1!
by

Jon Scieszka

Illustrator

Shane Shane Prigmore
Hardcover

|

June 22, 2010
Pricing and Purchase Info
$16.99
list price
save 9%
Prices and offers may vary in store
The perfect combination of the age old experience of holding and poring over a physical book with newest media technology that kids love!

Michael K. just started fifth grade at a new school. As if that wasn''t hard enough, the kids he seems to have made friends with apparently aren''t kids at all. They are aliens. Real aliens who have invaded our planet in the form of school children and a hamster. They have a mission to complete: to convince 3,140,001 kids to BE SPHDZ. But with a hamster as their leader, "kids" who talk like walking advertisements, and Michael K as their first convert, will the SPHDZ be able to keep their cover and pull off their assignment?
Title:
SPHDZ Book #1!
Format:
Hardcover
Product dimensions:
176 pages, 8.25 X 5.5 X 0.8 in
Shipping dimensions:
176 pages, 8.25 X 5.5 X 0.8 in
Published:
June 22, 2010
Publisher:
Simon & Schuster Books for Young Readers
Language:
English
The following ISBNs are associated with this title:
ISBN - 10:1416979514
ISBN - 13:9781416979517
Look for similar items by category:
Preview Your Review
Your Review Has Been Submitted
NO, I do not recommend this product.
Educational/Developmental Value:
Thank you. Your review has been submitted and will appear here shortly.
Read from the Book
Space Headz Michael K. knew his first day in a new school in a new city was going to be weird. How could a first day at someplace in Brooklyn, New York, called P.S. 858 not be weird? He just had no idea it could be this weird. Michael K. had been in fifth grade for only twenty minutes, and already 1. Mrs. Halley had stuck him in the slow group with the two strange new kids, 2. the new girl had eaten half of his only pencil, and 3. the new boy had just told Michael K. that they were Spaceheadz from another planet. "Uh, yeah," said Michael K. "I just moved here too." The girl flexed an arm. "SMACKDOWN," she said in a voice like a wrestling announcer. "Very nice." Michael K. nodded. Sure, he was a new kid too. But these other new kids were seriously creeping him out. He did not want to get stuck with these losers on the first day of school. It could ruin his whole life. The boy nodded back. "JUST DO IT." The girl drew on her Star Wars lunch box: SPHDZ This was getting beyond weird. "Michael K., I'M LOVING IT!" said the boy. "We need your help. You must become a SPHDZ. Save your world. I am Bob." "Jennifer," said the girl in that deep, echoing voice. Michael K. watched Jennifer crunch the last of his Dixon Ticonderoga No. 2. How did this new kid Bob know his name? Michael K. hadn't said it. What did he mean, "save your world"? Were they just messing with him? Yeah, that was it. They were just goofing around. Michael K. decided he would goof right back . . . then move his seat as far away from them as possible. "I get it," said Michael K. "You are Spaceheadz from another planet. On a mission to Earth. Here to take over the world. Take me to your leader. Bzzt, bzzzt." "See! I told you, Jennifer!" said Bob. "Michael K. can do anything! He is like a rock. MMM, MMM GOOD." Jennifer burped up the eraser from Michael K.'s only pencil. She spit it out. "SPHDZ—GET RRRREADY TO RRRRRUMBLE," said Jennifer. "Eeek eek," said the class hamster. Room 501-B went silent except for the sound of Mrs. Halley writing on the chalkboard. The thought occurred to Michael K. that Bob and Jennifer were not joking. The thought occurred to Michael K. that they really were Spaceheadz from another planet. The thought exploded in Michael K.'s head that those thoughts were ridiculous. Aliens don't invade fifth-grade classrooms. They don't look like fifth graders. And they don't talk like commercials and pro wrestlers. Bob and Jennifer were probably just from somewhere else. And kind of confused. Right. Right?