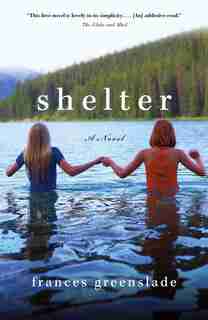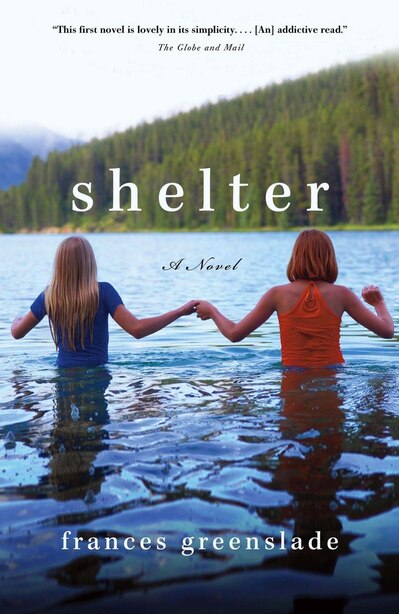 Shelter
Paperback

|

June 5, 2012
Pricing and Purchase Info
$19.95
Prices and offers may vary in store
A spellbinding and wise coming-of-age story, Shelter draws readers into the precarious world of two young sisters in search of their mother, and brings to life the breathtaking B.C. landscape through which they travel.

Maggie Dillon lives with her family in a small, roughly furnished cabin in B.C.'s Chilcotin region, where the land and the native peoples who've always called it home have taken in both pioneer settlers and latecomers like the Dillons. Her sister, Jenny, is the elder of the two, but Maggie seems beyond her years with how much she worries about what might happen to her family, so certain she is that threats to her family's cozy but fragile life in Duchess Creek are never far away. Her beautiful mother, Irene, takes the girls on magical camping adventures and has a carefree love of life. Maggie's careful father, on the other hand, takes her on outings to the bush where he shows her how to build lean-tos using leaves, sticks and fir boughs. Just in case. You never know when you might need to find some shelter for the night.
 
When her father is killed in a logging accident, Maggie thinks her worst fear has come true, but his death is only the first blow in the destruction of her family. Soon her mother, the one person Maggie has never worried about, abruptly drops off her girls in Williams Lake to billet with the gloomy Bea Edwards and her wheelchair-bound husband, Ted. Irene promises she'll be back for them, but weeks turn to months and then to years.
 
When trouble finds the girls for the third time, it comes for Jenny, and fourteen-year-old Maggie decides that the time has come to search out their mother and repair their fractured family. Her quest not only to find but to understand her mother brings the novel to a powerful, wrenching conclusion.
 
Shelter's emotional richness, and Maggie's distinctive voice, evoke the bestselling novels of Miriam Toews and Mary Lawson. Greenslade's prose captures the exquisite beauty of the Chilcotin, the precious comfort of family and the poignant realization that we may never fully understand the people we love.
 
Shelter was first published as part of Knopf and Random House Canada's renowned New Face of Fiction program, which each year brings the cream of the crop of Canada's first-time novelists to readers, and has launched the careers of numerous authors who have taken their place amongst Canada's best. From the start, Shelter received outstanding reviews, and the book has since been named as a finalist for the B.C. Book Prizes' Ethel Wilson Fiction Prize and for the Evergreen Awards in Ontario. Shelter has also been published in the United States and in Britain – where the country's largest book chain, Waterstones, named it one of the eleven best debut novels of the year – and rights have been sold to publishers in Germany and the Netherlands.
Title:
Shelter
Format:
Paperback
Product dimensions:
384 pages, 7.99 X 5.12 X 0.99 in
Shipping dimensions:
384 pages, 7.99 X 5.12 X 0.99 in
Published:
June 5, 2012
Publisher:
Random House of Canada
Language:
English
The following ISBNs are associated with this title:
ISBN - 10:0307360326
ISBN - 13:9780307360328
Look for similar items by category:
Preview Your Review
Your Review Has Been Submitted
NO, I do not recommend this product.
Educational/Developmental Value:
Thank you. Your review has been submitted and will appear here shortly.
Read from the Book
Jenny was the one who asked me to write all this down. She wanted me to sort it for her, string it out, bead by bead, an official story, like a rosary she could repeat and count on. But I started writing it for her, too. For Mom, or Irene as other people would call her, since she abandoned a long time ago whatever "Mom" once meant to her. Even now there was no stopping the guilt that rose up when we thought of her. We did not try to look for our mother. She was gone, like a cat who goes out the back door one night and doesn't return, and you don't know if a coyote got her or a hawk or if she sickened somewhere and couldn't make it home. We let time pass, we waited, trusting her, because she had always been the best of mothers. She's the mother, that's what we said to each other, or we did in the beginning. I don't know who started it. That's not true. It was me. Jenny said, "We should look for her." I said, "She's the mother." When I said it, I didn't know the power those few words would take on in our lives. They had the sound of truth, loaded and untouchable. But they became an anchor that dragged us back from our most honest impulses. We waited for her to come to get us and she never did. There was no sign that this would happen. I know people always look for signs. That way they can say, we're not the type of people things like that happen to, as if we were, as if we should have seen it coming. But there were no signs. Nothing except my worry, which I think I was born with, if you can be born a worrier—Jenny thinks you can. Worry was stuffed into the spaces around my heart, like newspaper stuffed in the cracks of a cabin wall, and it choked out the ease that should have been there. I'm old enough now to know that there are people who don't feel dogged by the shadow of disaster, people who think their lives will always be a clean, wide-open plain, the sky blue, the way clearly marked. My anxiety curled me into myself. I couldn't be like Jenny, who was opened up like a sunny day with nothing to do but lie in the grass, feel the warm earth against her back, a breeze, the click of insects in the air. Soon, later, never— words not invented. Jenny was always and yes. As I say, there was no sign of anything that might go wrong in the small, familiar places that made up our world. The bedroom Jenny and I shared was painted robin's egg blue and the early morning sunlight fell across the wall, turning it luminous, like an eggshell held to the light. I watched how it fell, and after a while tiny shadowed hills rose up and valleys dipped in the textured lines of the wallboard. Morning in that land came slow and slanted with misty light, waking into the glare of day. Our house in Duchess Creek had a distinctive smell that met me at the front door: boiled turnip, fried bologna, tomato soup, held in the curtains or in the flimsy walls and ceiling or the shreds of newspaper that insulated them. It was a warm house, Mom said, but not built by people who intended to stay. The kitchen cupboards had no doors and the bathroom as separated from the main room by a heavy flowered curtain. Electricity had come to Duchess Creek in 1967, the year I turned seven and Jenny eight. A saggy wire was strung through the trees to our house a few months later. But we had power only occasionally, and only for the lights. The small electric stove had been dropped off by one of Dad's friends who found it at the dump in Williams Lake. It was never hooked up and Mom never made a fuss about it, though her friend Glenna asked her about twice a week when she was going to get the stove working. Glenna said, "Hey, aren't you happy we've finally joined the twentieth century?" Mom said that if she wanted to join the twentieth century, she'd move to Vancouver. Glenna laughed and shook her head and said, "Well, I guess you're not the only one who thinks that way. There's people who like it that Williams Lake is the biggest town for miles and miles in any direction." In the Chilcotin, where we lived, there were the Indians, the Chilcotins and the Carriers, who had been here long before the whites came. Their trails and trade routes still crisscrossed the land. And there were the white settlers whose histories were full of stories about pioneering and ranching and road-building. Then there were the late-comers, like our family, the Dillons. Dad had left Ireland in 1949 for America and ended up in Oregon, then had come north. Others came to avoid marching into wars they didn't believe in, or ways of life they didn't believe in. Some came from cities, with everything they owned packed into their vehicles, looking for a wild place to escape to. They were new pioneers, reinventing themselves following their own designs. Dad had a friend named Teepee Fred and another named Panbread. When I asked Dad what their last names were, he said he'd never bothered to ask. Mom didn't care much about the electric stove because she had learned to cook on the woodstove. She cooked out of necessity, not pleasure, and stuck mainly to one-pot stews that she could manage without an oven. We didn't have an electric fridge, either. We had a scratched old icebox where a lonely bottle of milk and a pound of butter resided. There was a pump in the backyard where we got our water. Someone before us had made plans for indoor plumbing. There was a shower and sink in the bathroom, and a hole in the floor, stuffed with rags, where a pipe came in for a toilet, but none of these worked. We pumped our water and carried it in a five-gallon bucket that sat on the kitchen counter. We had an outhouse, but at night we set a toilet seat over a tin pot and Dad emptied it each morning. Just at the edge of the bush behind the house, Dad had rigged up a heavy, old claw foot bathtub especially for Mom. Underneath he had dug a hole and in that he'd make a small fire. He ran a hose from the pump to fill the tub. The water heated nicely and Mom sat in there on a cedar rack he'd made so she wouldn't burn herself. Some evenings we'd hear her out there, singing to herself, her voice lifting out of the dark on the steam that rose from behind the screen of fir boughs he'd wound through a piece of fence. Sometimes I sat on a stump beside her, trailing my arm in the hot water. Bats wheeled and dipped above us, just shadows, a movement in the corner of the eye. Stars grew brighter and as thick as clouds of insects while the water cooled. I thought that if she needed any proof that Dad loved her, that bathtub was it. There must have been a time when I sang myself awake, trilling up and down a range of happy notes as a beetle tracked across the window screen and cast a tiny shadow on the wall. But I don't remember it. I can't remember a time when I didn't look at the world and feel apprehension chewing at the edges. It wasn't our mother I worried about, though. I felt lucky to have a mom who took us camping, wasn't afraid of bears, loved to drive the logging roads and what she called the "wagon trails" that wandered off Highway 20 and into the bush. We found lakes and rotting log cabins and secret little valleys; it felt like we were the first people to find them. Our measure of a good camp was how far from other people it was. "No one around for miles," Mom would say, satisfied, when the fire was built. She was the constant in our lives, the certainty and the comfort. It was Dad I worried about. He had to be approached like an injured bird, tentatively. Too much attention and he would fly off. If he was in the house, he was restless. He would stretch, look around as if he was an outsider, and then I'd feel the sting of disappointment as he went for his jacket by the door. Sometimes he whistled, made it seem casual, putting his arms into the flannel sleeves. Then he'd go outside, chop wood for a few minutes, like a penance, then disappear into the bush. He'd be gone for hours. Worse days, he'd go to his bedroom and close the door. I listened with my ear against the wall of my room. If I stood there long enough, I'd hear the squeak of bedsprings as he turned over. I don't know what he did in there. He had no books or radio. I don't think he did anything at all. When he came back from his working day in the bush, he liked to sleep in the reclining chair by the oil drum that was our woodstove. I wanted him to stay asleep there. If he was asleep, he was with us. But sometimes he pulled the chair too close to the woodstove. One afternoon, I tried to get him to move it back. "Don't worry, Maggie," he said. "I'm not close enough to melt." And he fell asleep with his mouth open, occasionally drawing a deep breath that turned to a cough and woke him briefly. I wasn't afraid that he would melt. I was afraid that the chair would burst suddenly into flames, as the Lutzes' shed roof once did when Helmer got the fire in the garbage bin burning too high. At the counter, my mother stood slicing deer meat for stew. I watched, waiting for his eyelids to sag, flicker, and drop closed again. Mom peeled an onion, then began to chop. Jenny and I had our Barbies spread on the sunny yellow linoleum. Jenny's Barbie wanted to get married and since we didn't have a Ken, my Barbie had to be the husband. I tucked her blonde hair up under a pair of
Bookclub Guide
1. Maggie and Jenny initially hold out hope that Irene will return to Williams Lake for them because she is "the mother" and that's what mothers do. Talk about the expectations we all have of mothers, and how Irene fits that particular bill. Did your opinion of Irene change over the course of the novel?2. Chiwid, the old woman who lives outdoors year-round and fends for herself, chose to live her solitary life after escaping her husband's violence. Maggie's dad says she's happy. What do the stories about her add to this novel? Why do they resonate with Maggie?3. Why do you think Irene sent so few letters to her daughters?4. Storytelling is at the heart of Shelter: family stories, stories of heroic or tragic events, native myths and stories, not to mention the many stories that lead Maggie closer to finding out what happened to her mother. The novel itself is Maggie's story of what happened. Talk about the role of storytelling in Shelter, and why stories are important to us.5. Talk about how native traditions and beliefs are used in Shelter.6. While many of the women in this novel are self-reliant and strong in their own ways, there are a lot of broken men. Talk about Patrick, Emil, Ted and other men who are haunted by the past or otherwise fail to live up to what's "expected of them." What makes Uncle Leslie different?7. What kind of a relationship does Vern have with his mother?8. As Rita points out to Maggie, both Irene and Jenny gave birth at the age of sixteen, young and unprepared for what it meant to care for a child. Do you think comparing Irene to Jenny broadens Maggie's perspective?9. Maggie's father, Patrick, was known as "Mr. Safety" by fellow loggers and at home, yet between his terrors and his drinking it's clear he is not at peace in his life. What kind of a man was he? Did your opinion of him change over the course of the novel?10. Irene and Emil's travels along the coast on the Elsa are full of passion and beauty and discovery, but also the terror that can hit you when the weather turns bad, or the one person you are dependent on disappears. What effect did this journey have on Irene?11. What does Maggie expect to find when she heads out in search of her mother? Were you surprised by what she found out?12. At the beginning of the novel, Maggie's mom is outraged by the Lutz family story: how Helmer wouldn't drive Peggy to the hospital in Williams Lake because he was concerned about his truck, and one of her twin babies died. Late in the novel, we learn what Irene went through. Compare those two stories, and talk about how childbirth is portrayed throughout the book.13. What does the future hold for Maggie and Jenny?14. Shelter is populated with women of varying strength who have chosen to be self-reliant – or have been forced to become so. How important is self-reliance for women?
Editorial Reviews
"Poignant, tender and vivid, Shelter traces the relationship of two daughters with their missing mother through family stories. Greenslade's gorgeous landscapes and loving attention to her characters make this journey through loss and survival unforgettable. I was glued to every page." —Eden Robinson, author of Monkey Beach"This book casts a strong spell––the landscape is so vividly rendered, it is a character all on its own, and sisters Maggie and Jenny are unforgettable in their resilience. Greenslade depicts the battle between different types of love with harrowing intensity and quiet compassion. Shelter shows us how wilderness can be a safer haven than a home with four walls, but also how love, despite its heartbreaking unpredictability, remains the shelter we desire most." —Jamie Zeppa, author of Every Time We Say Goodbye"From the very first page, this eloquent, evocative book crept into my heart and wouldn't go away. I think it will linger inside me for a long, long time—like a powerful dream or one of those take-your-breath-away kind of tales that someone tells you in childhood and years later, still haunts you. Shelter is an unforgettable novel about love, loss, family and what it means to go home." —Mira Bartok, author of The Memory Palace"The longing for a lost mother has rarely been expressed so soulfully. The yearning of these two vulnerable young sisters for their mother, who has disappeared, is palpable. I was entirely absorbed in their precarious situation and their desire to find her, yet aware that their mother's gift was the resourcefulness they needed to survive. Greenslade is a fresh new voice that you are sure to hear again." —Bobbie Ann Mason, author of The Girl in the Blue Beret"Shelter is a beating heart of a book, alive with Greenslade's fierce imagination, her acute descriptions of the natural world, her sure hand with narrative." —Toronto Star "In prose as lush and vivid as its British Columbia landscapes, Frances Greenslade's debut novel, Shelter, offers an achingly beautiful story of loss, longing and hope. I love this book." —Will Allison, author of Long Drive Home"The Chilcotin area of British Columbia in the 1970s is intensely realised in a combination of family saga, local superstition and love for the blue summers and deep winters of this remote region…[a] yearning and beautifully articulate work." —The Guardian  "A new voice has emerged from the varied wilderness of the Canadian fiction scene which is as clear as a glacier-fed stream and as compelling as that which tells a haunting story by the campfire." —The Scotsman "A harrowing, haunting and exquisitely written novel about sisters, mothers, daughters, and whom we love and why. The characters are so alive, you feel them breathing on the page. Loved. Loved. Loved." —Caroline Leavitt, author of Pictures of You