Hold On To Your Kids: Why Parents Need to Matter More Than Peers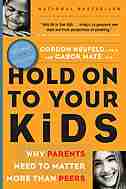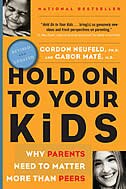 Find In Store
Prices and offers may vary in store
A psychologist with a reputation for penetrating to the heart of complex parenting issues joins forces with a physician and bestselling author to tackle one of the most disturbing and misunderstood trends of our time -- peers replacing parents in the lives of our children.

Dr. Neufeld has dubbed this phenomenon peer orientation, which refers to the tendency of children and youth to look to their peers for direction: for a sense of right and wrong, for values, identity and codes of behaviour. But peer orientation undermines family cohesion, poisons the school atmosphere, and fosters an aggressively hostile and sexualized youth culture. It provides a powerful explanation for schoolyard bullying and youth violence; its effects are painfully evident in the context of teenage gangs and criminal activity, in tragedies such as in Littleton, Colorado; Tabor, Alberta and Victoria, B.C. It is an escalating trend that has never been adequately described or contested until Hold On to Your Kids. Once understood, it becomes self-evident -- as do the solutions.

Hold On to Your Kids will restore parenting to its natural intuitive basis and the parent-child relationship to its rightful preeminence. The concepts, principles and practical advice contained in Hold On to Your Kids will empower parents to satisfy their children's inborn need to find direction by turning towards a source of authority, contact and warmth.


Something has changed. One can sense it, one can feel it, just not find the words for it. Children are not quite the same as we remember being. They seem less likely to take their cues from adults, less inclined to please those in charge, less afraid of getting into trouble. Parenting, too, seems to have changed. Our parents seemed more confident, more certain of themselves and had more impact on us, for better or for worse. For many, parenting does not feel natural. Adults through the ages have complained about children being less respectful of their elders and more difficult to manage than preceding generations, but could it be that this time it is for real? -- from Hold On to Your Kids


From the Hardcover edition.
Title:
Hold On To Your Kids: Why Parents Need to Matter More Than Peers
Product dimensions:
320 pages, 9.02 X 6 X 0.81 in
Shipping dimensions:
320 pages, 9.02 X 6 X 0.81 in
Appropriate for ages:
All ages