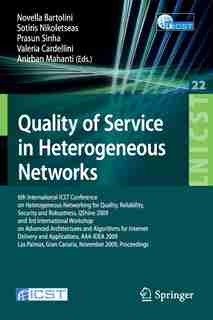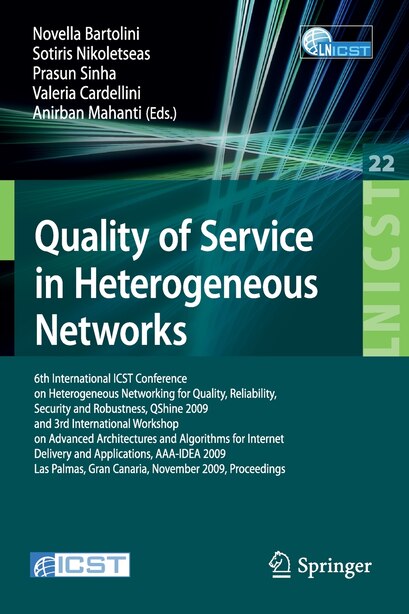 Quality of Service in Heterogeneous Networks: 6th International ICST Conference on Heterogeneous Networking for Quality, Reliability, Security an
Paperback

|

November 9, 2009
Pricing and Purchase Info
$282.95
Prices and offers may vary in store
This volume presents the proceedings of the 6th International ICST Conference on Heterogeneous Networking for Quality, Reliability, Security and Robustness and of the Third International ICST Workshop on Advanced Architectures and Algorithms for Internet DElivery and Applications. Both events were held in Las Palmas de Gran Canaria in November 2009. To each of these events is devoted a specific part of the volume. The first part is dedicated to the proceedings of ICST QShine 2009. The first four chapters deal with new issues concerning the quality of service in IP-based telephony and multimedia. A second set of four chapters addresses some important research problems in mul- hop wireless networks, with a special emphasis on the problems of routing. The following three papers deal with recent advances in the field of data mana- ment and area coverage in sensor networks, while a fourth set of chapters deals with mobility and context-aware services. The fifth set of chapters contains new works in the area of Internet delivery and switching systems. The following chapters of the QShine part of the volume are devoted to papers in the areas of resource management in wireless networks, overlay, P2P and SOA arc- tectures. Some works also deal with the optimization of quality of service and energy consumption in WLAN and sensor networks and on the design of a mobility support in mesh networks.
Title:
Quality of Service in Heterogeneous Networks: 6th International ICST Conference on Heterogeneous Ne...
Format:
Paperback
Product dimensions:
812 pages, 9.25 X 6.1 X 0 in
Shipping dimensions:
812 pages, 9.25 X 6.1 X 0 in
Published:
November 9, 2009
Publisher:
Springer-Verlag/Sci-Tech/Trade
Language:
English
The following ISBNs are associated with this title:
ISBN - 10:3642106242
ISBN - 13:9783642106248
Look for similar items by category:
Preview Your Review
Your Review Has Been Submitted
NO, I do not recommend this product.
Educational/Developmental Value:
Thank you. Your review has been submitted and will appear here shortly.
Table of Contents
QShine 2009: Session I - IP Telephony and Multimedia.- QoS Measurement-Based CAC for an IP Telephony System.- Towards Real-Time Stream Quality Prediction: Predicting Video Stream Quality from Partial Stream Information.- Risk-Aware QoP/QoS Optimization for Multimedia Applications in Wireless Networks.- COCONET: Co-operative Cache Driven Overlay NETwork for p2p Vod Streaming.- QShine 2009: Session II - Multi-hop Wireless Networks.- Opportunistic Multipath Routing in Wireless Mesh Networks.- Gateways Congestion-Aware Design of Multi-radio Wireless Networks.- Novel Analytical Delay Model and Burst Assembly Scheme for Wireless Mesh and Optical Burst Switching Convergence.- Evaluation of a QoS-Aware Protocol with Adaptive Feedback Scheme for Mobile Ad Hoc Networks (Short Paper).- QShine 2009: Session III - Query and Coverage Issues in Sensor Networks.- Adaptive Data Quality for Persistent Queries in Sensor Networks.- On-Demand Node Reclamation and Replacement for Guaranteed Area Coverage in Long-Lived Sensor Networks.- Variable Density Deployment and Topology Control for the Solution of the Sink-Hole Problem.- QShine 2009: Session IV - Wireless, Mobility, and Context-Aware Services.- iDSRT: Integrated Dynamic Soft Real-Time Architecture for Critical Infrastructure Data Delivery over WLAN.- Cell Breathing Based on Supply-Demand Model in Overlapping WLAN Cells.- Comparative Analysis of QoMIFA and Simple QoS.- Resource-Optimized Quality-Assured Ambiguous Context Mediation in Pervasive Environments.- QShine 2009: Session V - Switches, Systems and the Internet.- Fluctuations and Lasting Trends of QoS on Intercontinental Links.- Performance-Adaptive Prediction-Based Transport Control over Dedicated Links.- Probabilistic Network Loads with Dependencies and the Effect on Queue Sojourn Times.- Providing Performance Guarantees for Buffered Crossbar Switches without Speedup.- QShine 2009: Invited Session I - Resource Management in Wireless Networks.- Joint Optimization of System Lifetime and Network Performance for Real-Time Wireless Sensor Networks.- Network-Assisted Radio Resource Management for Cell-Edge Performance Enhancement.- Malicious or Selfish? Analysis of Carrier Sense Misbehavior in IEEE 802.11 WLAN.- Enhanced Bandwidth Allocation for TCP Flows in WiMAX Networks.- QShine 2009: Invited Session II - Overlay, P2P Networks and Service Oriented Architectures.- A Topologically-Aware Overlay Tree for Efficient and Low-Latency Media Streaming.- Similarity Searching in Structured and Unstructured P2P Networks.- Network Attack Detection Based on Peer-to-Peer Clustering of SNMP Data.- A Scalable Approach to QoS-Aware Self-adaption in Service-Oriented Architectures.- QShine 2009: Invited Session III - QoS and Power Consumption.- Throughput and Energy Efficiency in IEEE 802.11 WLANs: Friends or Foes?.- On the Effects of Transmit Power Control on the Energy Consumption of WiFi Network Cards.- A Novel Power-Efficient Middleware Scheme for Sensor Grid Applications.- Supporting VoIP Services in IEEE 802.11e WLANs.- Qshine 2009: Invited Session IV - Mobility and QoS Support in Heterogeneous Wireless Mesh Networks.- Transparent and Distributed Localization of Mobile Users in Wireless Mesh Networks.- Towards QoS Provisioning in a Heterogeneous Carrier-Grade Wireless Mesh Access Networks Using Unidirectional Overlay Cells.- Integration of OMF-Based Testbeds in a Global-Scale Networking Facility.- A Proportionally Fair Centralized Scheduler Supporting Spatial Minislot Reuse for IEEE 802.16 Mesh Networks.- QShine 2009: Invited Session V - Data and Information Processing and Management in Sensor Networks.- Cooperative Training in Wireless Sensor and Actor Networks.- Multi-Agent Itinerary Planning for Wireless Sensor Networks.- Using Sensor Networks to Measure Intensity in Sporting Activities.- EBC: A Topology Control Algorithm for Achieving High QoS in Sensor Networks.- Self-organization and Local Learning Methods for Improving the Applicability and Efficiency of Data-Centric Sensor Networks.- QShine 2009: Invited Session VI - Performance Optimization and Device Heterogeneity in Wireless Networks.- Performance Analysis and Cross Layer Optimization for Multimedia Streaming over Wireless Networks.- Credit-Token Based Inter-cell Radio Resource Management: A Game Theoretic Approach.- On Using Digital Speech Processing Techniques for Synchronization in Heterogeneous Teleconferencing.- Interference-Free Coexistence among Heterogenous Devices in the 60 GHz Band.- AAA-IDEA 2009: Session I - Networking.- Optimisation of Power Consumption in Wired Packet Networks.- Revisiting a QoE Assessment Architecture Six Years Later: Lessons Learned and Remaining Challenges.- Efficient Authenticated Wireless Roaming via Tunnels.- AAA-IDEA 2009: Session II - SOA and Web Systems.- Towards the Integration of Distributed Transactional Memories in Application Servers'' Clusters.- Optimizing Distributed Execution of WS-BPEL Processes in Heterogeneous Computing Environments.- Optimal Service Selection Heuristics in Service Oriented Architectures.- Feedback-Based Adaptive Resource Control in QoS-Aware SOA Systems with Soft Real-Time Requirements.