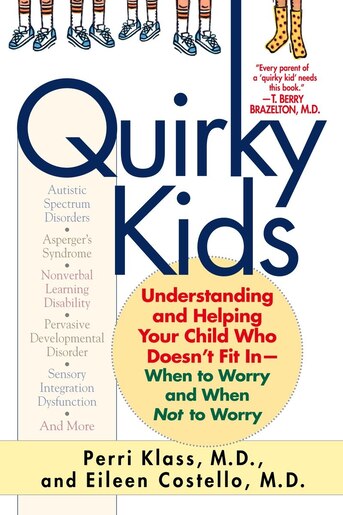 Quirky Kids: Understanding And Helping Your Child Who Doesn't Fit In- When To Worry And When Not To Worry
Paperback

|

August 31, 2004
Pricing and Purchase Info
$22.00
Prices and offers may vary in store
From the fourth-grade girl who never gets invited to a birthday party because classmates think she's "weird" to the geek who is terrific at math but is failing every other subject, quirky children are different from other kids in ways that they–and their parents–have a hard time understanding. They present a host of challenges that standard parenting books fail to address. Now, in Quirky Kids, seasoned pediatricians Perri Klass and Eileen Costello provide the expert guidance that families with quirky children so desperately need.

Klass and Costello illuminate the confusing list of terms often applied to quirky children–from Asperger's syndrome and nonverbal learning disability to obsessive-compulsive behavior and sensory integration dysfunction. The authors also discuss various therapy options, coping strategies, and available medications. Most of all, they will help quirky kids lead rich, fulfilling lives at home, at school, even on the playground.
Title:
Quirky Kids: Understanding And Helping Your Child Who Doesn't Fit In- When To Worry And When Not To...
Format:
Paperback
Dimensions:
402 pages, 8.2 X 5.5 X 0.9 in
Published:
August 31, 2004
Publisher:
Random House Publishing Group
Language:
English
The following ISBNs are associated with this title:
ISBN - 10:0345451430
ISBN - 13:9780345451439
Look for similar items by category:
Preview Your Review
Your Review Has Been Submitted
NO, I do not recommend this product.
Educational/Developmental Value:
Thank you. Your review has been submitted and will appear here shortly.
Read from the Book
"My Kid Is Different" So what do you do when you're worried about your child? You wonder and agonize, you scope out other children, you read books on child development and parenting magazines, and you go looking for help on the Internet. You talk to your spouse or your best friend or your own parents or your day-care teacher. Maybe you lock up all the worry inside and say nothing to anyone, because you can't help feeling that by speaking the words, you will make them come true. Finally, usually, you ask your child's doctor. Maybe you make a special appointment and come in to discuss your concerns, or maybe you just wait for the next regular checkup and then you mention it, more or less in passing, needing to say it, hoping to be reassured. As pediatricians, part of our job is to look over babies and young children and decide whether their development is proceeding normally and on schedule.We see our patients for short, busy interludes, often at moments when they are feeling more than a little bit stressed-out. Think of the one-year-old, cranky after a long stint in the waiting room, less than eager to be handled by a stranger, maybe remembering all too well that this too-chilly room is a place where they stick you with needles. So, as pediatricians, we examine kids and watch how they behave, but we rely most of all on parents to tell us what's going on. We know that many behavioral and developmental problems are subtle and hard to judge, and we worry that we may be missing something. On the other hand, part of our job is to reassure. If we sent every child who takes a little longer to walk for a full orthopedic, neurological, and developmental assessment, we would hardly be doing anyone any favors—not to mention what would happen if everyone who was a little slow to talk got a full oral-motor workup and a brain scan.Is Something Really Wrong?All children have bad hours and bad days and even bad weeks. Many children have difficult developmental stages or particular developmental tasks that they find frustrating and even miserable. Many parents who find themselves sufficiently and persistently worried enough to request diagnostic workups and medical and developmental evaluations end up looking back on something that turned out to be nothing more than a difficult episode in an otherwise straightforward childhood. A persistent worry doesn't tell you what the end result is going to be, but it does signal a need to pay attention and ask the right questions.Medical students famously diagnose themselves with every syndrome they study. And as parents, reading about children and the various things that can go wrong in their health or development, we measure our own children against the most ominous medical syndromes.But if you've picked up this book, your concern is more than the occasional reflex anxiety that falls under the heading of parental love. You may be worried that your child is somehow developmentally different in a significant way. You may already have started making your way through the maze of diagnosis and assessment, and you may in fact already have had a diagnosis—or a label or a formulation—assigned to your child. But wherever you and your child are in this journey, it probably all began with some worries that somehow he was different: worries that didn't go away with the morning sun or disappear when teething ended or move to the back burner when you found a better day-care center.The First SignsFor many parents, this nagging worry that something is wrong comes early in the child's life. Maybe it's an unusually intense expression of a standard baby stage: the infant whose colic doesn't end at twelve weeks or the toddler whose tantrums reflect an underlying frustration out of proportion to the "average" toddler. Maybe it's an unusual pattern of behavior or interaction—the baby who won't make eye contact, the toddler who plays obsessively with only one or two toys. Or maybe you're looking at developmental delays or differences that are just too numerous or too intense to write off as a variant of normal.We knew John was different from the beginning. He had a lot of trouble learning how to nurse. I remember this nurse at the hospital saying he's got a sucking disorder. I knew once I got him home, he would be fine. He was, but he nearly starved to death in the process. It was three or four days before he got the hang of it. Then, for the first four months, it went OK. I went back to work, started giving him some formula. But he couldn't make the transition to eating. His intake started dwindling. I remember thinking, "It's because I've gone back to work." With baby food, he couldn't figure out what to do with it when it was in his mouth, and from four to nine months, he had a totally flat growth curve—didn't gain any weight at all.I first noticed differences between Abby and other kids as early as two months. We were in a playgroup, and I felt Abby wasn't with it to the extent the other babies were. Her fists remained clenched longer than the others, she slept more, her motor milestones were slower even at that early age. Throughout her first year of life, I referred to all the usual books about milestones, and I couldn't relate to any of them.These parents, though, are looking back on the infancy of a child who turned out to be genuinely quirky. For most of us, those early anxieties are more nebulous, harder to understand and classify. You have this sense that your child just doesn't fit—doesn't fit the books, doesn't fit the group, doesn't fit your expectations. You listen to other parents talk, and you feel more and more certain that something in your own home is out of step.There are comprehensive lists of developmental milestones available for parents who want to check out whether their children are keeping up with the normal trajectories. In this section, we want to take a somewhat more global look at the kinds of concerns that parents often have, which may be less about a particular age-related milestone than about a general sense that something is "off": usually in the child's general behavior, in his language and communication skills, or in his social development—and often in all three areas. So we'll give you a few very basic yardsticks for measuring general development and a Web site to go to for a more detailed tool. We would also encourage you to follow up on your worries even if there is no specific missed milestone on which to pin them. And if your child has actually "lost" milestones—has regressed in his development, so that his speech or his social skills are less advanced than they used to be—that should send you looking for help immediately.TEMPERAMENT AND BEHAVIORParents may become concerned because a child's temperament is extreme—unbelievably irritable, as if not quite comfortable in his own skin, desperately needy, chronically frustrated. These are babies who arch, who shriek as if in frequent pain, who never seem to settle down. They're the fitful, disorganized sleepers, or maybe toddlers who don't seem to need any sleep at all.Andrew didn't sleep. We would walk him around. He was uneasy right from the beginning. He threw up all the time. He wouldn't eat. He had repetitive behaviors. The early intervention people would come with toys, and he would just open and close the doors but not play with the toys.I had planned to go back to work when George was six or seven weeks and put him in family day care. I couldn't actually leave him there. He was just too delicate, and he actually had separation anxiety at six weeks. He always had a worried look on his face. He was an anxious, hyperaroused baby.More rarely, there are babies who are remarkably, even disturbingly, placid—children who don't seem to demand anything from the world. They're easier to care for, but their parents may become troubled—and rightly so—that they are somehow out of touch.With older children, parents may note unusual behaviors, repetitive movements like spinning, hand-flapping, or rocking. They may run in circles and flap their hands whenever they get agitated. A child may constantly touch or spin or roll some particular object, ignoring all others.Think about whether you're looking at repetitive or obsessive behaviors, extraordinarily rigid routines, or any evidence, as children grow, of obsessional behaviors. One good question to ask yourself is whether your family's daily routines are dictated by these aspects of your child's temperament. Do you truly live in fear of the meltdowns that occur if regular rituals are varied? Does all family equilibrium depend on keeping this particular child calm?As children grow out of toddlerhood, quirky kids may have terrible trouble with transitions from one activity to another. They may throw outrageous tantrums that last longer than routine toddler rages and that go on occurring well after the child should have outgrown them. They may show extreme sensitivity to sensory stimuli as well and be completely unable to tolerate things routine for other kids—the noise of a movie sound track, the sensation of water on the skin, the motion of a swing at the playground.What comes easily to most children can be terribly difficult for quirky kids. If you are watching your child struggle with some of the routine activities of daily life, and if your family life is being reshaped to accommodate her needs and preferences because she herself cannot accommodate at all, it may be time to look into what's really going on.SPEECH AND LANGUAGEDuring the first three years of a child's life, many parents become concerned about speech and language, noticing either that the child is slow to develop speech or else that the child seems uninterested in the speech of others. Some children get tested for hearing loss because they pay attention so selectively—ignoring human voices, say, but responding to a certain tune played by a music box or a favorite TV show. Some are slow to speak, but others speak early and precociously and in fact use their speech and language to manifest early obsessions.Aidan spoke early. He started talking at nine months and knew the alphabet at twelve months, could recognize some of the letters. By eighteen months, he insisted on learning phonics. He read early and became interested in numbers, directions, things like that.Emma's language was slow to develop, and we used to say she spoke "Emmaese." She prattled on in her own language, which was incomprehensible to anyone else. By two and a half, she babbled but did not talk at all. She did respond to speech. She always loved music and Disney movies. I just sensed that she was off the beam early on.Whereas some quirky kids are speech-delayed and need to use other forms of communication while they're young (screaming, pointing, making grunting sounds, pulling on a parent's clothes), others develop normal speech at a normal pace but find themselves with impaired language. A child may be able to talk endlessly about her obsession but be unable to carry on a basic conversation. She may develop functional language that allows her to ask for what she wants but have no interactive language. (In other words, maybe she can say "I want juice" but is incapable of a sentence like "This juice is good!") Some children can only use and understand concrete words for concrete objects.Patterns of speaking may also raise the alarm. Children with echolalia repeat the last few words of whatever is said to them. Children who perseverate may ask the same question or make the same statement over and over. Finally, some quirky kids have "robotic speech," and whatever they say comes out in a strange monotonous tone.Some milestones to watch for:• A baby should babble by six months, and the babbling should increase in complexity and in how close it sounds to spoken language.• By nine months, a baby should respond to his own name.• By fifteen to eighteen months, a child should be able to say a couple of words and should understand simple spoken instructions.• By two and a half to three, a child should be speaking in sentences, with a certain amount of fluency and inflection—that is, a question should sound like a question.• By four, speech should be completely intelligible to those outside the child's family.SOCIAL INTERACTIONSSome quirky children are uninterested in toys, or they play with their toys in unusual ways—lining them up or fixating on certain textures and strok- ing them over and over. Some fixate on one particular object—appropriate or inappropriate—to the exclusion of everything else. Many parents become concerned when their babies or toddlers don't seem to look at them or engage in the early games of peekaboo. Then, of course, there's the social outlier—the child who can't or won't or doesn't want to join in the sandbox games or the circle time at day care or the birthday party mob.From the Hardcover edition.
Editorial Reviews
"Every parent of a 'quirky kid' needs this book."–T. BERRY BRAZELTON, M.D."A WISE AND PROFOUNDLY COMFORTING BOOK."–MICHAEL THOMPSON, Ph.D., coauthor of Raising Cain "A superb, original, hugely needed book . . . The first and the definitive guide to understanding these marvelous kids. Free of jargon, full of facts and wisdom and practical advice."–EDWARD M. HALLOWELL, M.D., coauthor of Driven to Distraction"As I read this wonderful and helpful book, I kept nodding in agreement: 'Yes, this is right, this is good, very true!' Parents and pediatricians need this book. A+." –CAROL STOCK KRANOWITZ, M.A., author of The Out-of-Sync Child"Terrific . . . Thoroughly researched . . . An exceptional resource for anyone working to provide the best care for children with special needs."–The Plain Dealer (Cleveland)"Highly recommended . . . Practical, compassionate, and thorough."–Library Journal (starred review)