Real Men Cook: More Than 100 Easy Recipes Celebrating Tradition And Family
by

K. Kofi Moyo

Foreword by

BARACK OBAMA
Paperback

|

June 5, 2006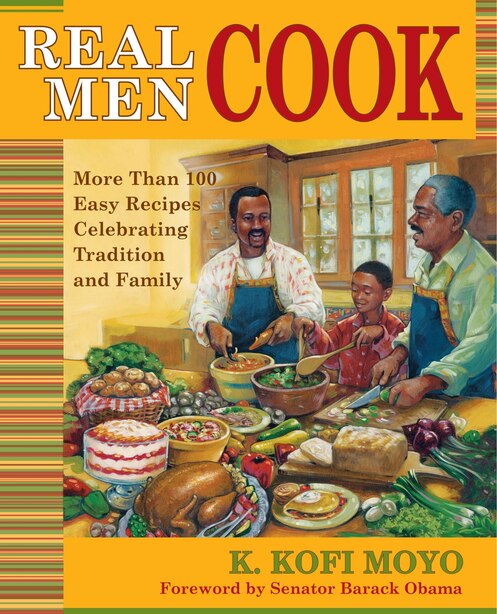 Prices and offers may vary in store
A delicious, heartwarming collection of soul-stirring stories and soul-satisfying recipes, from real men who do it in the kitchen!

Every Father''s Day, men -- from the guy next door to politicians, entrepreneurs, athletes, and artists -- gather together in cities across the country to participate in Real Men Cook for Charity events. It has become the largest Father''s Day charity event in the United States, raising over a million dollars for charities such as the Boys & Girls Clubs of America, the YMCA, and Real Men Charities, Inc., for various family and health initiatives.

Now, some of the remarkable Real Men Cook volunteers have come forward to express their love of cooking, family, and community by sharing more than one hundred delectable recipes (some handed down over the generations) and the memories that inspire them to live as Real Men. A unique book with a priceless legacy that will nourish your family in body and spirit.
Title:
Real Men Cook: More Than 100 Easy Recipes Celebrating Tradition And Family
Format:
Paperback
Product dimensions:
192 pages, 9.12 X 7.38 X 0.6 in
Shipping dimensions:
192 pages, 9.12 X 7.38 X 0.6 in
Published:
June 5, 2006
Publisher:
Touchstone
Language:
English
The following ISBNs are associated with this title:
ISBN - 10:0743272641
ISBN - 13:9780743272643
Look for similar items by category:
Preview Your Review
Your Review Has Been Submitted
NO, I do not recommend this product.
Educational/Developmental Value:
Thank you. Your review has been submitted and will appear here shortly.
Read from the Book
Chapter One: Tender Gravy I was blessed to be part of a family in which essential life skills were not relegated to a specific class or gender. Both my father, Arnold Saunders, and my mother, Lydia, could cook, clean, sew, iron, work, make things with their hands, and provide discipline. A great cook of simple fare, my father frequently made something he called "tender gravy." It was made from the juices of meat, augmented with flour, water, and seasonings, simmered long and ever so slowly to ensure that every grain of flour was saturated. The mixture became tender and somehow much more than the sum of its parts. Even the toughest cuts of meat, fowl, or wild game were completely tenderized and would melt in your mouth. That gravy was served over the meat and the potatoes on the side. What was left could be sopped up with a piece of bread until the plate was shining clean. My father''s gravy provides a metaphor for all of the lessons he taught me, lessons that enabled me to grow into manhood with positive values intact and to pass those values on to my own children. Growing up as I did with parents who took cooking, eating, and nurturing seriously, it''s no wonder why I would choose to involve myself for the past sixteen years in an event that challenges preconceptions by elevating men, celebrating families and supporting the community. Real Men Cook is an expression of everything I am and something that I could not help wanting to share with other men of like mind. Beyond my ambitions for social relevance, there were even more primordial concerns that drove my interest in the event. First and foremost, I love food, and I am fascinated by the food industry. My curiosity extends from the garden or farm all the way to the pot on the stove. I can wander around all day in wholesale produce markets where rail and trucks deposit the lifeblood of urban existence. Ethnic markets and groceries that reflect the diversity of American society make city living incredibly exciting to me. I am humbled by the endless variety of vegetables; the colors, textures, and smells of exotic spices, dried meats, salted fish, and olives; and the various oils infused with herbs and spices for cooking and flavoring. The conversations of the shoppers and, often, the engagement of shop owners as they offer suggestions and personal experiences from their cultural backgrounds are music to my ears. Street markets with thousands of delis and cut flowers invigorate me. I never cease to be amazed by a farming system that ranges from environmentally correct to genetically efficient, a system that churns out questionably nutritious end products that enable millions of Americans to become grossly overfed. As I wander, I wonder, "How does a prepackaged salad get to be more expensive than the cost of the separate ingredients of which it is composed? How has ''fresh frozen'' emerged as a standard of quality that eclipses what is available at the farmer''s market?" In any case, I am awed by the experience. Secondly, I am motivated no less by the fact that I love to eat. After an early childhood of being thin and sickly with frequent colds and upper respiratory ailments and enduring the relatives who made me eat a multitude of things that I deemed unfit for human consumption, I blossomed into an overachiever in all things edible. Now, fortunately or unfortunately, I have evolved into a person who sees food as something more than just fuel to keep the body going. It is a thing to be experienced, savored, and shared. "Tender Gravy" emotes the fundamentals of historical cooking and family traditions, and reflects the relationships that these men had with their grandfathers, fathers, or elders who helped shape and mentor them into the men they are today. The world in which we live is much more diverse than ever before. Its values and views defy the imagination of a man like me, with more than sixty-five years elapsed on my calendar. The "traditional family" of the twenty-first century almost defies definition. We have blended, extended, adoptive, and foster families. Sometimes the mother alone is the head of the household. Increasingly, a father or grandparent is raising the children solo. No matter what the family configuration, balance is required for the best end product. As a rule, children benefit most from the presence of both a mother and father. That was the model I was exposed to growing up, and it is the model that has worked for me in raising nine children, even though we all did not always live in the same household. Children need help to navigate modernity with all of its conflicts and contradictions. Modern life moves at a disorienting, quick pace: communication, transportation, and forms of entertainment are pushing the limits of what is socially acceptable. The impact of modernity on our families is a subject for another book. Right now, I am merely admonishing readers to sit up and pay attention. Patch up your relationships. Turn off those talk shows. Stop going to the moral court for answers when the real ones are in your heart of hearts. You might have forgotten how or why you found your way to the bedroom, or wherever it was that you mutually consented to let "it" happen. The fact remains that "it" happened, and both people need to be there for the child that was born as a result. No one can deny that successful adults are ones who benefited from a secure environment while growing up. There were grown-ups in their life who directed their development. Looking back on my childhood, I realize that my family life was certainly not perfect. Truth is, my parents separated and divorced after twenty-one years of marriage. Many of the issues that led up to the big divide were there for all to see, but the fact remains that both of my parents were always supportive of me. All of the recipes in this section reflect a special relationship and bond that these Real Men had with that uncle, grandfather, father, or elder who took the time to guide these men along the path called life. I have chosen these recipes on purpose. Some were my father''s favorites, like Lamb Da-Ra-Ja, and Captain Leander Carter''s Famous Chesapeake Bay Fish Chowder. Aside from the fact that my father loved chowders, the recipe connects Stephen Carter with his roots, his grandfather. These recipes established key relationships for these strong brothers who are carrying the torch -- and showcasing the positive images of African American men. Copyright © 2005 by Karega Kofi Moyo
Table of Contents
Contents
Introduction
Chapter One: Tender Gravy
Chapter Two: The Biggest Room in the House
Chapter Three: The Shy Chick from Fox Lake
Chapter Four: Iron Skillets
Chapter Five: Wooden Spoons and Cake Bowls
Chapter Six: Life''s Greatest Rewards
Chapter Seven: A Family of Men
Afterword: Useni Eugene Perkins
Roll Call
Acknowledgments
Real Men Cook® Merchandise
Index