Remarks On Two Cross-sections Of The County, From South Wheal Basset, Through Carn Brea Hill, To West Wheal Tolgus, In West Cornwall ... Illustrated By ... Plates. From The Report Of The Miners' Association Of Cornwall And Devon, For 1873.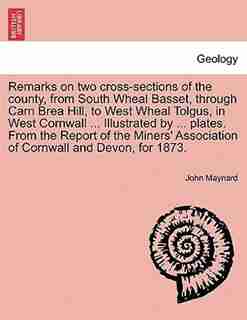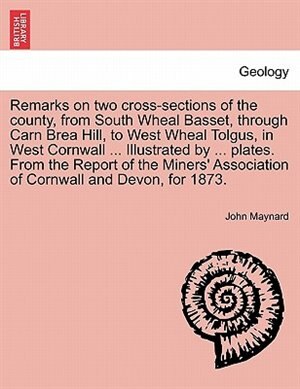 In-Store Availability
Prices and offers may vary in store
Title: Remarks on two cross-sections of the county, from South Wheal Basset, through Carn Brea Hill, to West Wheal Tolgus, in West Cornwall ... Illustrated by ... plates. From the Report of the Miners' Association of Cornwall and Devon, for 1873.Publisher: British Library, Historical Print EditionsThe British Library is the national library of the United Kingdom. It is one of the world's largest research libraries holding over 150 million items in all known languages and formats: books, journals, newspapers, sound recordings, patents, maps, stamps, prints and much more. Its collections include around 14 million books, along with substantial additional collections of manuscripts and historical items dating back as far as 300 BC.The GEOLOGY collection includes books from the British Library digitised by Microsoft. The works in this collection contain a number of maps, charts, and tables from the 16th to the 19th centuries documenting geological features of the natural world. Also contained are textbooks and early scientific studies that catalogue and chronicle the human stance toward water and land use. Readers will further enjoy early historical maps of rivers and shorelines demonstrating the artistry of journeymen, cartographers, and illustrators. ++++The below data was compiled from various identification fields in the bibliographic record of this title. This data is provided as an additional tool in helping to insure edition identification: ++++ British Library Maynard, John; 1874. 12 p.; 8 . 7106.f.25.(8.)
Title:
Remarks On Two Cross-sections Of The County, From South Wheal Basset, Through Carn Brea Hill, To We...
Format:
Paperback
Product dimensions:
22 pages, 9.69 X 7.44 X 0.05 in
Shipping dimensions:
22 pages, 9.69 X 7.44 X 0.05 in
Published:
January 10, 2011
Publisher:
British Library, Historical Print Editions
Language:
English
The following ISBNs are associated with this title:
ISBN - 10:1240907664
ISBN - 13:9781240907663
Look for similar items by category: