Retrouver Montréal: qualité de vie, qualité de ville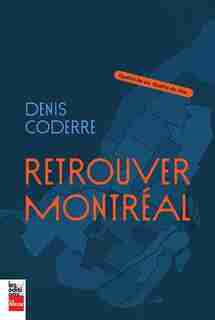 Buy In Store
To check store inventory,
Prices and offers may vary in store
« J'ai écrit ce livre motivé par le désir sincère et profond de
vous retrouver. Pour vous exprimer ce que j'ai appris de mon
passage à la mairie et, bien entendu, pour vous partager ma
vision de ce qu'il faudrait entreprendre pour relever les importants
défis qui se dressent devant nous.
Au cours de ma longue carrière en politique, à plusieurs paliers
de gouvernement, j'ai appris que la gouvernance municipale
est l'outil le plus adéquat pour créer un impact durable dans la
qualité de vie de chaque citoyenne, de chaque citoyen.
Profitant de quatre années de recul, de réflexion et d'introspection,
je me suis reconstruit physiquement et mentalement,
et je suis allé à la rencontre des Montréalais.es de tout quartier,
de toute condition, de toute origine, de toute génération.
Et plus le temps passait, plus à l'évidence je comprenais que
notre relation n'était pas terminée. Vous saisirez combien je
suis attaché à notre métropole, et comment j'entrevois pour
elle un avenir ambitieux, rayonnant et durable.
Au fil de ces lignes, c'est donc à vous que je m'adresse. À vous
qui contribuez chaque jour au développement de la vie économique,
culturelle et sociale de Montréal. Mon voeu le plus
cher est d'y harmoniser notre cohabitation selon une conception
qui m'est tout aussi chère : le vivre-ensemble.
Décrivant récemment à un ami le sentiment qui m'habitait
avant de me mettre à l'ouvrage, ce dernier répliqua : "Écris cette
histoire Denis, c'est une histoire d'amour."
Précisément ce dont cette ville a le plus besoin : de l'amour ! »
Title:
Retrouver Montréal: qualité de vie, qualité de ville
Product dimensions:
8.75 X 6.35 X 0.68 in
Shipping dimensions:
8.75 X 6.35 X 0.68 in
Appropriate for ages:
All ages