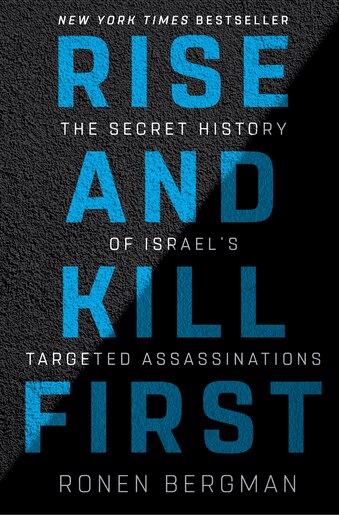 Rise And Kill First: The Secret History Of Israel's Targeted Assassinations
Hardcover

|

January 30, 2018
Pricing and Purchase Info
$47.00
list price
save 21%
Prices and offers may vary in store
NEW YORK TIMES BESTSELLER • The first definitive history of the Mossad, Shin Bet, and the IDF's targeted killing programs, hailed by The New York Times as "an exceptional work, a humane book about an incendiary subject."

WINNER OF THE NATIONAL JEWISH BOOK AWARD IN HISTORY

NAMED ONE OF THE TEN BEST BOOKS OF THE YEAR BY JENNIFER SZALAI, THE NEW YORK TIMES 
NAMED ONE OF THE BEST BOOKS OF THE YEAR BY The Economist • The New York Times Book Review • BBC History Magazine • Mother Jones • Kirkus Reviews

The Talmud says: "If someone comes to kill you, rise up and kill him first." This instinct to take every measure, even the most aggressive, to defend the Jewish people is hardwired into Israel's DNA. From the very beginning of its statehood in 1948, protecting the nation from harm has been the responsibility of its intelligence community and armed services, and there is one weapon in their vast arsenal that they have relied upon to thwart the most serious threats: Targeted assassinations have been used countless times, on enemies large and small, sometimes in response to attacks against the Israeli people and sometimes preemptively.

In this page-turning, eye-opening book, journalist and military analyst Ronen Bergman—praised by David Remnick as "arguably [Israel's] best investigative reporter"—offers a riveting inside account of the targeted killing programs: their successes, their failures, and the moral and political price exacted on the men and women who approved and carried out the missions.

Bergman has gained the exceedingly rare cooperation of many current and former members of the Israeli government, including Prime Ministers Shimon Peres, Ehud Barak, Ariel Sharon, and Benjamin Netanyahu, as well as high-level figures in the country's military and intelligence services: the IDF (Israel Defense Forces), the Mossad (the world's most feared intelligence agency), Caesarea (a "Mossad within the Mossad" that carries out attacks on the highest-value targets), and the Shin Bet (an internal security service that implemented the largest targeted assassination campaign ever, in order to stop what had once appeared to be unstoppable: suicide terrorism).

Including never-before-reported, behind-the-curtain accounts of key operations, and based on hundreds of on-the-record interviews and thousands of files to which Bergman has gotten exclusive access over his decades of reporting, Rise and Kill First brings us deep into the heart of Israel's most secret activities. Bergman traces, from statehood to the present, the gripping events and thorny ethical questions underlying Israel's targeted killing campaign, which has shaped the Israeli nation, the Middle East, and the entire world.

"A remarkable feat of fearless and responsible reporting . . . important, timely, and informative."—John le Carré
Title:
Rise And Kill First: The Secret History Of Israel's Targeted Assassinations
Format:
Hardcover
Product dimensions:
784 pages, 9.51 X 6.4 X 1.58 in
Shipping dimensions:
784 pages, 9.51 X 6.4 X 1.58 in
Published:
January 30, 2018
Publisher:
Random House Publishing Group
Language:
English
The following ISBNs are associated with this title:
ISBN - 10:1400069718
ISBN - 13:9781400069712
Look for similar items by category:
Preview Your Review
Your Review Has Been Submitted
NO, I do not recommend this product.
Educational/Developmental Value:
Thank you. Your review has been submitted and will appear here shortly.
Read from the Book
Chapter 1In Blood and FireOn September 29, 1944, David Shomron hid in the gloom of St. George Street, not far from the Romanian Church in Jerusalem. A church building was used as officers' lodgings by the British authorities governing Palestine, and Shomron was waiting for one of those officers, a man named Tom Wilkin, to leave.Wilkin was the commander of the Jewish unit at the Criminal Investigation Department (CID) of the British Mandate for Palestine, and he was very good at his job, especially the part that involved infiltrating and disrupting the fractious Jewish underground. Aggressive, yet also exceptionally patient and calculating, Wilkin spoke fluent Hebrew, and after thirteen years of service in Palestine, he had an extensive network of informants. Thanks to the intelligence they provided, underground fighters were arrested, their weapons caches were seized, and their planned operations, aimed at forcing the British to leave Palestine, were foiled.Which was why Shomron was going to kill him.Shomron and his partner that night, Yaakov Banai (code-named Mazal—"Luck"), were operatives with Lehi, the most radical of the Zionist underground movements fighting the British in the early 1940s. Though Lehi was the acronym for the Hebrew phrase "fighters for the freedom of Israel," the British considered it a terrorist organization, referring to it dismissively as the Stern Gang, after its founder, the romantic ultra-nationalist Avraham Stern. Stern and his tiny band of followers employed a targeted mayhem of assassinations and bombings—a campaign of "personal terror," as Lehi's operations chief (and later Israeli prime minister), Yitzhak Shamir, called it.Wilkin knew he was a target. Lehi already had tried to kill him and his boss, Geoffrey Morton, nearly three years earlier, in its first, clumsy operation. On January 20, 1942, assassins planted bombs on the roof and inside the building of 8 Yael Street, in Tel Aviv. Instead they ended up killing three police officers—two Jews and an Englishman—who arrived before Wilkin and Morton and tripped the charges. Later, Morton fled Palestine after being wounded in another attempt on his life—that one in retribution for Morton having shot Stern dead.None of those details, the back-and-forth of who killed whom and in what order, mattered to Shomron. The British occupied the land the Zionists saw as rightfully theirs—that was what mattered, and Shamir had issued a death sentence against Wilkin.For Shomron and his comrades, Wilkin was not a person but rather a target, prominent and high-value. "We were too busy and hungry to think about the British and their families," Shomron said decades later.After discovering that Wilkin was residing in the Romanian Church annex, the assassins set out on their mission. Shomron and Banai had revolvers and hand grenades in their pockets. Additional Lehi operatives were in the vicinity, smartly dressed in suits and hats to look like Englishmen.Wilkin left the officers' lodgings in the church and headed for the CID's facility in the Russian Compound, where underground suspects were held and interrogated. As always, he was wary, scanning the street as he walked and keeping one hand in his pocket all the time. As he passed the corner of St. George and Mea Shearim Streets, a youngster sitting outside the neighborhood grocery store got up and dropped his hat. This was the signal, and the two assassins began walking toward Wilkin, identifying him according to the photographs they'd studied. Shomron and Banai let him pass, gripping their revolvers with sweating palms.Then they turned around and drew."Before we did it, Mazal [Banai] said, 'Let me shoot first,' " Shomron recalled. "But when we saw him, I guess I couldn't restrain myself. I shot first."Between them, Banai and Shomron fired fourteen times. Eleven of those bullets hit Wilkin. "He managed to turn around and draw his pistol," Shomron said, "but then he fell face first. A spurt of blood came out of his forehead, like a fountain. It was not such a pretty picture."Shomron and Banai darted back into the shadows and made off in a taxi in which another Lehi man was waiting for them."The only thing that hurt me was that we forgot to take the briefcase in which he had all his documents," Shomron said. Other than that, "I didn't feel anything, not even a little twinge of guilt. We believed the more coffins that reached London, the closer the day of freedom would be."The idea that the return of the People of Israel to the Land of Israel could be achieved only by force was not born with Stern and his Lehi comrades.The roots of that strategy can be traced to eight men who gathered in a stifling one-room apartment overlooking an orange grove in Jaffa on September 29, 1907, exactly thirty-seven years before a fountain of blood spurted from Wilkin's head, when Palestine was still part of the Turkish Ottoman Empire. The flat was rented by Yitzhak Ben-Zvi, a young Russian who'd immigrated to Ottoman Palestine earlier that year. Like the others in his apartment that night—all emigrants from the Russian empire, sitting on a straw mat spread on the floor of the candlelit room—he was a committed Zionist, albeit part of a splinter sect that had once threatened to rend the movement.Zionism as a political ideology had been founded in 1896 when Viennese Jewish journalist Theodor Herzl published Der Judenstaat (The Jewish State). He had been deeply affected while covering the trial in Paris of Alfred Dreyfus, a Jewish army officer unjustly accused and convicted of treason.In his book, Herzl argued that anti-Semitism was so deeply ingrained in European culture that the Jewish people could achieve true freedom and safety only in a nation-state of their own. The Jewish elite of Western Europe, who'd managed to carve out comfortable lives for themselves, mostly rejected Herzl. But his ideas resonated with poor and working-class Jews of Eastern Europe, who suffered repeated pogroms and continual oppression and to which some of them responded by aligning themselves with leftist uprisings.Herzl himself saw Palestine, the Jews' ancestral homeland, as the ideal location for a future Jewish state, but he maintained that any settlement there would have to be handled deliberately and delicately, through proper diplomatic channels and with international sanction, if a Jewish nation was to survive in peace. Herzl's view came to be known as political Zionism.Ben-Zvi and his seven comrades, on the other hand, were—like most other Russian Jews—practical Zionists. Rather than wait for the rest of the world to give them a home, they believed in creating one themselves—in going to Palestine, working the land, making the desert bloom. They would take what they believed to be rightfully theirs, and they would defend what they had taken.This put the practical Zionists in immediate conflict with most of the Jews already living in Palestine. As a tiny minority in an Arab land—many of them peddlers and religious scholars and functionaries under the Ottoman regime—they preferred to keep a low profile. Through subservience and compromise and bribery, these established Palestinian Jews had managed to buy themselves relative peace and a measure of security.But Ben-Zvi and the other newcomers were appalled at the conditions their fellow Jews tolerated. Many were living in abject poverty and had no means of defending themselves, utterly at the mercy of the Arab majority and the venal officials of the corrupt Ottoman Empire. Arab mobs attacked and plundered Jewish settlements, rarely with any consequences. Worse, as Ben-Zvi and the others saw it, those same settlements had consigned their defense to Arab guards—who in turn would sometimes collaborate with attacking mobs.Ben-Zvi and his friends found this situation to be unsustainable and intolerable. Some were former members of Russian left-wing revolutionary movements inspired by the People's Will (Narodnaya Volya), an aggressive anti-tsarist guerrilla movement that employed terrorist tactics, including assassinations.Disappointed by the abortive 1905 revolution in Russia, which in the end produced only minimal constitutional reforms, some of these socialist revolutionaries, social democrats, and liberals moved to Ottoman Palestine to reestablish a Jewish state.They all were desperately poor, barely scraping by, earning pennies at teaching jobs or manual labor in the fields and orange groves, often going hungry. But they were proud Zionists. If they were going to create a nation, they first had to defend themselves. So they slipped through the streets of Jaffa in pairs and alone, making their way to the secret meeting in Ben-Zvi's apartment. That night, those eight people formed the first Hebrew fighting force of the modern age. They decreed that, from then forward, everything would be different from the image of the weak and persecuted Jew all across the globe. Only Jews would defend Jews in Palestine.They named their fledgling army Bar-Giora, after one of the leaders of the Great Jewish Revolt against the Roman Empire, in the first century. On their banner, they paid homage to that ancient rebellion and predicted their future. "In blood and fire Judea fell," it read. "In blood and fire Judea will rise."Judea would indeed rise. Ben-Zvi would one day be the Jewish nation's second president. Yet first there would be much fire, and much blood.Bar-Giora was not, at first, a popular movement. But more Jews arrived in Palestine from Russia and Eastern Europe every year—35,000 between 1905 and 1914—bringing with them that same determined philosophy of practical Zionism.With more like-minded Jews flooding into the Yishuv, as the Jewish community in Palestine was called, Bar-Giora in 1909 was reconstituted into the larger and more aggressive Hashomer (Hebrew for "the Guard"). By 1912, Hashomer was defending fourteen settlements. Yet it was also developing offensive, albeit clandestine, capabilities, preparing for what practical Zionists saw as an inevitable eventual war to take control of Palestine. Hashomer therefore saw itself as the nucleus for a future Jewish army and intelligence service.Mounted on their horses, Hashomer vigilantes raided a few Arab settlements to punish residents who had harmed Jews, sometimes beating them up, sometimes executing them. In one case, a special clandestine assembly of Hashomer members decided to eliminate a Bedouin policeman, Aref al-Arsan, who had assisted the Turks and tortured Jewish prisoners. He was shot dead by Hashomer in June 1916.Hashomer did not recoil from using force to assert its authority over other Jews, either. During World War I, Hashomer was violently opposed to NILI, a Jewish spy network working for the British in Ottoman Palestine. Hashomer feared that the Turks would discover the spies and wreak vengeance against the entire Jewish community. When they failed to get NILI to cease operations or to hand over a stash of gold coins they'd received from the British, they made an attempt on the life of Yosef Lishansky, one of its members, managing only to wound him.In 1920, Hashomer evolved again, now into the Haganah (Hebrew for "Defense"). Though it was not specifically legal, the British authorities, who had been ruling the country for about three years, tolerated the Haganah as the paramilitary defensive arm of the Yishuv. The Histadrut, the socialist labor union of the Jews in Israel that was founded in the same year, and the Jewish Agency, the Yishuv's autonomous governing authority, established a few years later, both headed by David Ben-Gurion, maintained command over the secret organization.Ben-Gurion was born David Yosef Grün in Pło´nsk, Poland, in 1886. From an early age, he followed in his father's footsteps as a Zionist activist. In 1906, he migrated to Palestine and, thanks to his charisma and determination, soon became one of the leaders of the Yishuv, despite his youth. He then changed his name to Ben-Gurion, after another of the leaders of the revolt against the Romans.Haganah in its early years was influenced by the spirit and aggressive attitude of Hashomer. On May 1, 1921, an Arab mob massacred fourteen Jews in an immigrants' hostel in Jaffa. After learning that an Arab police officer by the name of Tewfik Bey had helped the mob get into the hostel, Haganah sent a hit squad to dispose of him, and on January 17, 1923, he was shot dead in the middle of a Tel Aviv street. "As a matter of honor," he was shot from the front and not in the back, according to one of those involved, and the intention was "to show the Arabs that their deeds are not forgotten and their day will come, even if belatedly."The members of Hashomer who led the Haganah at the outset were even willing to commit acts of violence against fellow Jews. Jacob de Haan was a Dutch-born Haredi—an ultra-Orthodox Jew—living in Jerusalem in the early 1920s. He was a propagandist for the Haredi belief that only the Messiah could establish a Jewish state, that God alone would decide when to return the Jews to their ancestral homeland, and that humans trying to expedite the process were committing a grave sin. In other words, de Haan was a staunch anti-Zionist, and he was surprisingly adept at swaying international opinion. To Yitzhak Ben-Zvi, by now a prominent Haganah leader, that made de Haan dangerous. So he ordered his death.On June 30, 1924—just a day before de Haan was to travel to London to ask the British government to reconsider its promise to establish a Jewish nation in Palestine—two assassins shot him three times as he emerged from a synagogue on Jaffa Road in Jerusalem.Ben-Gurion, however, took a dim view of such acts. He realized that in order to win even partial recognition from the British for Zionist aims, he would have to enforce orderly and more moderate norms on the semi-underground militia under his command. Hashomer's brave and lethal lone riders were replaced after the de Haan murder by an organized, hierarchical armed force. Ben-Gurion ordered Haganah to desist from using targeted killings. "As to personal terror, Ben-Gurion's line was consistently and steadily against it," Haganah commander Yisrael Galili testified later, and he recounted a number of instances in which Ben-Gurion had refused to approve proposals for hits against individual Arabs. These included the Palestinian leader Hajj Amin al-Husseini and other members of the Arab Higher Committee, and British personnel, such as a senior official in the Mandate's lands authority who was obstructing Jewish settlement projects.Not everyone was eager to acquiesce to Ben-Gurion. Avraham Tehomi, the man who shot de Haan, despised the moderate line Ben-Gurion took against the British and the Arabs, and, together with some other leading figures, he quit Haganah and in 1931 formed the Irgun Zvai Leumi, the "National Military Organization" whose Hebrew acronym is Etzel, usually referred to in English as IZL or the Irgun. This radical right-wing group was commanded in the 1940s by Menachem Begin, who in 1977 was to become prime minister of Israel. Inside the Irgun, too, there were clashes, personal and ideological. Opponents of Begin's agreement to cooperate with Britain in its war against the Nazis broke away and formed Lehi. For these men, any cooperation with Britain was anathema.
Editorial Reviews
"Ronen Bergman has set out in incontestable detail the history and scale of Israel's use of extrajudicial killing as an instrument of defense and foreign policy. His material is stark and sensational, but he steers a steady course through it, even pausing along the way to debate the effectiveness and morality of his subject. The result is a compelling read whatever your point of view."—John le Carré"This remarkable account of Israel's targeted-killing programs is the product of nearly eight years of research into what is arguably the most secretive and impenetrable intelligence community in the world. Bergman, an investigative reporter and military analyst, interviewed hundreds of insiders, including assassins, and obtained thousands of classified documents."—The New Yorker "America's difficult relationship with targeted killing and the dilemmas we may face in the future are beautifully illuminated by the longer story of Israel's experiences with assassination in its own endless war against terrorism. . . . Americans now have a terrific new introduction to that story with publication of Ronen Bergman's Rise and Kill First. . . . It moves at a torrid pace and tells stories that would make Jason Bourne sit up and say 'Wow!' It is smart, thoughtful and balanced, and the English translation is superb. It deserves all of the plaudits it has already received."—The New York Times Book Review"Blending history and investigative reporting, Bergman never loses sight of the ethical questions that arise when a state, founded as a refuge for a stateless people who were targets of a genocide, decides it needs to kill in order to survive. . . . This book is full of shocking moments, surprising disturbances in a narrative full of fateful twists and unintended consequences."—The New York Times "Authoritative . . . a chilling portrait of the evolution of the assassination program . . . Bergman has a reputation as an indefatigable journalist who has developed hundreds of informed sources in the defense establishment over the past two decades. . . . Since World War II, Bergman calculates, the Jewish state and its pre-state paramilitary organizations have assassinated more people than any other country in the Western world."—The Washington Post "A must-read . . . [Bergman is] Israel's premier chronicler of the country's principal spy services—the Mossad (Israel's CIA), Shin Bet (its internal security organ) and Aman (military intelligence)."—Newsweek "A textured history of the personalities and tactics of the various secret services . . . makes the case that Israel has used assassination in the place of war, killing half a dozen Iranian nuclear scientists, for instance, rather than launching a military attack . . . [Bergman] says that while the [United States] has tighter constraints on its agents than does Israel, President George W. Bush adopted many Israeli techniques after the terrorist attacks of September 11, 2001, and President Barack Obama launched several hundred targeted killings."—Bloomberg"Leading any list of notable nonfiction books—Jewish or not—must be Ronen Bergman's Rise and Kill First, a massive and extravagantly well-sourced history of the use of the tool of assassination by Israel's intelligence services. . . . One's mouth is often agape with amazement, even shock, while reading."—Haaretz