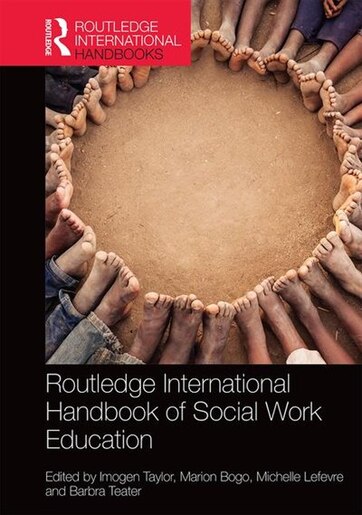 Routledge International Handbook Of Social Work Education
Hardcover

|

April 14, 2016
Pricing and Purchase Info
$346.50
Prices and offers may vary in store
The Routledge International Handbook of Social Work Education provides an authoritative overview of current understanding through coverage of key debates, exploring the state of play in particular social work education fields and reflecting on where the future might be taking us. The overall aim of the Handbook is to further develop pedagogic research and scholarship for social work education. Drawing on medical education as an exemplar, the contributions view social work education as a specialism and a field of expertise that counts in the same way as research programmes in more traditional areas of social work practice.
The chapters are concerned with the theory and practice of social work education at all levels; they are accessible, conceptually clear, research based where appropriate, critically reflective and ethically underpinned. The Handbook is organised into seven sections that reflect the proposed themes and sub-themes covering:
Social work education in context: the western drivers

Emerging and re-emerging social work education

The scholarship of learning and teaching

New insights into field education

New directions in learning and teaching

Future challenges in social work education
This handbook presents a contribution to the process of exchange and dialogue which is essential to global social work education. It brings together professional knowledge and lived experience, both universal and local, and will be an essential reference for social work educators, researchers, students and professionals.
Title:
Routledge International Handbook Of Social Work Education
Format:
Hardcover
Dimensions:
450 pages, 9.41 X 7.24 X 0.98 in
Published:
April 14, 2016
Publisher:
Routledge
Language:
English
The following ISBNs are associated with this title:
ISBN - 10:1138890235
ISBN - 13:9781138890237
Look for similar items by category:
Preview Your Review
Your Review Has Been Submitted
NO, I do not recommend this product.
Educational/Developmental Value:
Thank you. Your review has been submitted and will appear here shortly.
Table of Contents
Part I: Social Work Education in Context: The Western Drivers 1. ''Think Globally and Locally'': A New Agenda for International Social Work Education Mel Gray 2. Social Work Education and the Challenge of Race Equality Charlotte Williams 3. Understanding and Assessing Competence: Challenges Associated with the Competency-based Approach to Social Work Education Jo Ann R. Coe Regan and Alan J. Dettlaff 4. ''Whose Curriculum is it Anyway?'' Social Work Education, Globalisation and Knowledge Imogen Taylor 5. The Academisation of Professional Social Work: A Case Study of Europe Peter Dellgran & Staffan H¿jer 6. Social Work Education and the Borderless University Experience Ira Colby Part II: Emerging and Re-emerging Social Work Education 7. The Development of Social Work Education in China in an Era of Rapid Change and Transformation Si Bin Wang and W.K. Angelina Yuen-Tsang 8. Treading the Long Path: Social Work Education in Malaysia Jonathan Parker, Sara Ashencaen Crabtree and Azlinda Azman 9. Creating Social Work Education in The Republic of Georgia Mark Doel, Iago Kachkachishvili, Jo Lucas, Salome Namicheishvili and Natia Partskhaladze 10. Education for Social Development: The Case of India Vimla Nadkarni, Geeta Balakrishnan, and Ronald Yesudhas 11. Developing Social Work Education in Africa: The Case for a Social Development Approach Rodreck Mupedziswa and Kefense Kubanga Part III: The Scholarship of Learning and Teaching 12. Developing Learning and Teaching About Diversity and Social Justice Lorraine Guttierez and Robert Ortega 13. Developing Research Learning and Teaching in Qualifying Social Work Education Elaine Sharland and Barbra Teater 14. Teaching and Learning for Ethical Practice in Social Work Education Eleni Papouli 15. Developing Research and Scholarship in Law Teaching for Social Work Education Suzy Braye and Michael Preston-Shoot 16. Evaluating Social Work Education John Carpenter Part IV: New Insights into Field Education 17. Practice Learning: Challenging Neoliberalism in a Turbulent World Linda Harms Smith and Iain Ferguson 18. Aspirations and Realities in Delivering Field Education in a Developing Country Context: Learning from Papua New Guinea Catherine Flynn, Dunstan Lawihin, and John Kampa Kamasua 19. Contesting Field Education in Social Work: Using Critical Reflection to Enhance Student Learning for Critical Practice Christine Morley and David O''Connor 20. Space and Fluidity: Student Learning in Supervision in Field Placements Phyllis Chee 21. Italian and English Practice Educators Experience of working with Struggling or Failing Students in Practice Placements Jo Finch and Alberto Poletti 22. Group Supervision in Social Work Field Education: The Perspectives of Supervisors Miriam Schiff and Anat Zeira Part V: New Directions in Learning and Teaching 23. Using Simulation in Teaching and Assessing Social Work Marion Bogo and Mary Rawlings 24. Enabling Social Work Students to Deal with the Consequences of Political Conflict Jim Campbell, Joe Duffy and Mark Simpson 25. Service User amd Carer Assessment of Social Work Students Ann Anka 26. Suitability, Gate-keeping and Social Work Education Cath Holmstr¿m 27. Social Media in Social Work Education: Developing Learning and Teaching Strategies Joanne Westwood 28. Web-based Social Work Education in the USA Jo Ann R. Coe Regan 29. Artifacts or Catalysts? Moving Doctoral Dissertations from the Shelf to the Practice Community Lucyna M. Lach, Sacha Bailey, Aline Bogossian and David Rothwell Part VI: Future Challenges for Social Work Education 30. Educating Resilient Practitioners Liz Beddoe and Carole Adamson 31. Developing the Academic Workforce: Profiles from the United Kingdom and the United States of America Barbra Teater, Michelle Lefevre, Hugh McLaughlin 32. Back to the Future: The Role of the Academy in Social Work Education Martin Webber, Ian Shaw, Simon Cauvain, Mark Hardy, Aino K¿i¿en, Mirja Satka and Laura Yliruka 33. Social Work Education and the Neoliberal Challenge Karen J. Swift, Luann Good Gingrich and Michael Brown 34. Social Work Education''s Role in Addressing People and a Planet at Risk Shari E. Miller, R. Anna Hayward and Joel Izlar
Editorial Reviews
This outstanding collection presents in-depth analysis and debate concerning all the key issues in social work education. It addresses detailed questions of learning and teaching in action through to broader issues of global dynamics and relationships, bringing to each topic a critical and perceptive awareness that challenges preconceptions and invites us to re-examine our current theories and practices. This volume will prove an invaluable resource for educators, practitioners and students. Richard Hugman, Professor of Social Work, University of New South Wales, Australia. This volume is the most comprehensive text on social work education to date. The contributors from five continents and a broad variety of countries analyze critical topics relating to what is taught, how it is taught, and what its impacts are. It is a "must have" for social work educators interested in a global perspective of their field, as well as improving their own pedagogy. Susan Mapp, Professor, Elizabethtown College, USA This handbook brings together a wealth of knowledge, derived from research, scholarship and their experience as social work educators from around the world. Its 34 chapters provide readers with information and ideas about the Western drivers of social work education; case studies of newly emerging or re-emerging developments; selected issues in both pedagogy and field education; and ''new directions'' and future challenges for the discipline and profession. While recognising the impact of global factors, the 72 authors provide thought-provoking commentaries on their task and give fascinating glimpses into the varied national socio-economic and political contexts for which they must prepare future professionals. Karen Lyons, Emeritus Professor, International Social Work, London Metropolitan University, UK Edited by leaders in social work education, this book provides a diverse array of perspectives and approaches regarding social work education from across the globe. Not shying away from controversy, authors eloquently discuss the manner in which core social work values of social change, cohesion and empowerment are applied in local contexts - shaped by cultural history, economic, political and environmental crises, and local systems for addressing human struggles and tragedy. A must-have resource for all social work educators preparing students for practice in our global environment. Cheryl Regehr, Professor, Factor-Inwentash Faculty of Social Work, Vice-President and Provost, University of Toronto This volume is a wonderful compilation of articles that elucidate the current issues and ongoing work relative to social work and social work education. The breadth of context (authors representing a global perspective) and the specificity with which they approach their respective topics is both timely and instructive for the teacher as well as the academic scholar. A must have for the profession! ¿ Julia M. Watkins, Executie Director of CSWE, Emerita, USA