Sheeple: Caucus Confidential in Stephen Harper's Ottawa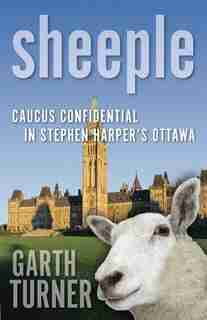 Buy In Store
Prices and offers may vary in store
Garth Turner was the first politician in Canada, possibly the world, to be dooced-fired for his web site. For his blunt online honesty the Member of Parliament was, in turn, reviled, shunned, humiliated and lauded as the future of politics.

This is the fascinating, unique and boldly-written first person account of politics at the crossroads-democracy unleashed on the Internet versus a cabal of operators and old-school, backroom manipulators in Stephen Harper's Ottawa whose task it was to contain, control and mould public opinion. In the two years leading up to the pivotal 2008 federal election, Turner was in a unique position to witness and take part in the battle for the minds of voters, first as a member of Harper's caucus and then as an observer of Stéphane Dion's leadership as special advisor for the opposition.

In this, his first political book, Turner chronicles his experiences in the rising tide of the blogosphere, its dangers and the monumental clash he experienced with the political establishment.

Clarification

At page 65 of Sheeple, the author makes reference to The Canadian Press running a story about the Prime Minister receiving a standing ovation in caucus after re-iterating that he would not allow the Peace Tower flag to be flown at half-mast when combat deaths took place in Afghanistan. The author never discusssed this or any other issue with the Ottawa bureau chief.

The author`s comments were meant to reflect the fact that leaked information from confidential sources within a caucus is not verifiable in the sense that its truth cannot be definitely ascertained, but Mr. Turner accepts the assertion by The Canadian Press that this story and all Canadian Press stories that use anonymous sources are double-sourced and cleared for publication by a senior editor.

Mr. Turner has enormous respect for The Canadian Press and at no time was intending to suggest that it acted improperly.
Title:
Sheeple: Caucus Confidential in Stephen Harper's Ottawa
Product dimensions:
224 pages, 8.4 X 5.5 X 0.6 in
Shipping dimensions:
224 pages, 8.4 X 5.5 X 0.6 in
Publisher:
Key Porter Books
Appropriate for ages:
All ages