Shorter, Faster, Funnier: Comic Plays And Monologues
Paperback

|

May 3, 2011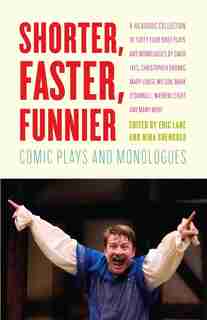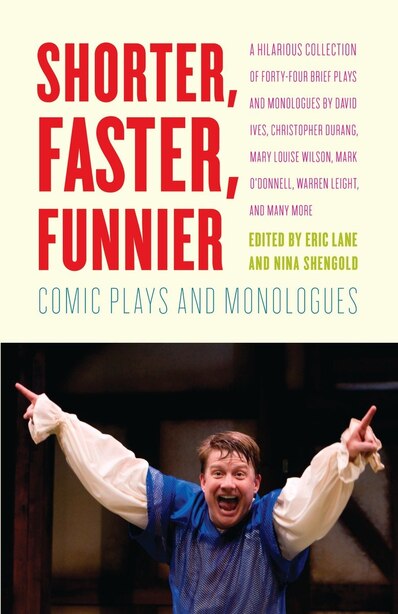 $18.95
list price
save 9%
Prices and offers may vary in store
This cornucopia of comedy showcases works by major playwrights and emerging young writers, with casts of all sizes and diverse and challenging roles for actors of every age and type. You'll discover such colorful characters as a businessman free-falling from a plane, an embittered sword swallower, a punkish girl skateboarder, and retirees in post-apocalyptic Siberia, alongside plays that unleash the humor in high school reunions, alien invasions, office cubicle farms, and even post-Katrina New Orleans. Perfect for actors, students, theater lovers, and comedy fans, Shorter, Faster, Funnier covers the spectrum of humor, from slyly witty to over-the-top outrageous.

Rob Ackerman ● Billy Aronson ● John Augustine ● Pete Barry ● Dan Berkowitz ● Adam Bock ● Eric Coble ● Philip Dawkins ● Anton Dudley ● Christopher Durang ● Liz Ellison ● Halley Feiffer ● Peter Handy ● Jeffrey Hatcher ● Amy Herzog ● Mikhail  Horowitz ● David Ives ● Caleen Sinnette Jennings ● Ean Miles Kessler ● Dan Kois ● Eric Lane ● Drew Larimore ● Warren Leight ● Mark Harvey Levine ● Elizabeth Meriwether ● Michael Mitnick ● Megan Mostyn-Brown ● Mark O'Donnell ● Nicole Quinn ● Wayne Rawley ● Theresa Rebeck ● Jacqueline Reingold ● Laura Shaine ● Nina Shengold ● Jane Shepard ● Edwin Sanchez ● Samara Siskind ● Daryl Watson ● Barbara Wiechmann ● Mary Louise Wilson ● Garth Wingfield ● Gary Winter ● Elizabeth Wong ● Dana Yeaton
Title:
Shorter, Faster, Funnier: Comic Plays And Monologues
Format:
Paperback
Product dimensions:
544 pages, 8.02 X 5.17 X 0.96 in
Shipping dimensions:
544 pages, 8.02 X 5.17 X 0.96 in
Published:
May 3, 2011
Publisher:
Knopf Doubleday Publishing Group
Language:
English
The following ISBNs are associated with this title:
ISBN - 10:0307476642
ISBN - 13:9780307476647
Look for similar items by category:
Preview Your Review
Your Review Has Been Submitted
NO, I do not recommend this product.
Educational/Developmental Value:
Thank you. Your review has been submitted and will appear here shortly.
Read from the Book
IntroductionAsian chefs cite five flavor notes—sweet, sour, salty, bitter, and spicy—without which no meal is complete. While assembling the plays in this anthology, the editors enjoyed a dazzling range of comedic hors d''oeuvres. From laugh-out-loud funny to subtly amusing, caustic, witty, or outrageous, there are as many flavors of comedy as there are sense of humor.We read over 400 short plays and monologues to create this all-you-can-eat comic buffet. We found delectable morsels by celebrated humorists Christopher Durang (Funeral Parlor), David Ives (The Blizzard), Warren Leight (Norm-Anon), Mark O''Donnell (You Know Who Else I Hate?), and Theresa Rebeck (The Contract); inspiring monologues by actor/playwrights Halley Feiffer (Thank You So Much fo Stopping), Dan Berkowitz (Sourpuss), and Tony Award winner Mary Louise Wilson (Tirade); plus enough superb audition pieces, two-handers, and ensemble plays to satisfy laugh-hungry actors, readers, and audience members. We chose monologues of all lengths, from Liz Ellison''s swift Gabrielle and Elizabeth Wong''s spiky Ripper Girl to Jeffrey Hatcher''s epic Match Wits with Minka Lupino, from his monologue trio Murderers. Pete Barry''s irascible businessman extends his free fall from a plane to hilarious lengths in Nine Point Eight Meters per Second per Second. Jane Shephard''s Long Distance reveals a man''s thorny encounter with a former classmate, while Edwin Sánchez''s Ernesto the Magnificent fiercely paints a performance by an embittered sword swallower.There''s also a wealth of play for two actors. Amy Herzog''s Christmas Present, Mark Harvey Levine''s The Rental, and Garth Wingfield''s Mary Just Broke Up with This Guy put unique spins on the staple of comedy, boy meets girl. In Anton Dudley''s romantic Getting Home, boy meets hunky Indian cabdriver. The couple in Eric Lane''s Curtain Raiser tackles an abandoned Woolworth building; in Wayne Rawley''s The Scary Question, another couple bonds over zombies.There are graceful duets for young actors, including Samara Siskind''s Bar Mitzvah Boy, Megan Mostyn-Brown''s The Woods Are for Suckers and Chumps, Michael Mitnick''s Life without Subtext, and Ean Miles Kessler''s bullet-paced Brotherly Love. Senior actors will cherish Peter Handy''s bittersweet Friendship and Drew Larimore''s The Anniversary, quite possibly the first play about retirees in postapocalyptic Siberia.Three plays for two actresses—Nicole Quinn''s lyrical Sandchair Cantata, Laura Shaine''s poignant The Whole Truth & Nothing but the Bluetooth, and Barbara Wiechmann''s salty duet for obsessed Realtors, 36 Rumson Road—treat women''s darkest anxieties with a refreshingly light touch.On the testosterone side, Dan Kois''s The Rumor outs a surprising scandal in men''s sports, Gary Winter''s I Love Neil LaBute deftly skewers the playwright dubbed "America''s reigning misanthrope," and Dana Yeaton''s Men in Heat bares the mysteries of the male biological clock.Genders bend freely in Adam Bock''s Three Guys and a Brenda, in which all four title characters are played by actresses. Nina Shengold''s Double Date upends political correctness by taking "joined at the hip" at face value, while Jacquelyn Reingold''s A Very Very Short Play sparks an airplane romance between a one-foot-tall woman and a twelve-foot-tall man, both played by actors of average height.Rob Ackerman''s You Have Arrived also encourages very non-traditional casting, as one of its actresses plays a GPS monitor. Other three-character plays include John Augustine''s uproariously acerbic cell-phone-age comedy PeopleSpeak and Caleen Sinnette Jennings''s Uncovered, which finds gallows humor in the post-Katrina cleanup. Eric Coble''s physical comedy H.R. is equally topical, observing a quartet of cubicle workers whipping themselves into a froth at the prospect of being downsized. Three plays with larger casts go back to school for laughs. Billy Aronson''s Reunions offers a wonderfully demented spin on catching-up small talk among high school alumni, Philip Dawkin''s whimsical Nothing riffs on an alien invasion at school, and the gruff coach in Daryl Watson''s hilarious Snap tries to whip his dozens insult team (including a stuttering girl with unforeseen gifts) into shape.For divinely inspired slapstick humor, try Mikhail Horowitz''s Mere Vessels, a fearless inquiry into the spiritual lives of ventriloquists'' dummies, or Elizabeth Meriwether''s Particle Board, which gives the pompous Great Man documentary a well-deserved plank in the face.As editors of more than a dozen play anthologies, we''ve been gratified to hear of many multiplay productions culled from our previous books. We urge readers of Shorter, Faster, Funnier to enjoy these plays in any way you can: read them aloud with friends; mount a stage reading, full production, or evening of short plays. As always, be sure to acquire the proper rights first—playwrights don''t take kindly to finding unauthorized performances in online listings or YouTube postings. Contacts for performance rights are listed in the back of this book, along with playwrights'' biographies and an index by cast size.Whatever your comic taste, you''re sure to find something within these pages to make you laugh. You''ll also find heartache and suspense, poetic language and raunchy jokes. Comedy is a many-flavored banquet, and we invite you to pull up a chair. Enjoy!
Table of Contents
Introduction
Acknowledgments
 
THE ANNIVERSARY by Drew Larimore
BAR MITZVAH BOY by Samara Siskin
THE BLIZZARD by David Ives
BROTHERLY LOVE by Ean Miles Kessler
CHRISTMAS PRESENT by Amy Herzog
THE CONTRACT by Theresa Rebeck
CURTAIN RAISER by Eric Lane
DOUBLE DATE by Nina Shengold
ERNESTO THE MAGNIFICENT by Edwin Sánchez
FRIENDSHIP by Peter Handy
FUNERAL PARLOR by Christopher Durang
GABRIELLE by Liz Ellison
GETTING HOME by Anton Dudley
H.R. by Eric Coble
I LOVE NEIL LABUTE by Gary Winter
LIFE WITHOUT SUBTEXT by Michael Mitnick
LONG DISTANCE by Jane Shepard
MARY JUST BROKE UP WITH THIS GUY by Garth Wingfield
MEN IN HEAT by Dana Yeaton
MERE VESSELS by Mikhail Horowitz
MURDERERS ("Match Wits with Minka Lupino") by Jeffrey Hatcher
NINE POINT EIGHT METERS PER SECOND PER SECOND by Pete Barry
NORM-ANON by Warren Leight
NOTHING by Philip Dawkins
PARTICLE BOARD by Elizabeth Meriwether
PEOPLESPEAK by John Augustine
THE RENTAL by Mark Harvey Levine
REUNIONS by Billy Aronson
RIPPER GIRL by Elizabeth Wong
THE RUMOR by Dan Kois
THE SCARY QUESTION by Wayne Rawley
SANDCHAIR CANTATA by Nicole Quinn
SNAP by Daryl Watson
SOURPUSS by Dan Berkowitz
THANK YOU SO MUCH FOR STOPPING by Halley Feiffer
36 RUMSON ROAD by Barbara Wiechmann
THREE GUYS AND A BRENDA by Adam Bock
TIRADE by Mary Louise Wilson
UNCOVERED by Caleen Sinnette Jennings
A VERY VERY SHORT PLAY by Jacqueline Reingold
THE WHOLE TRUTH AND NOTHING BUT THE BLUETOOTH by Laura Shaine
THE WOODS ARE FOR SUCKERS AND CHUMPS by Megan Mostyn-Brown
YOU HAVE ARRIVED by Rob Ackerman
YOU KNOW WHO ELSE I HATE? By Mark O'Donnell

Contributors
About the Editors
Index by Cast Size