Sit the F*ck Down and Color (Bold Edition): Stress Relieving & Hilarious Swear Word Adult Coloring Books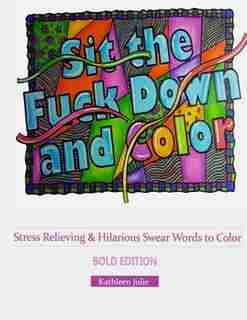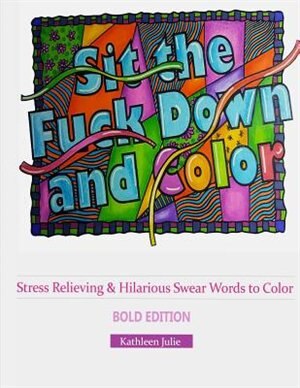 Find In Store
Prices and offers may vary in store
Swear Word Coloring Book, a release Your Anger and Liberate Your Mind Adult Coloring Book, is a collection of Over full page illustration splattered with swear words, insults and obnoxious words better not said out loud. The illustrations are large, specially placed on the pages, one side only, to prevent any form of color interaction and easy removal for display.
Four letter words, insults and what have you are a no no. But, you have to occasionally open the valve and let off steam without insulting anyone or getting your ass kicked.
Some of the Swear Words in This Unique Coloring Book
Are you fucking kidding me
Calm the Fuck Down
Chill the Fuck Out
Douche
Fuck this Shit
Go Fuck Yourself
I Don't Give a Damn
Shut the Hell Up
Shut Your Trap
Shut your Whore Mouth
sit the fuck Down and Color
... and So Much More
Whether you're a swear word connoisseur or are interested in harnessing the stress relieving properties of losing yourself in an activity, you will find this coloring book very engaging Saying swear words and insults as you color them could be therapeutic.
The images eagerly await the strokes of your coloring pencils or crayons to bring them to life; don't disappoint.
There is stress build up in every one of us; and also an artist, don't let yours fade, or be left behind, nourish it with this Swear word coloring book for adults. Discover inner peace and the satisfaction of a job well done.
Grab a copy today. Makes an excellent gift for family and friends on birthdays and any other occasion
Title:
Sit the F*ck Down and Color (Bold Edition): Stress Relieving & Hilarious Swear Word Adult Coloring Books
Product dimensions:
48 pages, 11 X 8.5 X 0.1 in
Shipping dimensions:
48 pages, 11 X 8.5 X 0.1 in
Publisher:
Adult Coloring Books
Appropriate for ages:
All ages