Six Words You Never Knew Had Something To Do With Pigs: and Other Fascinating Facts about the Language from Canada's Word Lady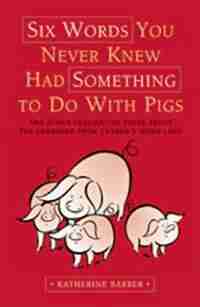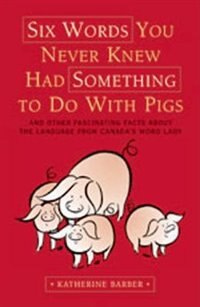 Find In Store
To check store inventory,
Prices and offers may vary in store
Did you know that the word "travel" is derived from an instrument of torture? That "tragedy" originally was something to do with goats? That "grammar" and "glamour" started out as one and the same word? These and many other fascinating and surprising tidbits about the history of words are revealed in this delightful volume, many culled from interviews first aired on CBC Radio 1, featuring the "Word Lady", Editor-in-Chief of the Canadian Oxford Dictionary, Katherine Barber. In the lively, witty, and entertaining style that has won her so many fans in Canada and throughout the world, Katherine distills the rich information contained in the immense Oxford English Dictionary to create intriguing and entertaining little histories of hundreds of the most common (and interesting) words in our language. The words are arranged thematically by season. Readers can frolic through the many words from the barnyard, the garden, and the cottage in the Spring; feast on Summer''s fruits and all of the colourful stories to be found there; gear up for back-to-school by learning the truth behind algebra, grammar, and dunces; and discover the real reason that Christmas shopping is always such a feverish pursuit. Along the way, you''ll follow words back through Old English, medieval French, Anglo-Saxon, ancient Greek, Arabic, as well as the languages of China, the Indian subcontinent, and Canada''s Aboriginal peoples. With its accessible, conversational style and captivating content, Katherine Barber''s Six Words You Never Knew Had Something to do with Pigs is a book you''ll want to dip into time and again - that is, if you can ever put it down. From Publishers Weekly: Editor-in-chief of the Canadian Oxford Dictionary and celebrated word nerd Barber has put together a suitably snappy compendium of word origins. Organized by seasons, this snore-free guide to etymology presents more than 500 paragraph-long histories on everything from sports terms to teen-speak to Yiddish. Curious minds will learn that the modern definition of "bidet" comes from the 1300s French verb "bider," meaning "to trot"; the bathroom fixture in the 1750s took the name because of the straddling action one performs while using it. The word "dunce" was derived from the name of a once-revered medieval theologian, John Duns Scotus, who fell out of favor; his disciples were called "Duns men" or "Dunses" for short. And who knew that the first recorded usage of the phrase "as if" was in Frank Morris''s 1903 novel The Pit (" ''Maybe he''ll come up and speak to us.'' ''Oh, as if,'' contradicted Laura. ")? No matter what word she puts under the microscope, Barber clearly takes its history seriously, but her light, witty descriptions make each discovery a pleasure. Ideal for dinner party discussions or bathroom reading.
Title:
Six Words You Never Knew Had Something To Do With Pigs: and Other Fascinating Facts about the Language from Canada's Word Lady
Product dimensions:
224 pages, 7.5 X 5 X 0.4 in
Shipping dimensions:
224 pages, 7.5 X 5 X 0.4 in
Publisher:
Oxford University Press
Appropriate for ages:
All ages