Spitballs from the Back Row: Essays on the Modern American Education System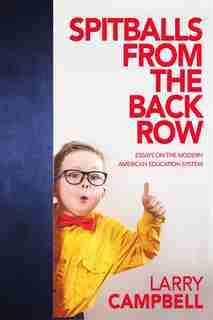 Find In Store
Prices and offers may vary in store
How do you change something you can't even define?

One of the hardest parts about discussing educational issues regularly is that while everyone is for a 'good education,' almost no one can define what that should be—go ahead, try it!—let alone how to manifest it. We're all using the same words with different images and concepts in our heads.
Public education is a hugely complex process. This is true, no matter how we define or shape it, and issues that face educators today are almost never easy, or even well-defined! Perhaps they never have been. Worse yet, there are no easy answers. No silver bullets. The idea for these essays is to bring some of these issues to the surface, raise subtle and different perspectives, minimize misperceptions, and provide balance, always in a light, readable, and even humorous style. The selections are not designed to convince. They are designed to get attention, promote thought, and even generate discussion.
In the end, these essays may also function as minor 'nuisances' of sorts. Not in the traditional negative sense, but rather in the 'forced-to-take-notice-and-think-about-it' sense—like buzzing gnats... or Spitballs from The Back Row.
Title:
Spitballs from the Back Row: Essays on the Modern American Education System
Product dimensions:
210 pages, 9 X 6 X 0.63 in
Shipping dimensions:
210 pages, 9 X 6 X 0.63 in
Published:
October 23, 2018
Publisher:
Oghma Creative Media
Appropriate for ages:
All ages