Summary, Analysis & Review of Chip and Joanna Gaines's The Magnolia Story with Mark Dagostino by Instaread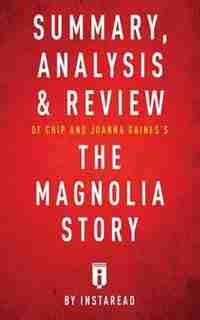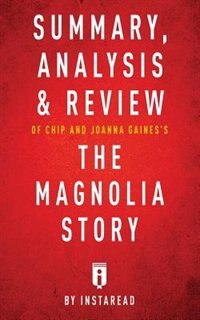 Find In Store
Prices and offers may vary in store
Summary, Analysis & Review of Chip and Joanna Gaines's The Magnolia Story with Mark Dagostino by Instaread
Preview:
The Magnolia Story by Chip and Joanna "Jo" Gaines, with Mark Dagostino, is the true tale of how the husband-and-wife team, stars of the HGTV show Fixer Upper, built a life together in Waco, Texas. Starting with their first date, which was about 15 years before the book's publication in 2016, the couple traces the development of their romantic relationship and their home renovation business, Magnolia Homes. Along the way, they have four children, refurbish many "fixer-uppers," and launch a hit reality TV show.
The couple met at Jo's father's auto shop where she worked as the office manager. Having recently finished college, 23-year-old Jo was still figuring out what to do with her life. One day Chip struck up a conversation with her outside the shop. He followed up the next day with a call to ask her on a date.
Jo was deeply unimpressed when Chip showed up…
PLEASE NOTE: This is a Summary, Analysis & Review of the book and NOT the original book.
Inside this Summary, Analysis & Review of Chip and Joanna Gaines's The Magnolia Story with Mark Dagostino by Instaread
Summary of the Book
Important People
Character Analysis
Analysis of the Themes and Author's Style
About the Author
With Instaread, you can get the key takeaways, and analysis of a book in 15 minutes. We read every chapter, identify the key takeaways and analyze them for your convenience. 
Visit our website at instaread.co.
Title:
Summary, Analysis & Review of Chip and Joanna Gaines's The Magnolia Story with Mark Dagostino by Instaread
Product dimensions:
26 pages, 8 X 5 X 0.05 in
Shipping dimensions:
26 pages, 8 X 5 X 0.05 in
Published:
December 22, 2016
Appropriate for ages:
All ages