Summary of Feeling Good by David D. Burns M.D.: Conversation Starters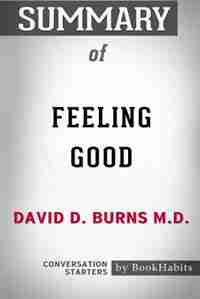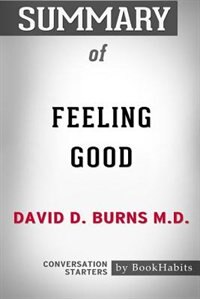 Find In Store
Prices and offers may vary in store
Feeling Good by David D. Burns M.D.: Conversation Starters



Feeling Good: The New Mood Therapy by eminent psychiatrist David D. Burns, M.D. shows how to use the method of cognitive therapy to heal from depression, anxiety, low self-esteem, apathy, and other mental health problems. Dr. Burns'' years of healing patients with depression and anxiety has shown him the effectiveness of this healing method without using drugs. Mood swings can be understood and prevented, negative feelings can be ventilated, guilt and anger can be effectively dealt with. Self-esteem can be built up and feeling good can be achieved everyday. This bestseller is the number one most recommended book by mental health professionals for their patients to read.
A Brief Look Inside:

EVERY GOOD BOOK CONTAINS A WORLD FAR DEEPER than the surface of its pages. The characters and their world come alive, and the characters and its world still live on. Conversation Starters is peppered with questions designed to bring us beneath the surface of the page and invite us into the world that lives on.

These questions can be used to...

Create Hours of Conversation:

. Promote an atmosphere of discussion for groups
. Foster a deeper understanding of the book
. Assist in the study of the book, either individually or corporately
. Explore unseen realms of the book as never seen before


Disclaimer: This book you are about to enjoy is an independent resource meant to supplement the original book. If you have not yet read the original book, we encourage you to before purchasing this unofficial Conversation Starters.
Title:
Summary of Feeling Good by David D. Burns M.D.: Conversation Starters
Product dimensions:
68 pages, 9 X 6 X 0.16 in
Shipping dimensions:
68 pages, 9 X 6 X 0.16 in
Appropriate for ages:
All ages