Summary of Real Food/Fake Food: by Larry Olmsted Includes Analysis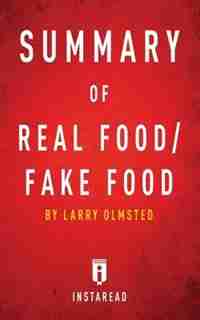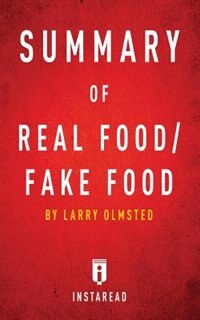 Find In Store
Prices and offers may vary in store
Summary of Real Food/Fake Food by Larry Olmsted | Includes Analysis
Preview:
Real Food/Fake Food: Why You Don't Know What You're Eating and What You Can Do About It is an investigative overview of the food industry's often intentional efforts to mislead consumers about the origin and identity of the products that they eat. Author Larry Olmsted highlights the most outrageous examples of food frauds perpetrated upon the American people and offers recommendations for ways that consumers can reclaim their grocery bags and fill their dinner plates with foods they can trust.
Fake foods are ubiquitous, but most Americans fail to realize that they are being duped. While it may seem harmless to consume a type of cheese that is not, in fact, from a specific region in Italy, as often occurs with the consumption of ersatz Parmesan cheese, the implications of this fraud are far-reaching. First, consumers are paying a premium for products that purport to be more luxurious or exclusive…
PLEASE NOTE: This is key takeaways and analysis of the book and NOT the original book.
Inside this Instaread Summary of Real Food/Fake Food by Larry Olmsted | Includes Analysis
Overview of the Book
Important People
Key Takeaways
Analysis of Key Takeaways
About the Author
With Instaread, you can get the key takeaways, summary and analysis of a book in 15 minutes. We read every chapter, identify the key takeaways and analyze them for your convenience. 
Visit our website at instaread.co.
Title:
Summary of Real Food/Fake Food: by Larry Olmsted Includes Analysis
Product dimensions:
34 pages, 8 X 5 X 0.07 in
Shipping dimensions:
34 pages, 8 X 5 X 0.07 in
Published:
August 30, 2016
Appropriate for ages:
All ages