Summary of Salt Sugar Fat: by Michael Moss Includes Analysis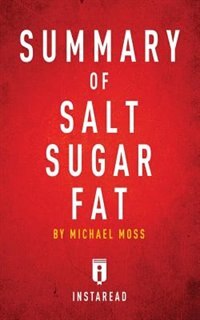 Find In Store
Prices and offers may vary in store
Summary of Salt Sugar Fat by Michael Moss | Includes Analysis
Preview:
Salt Sugar Fat by Michael Moss is a compelling nonfiction investigation into how corporate food manufacturers have come to rely on salt, sugar, and fat as the mainstays of processed and prepackaged food.
The food industry in the United States has become intensely dependent on these three potentially harmful ingredients to achieve its massive profits. This reliance has contributed to myriad public health problems, such as rising incidence of diabetes and obesity. Food executives have sought to manipulate consumption and drive up revenue at the expense of their consumers' health.
The market for processed foods is an extremely competitive one; the average grocery store carries tens of thousands of products, of which only a small percentage will remain on the shelf and produce modest sales by industry standards. To maintain an advantage against rival companies, food manufacturers must continually churn out products that consumers crave…
PLEASE NOTE: This is key takeaways and analysis of the book and NOT the original book.
Inside this Instaread Summary of Salt Sugar Fat by Michael Moss | Includes Analysis
Overview of the Book
Important People
Key Takeaways
Analysis of Key Takeaways
About the Author
With Instaread, you can get the key takeaways, summary and analysis of a book in 15 minutes. We read every chapter, identify the key takeaways and analyze them for your convenience. 
Visit our website at instaread.co.
Title:
Summary of Salt Sugar Fat: by Michael Moss Includes Analysis
Product dimensions:
38 pages, 8 X 5 X 0.08 in
Shipping dimensions:
38 pages, 8 X 5 X 0.08 in
Published:
August 31, 2016
Appropriate for ages:
All ages