Summary of Stealing Fire by Steven Kotler: Conversation Starters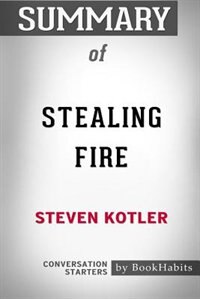 Find In Store
Prices and offers may vary in store
Stealing Fire by Steven Kotler: Conversation Starters



In "Stealing Fire", readers are introduced to a strange perspective that examines the successes and strategies of modern giants like Elon Musk and teams like the Green Berets. The author attempts to connect these individuals and organizations by detailing their common threads-which all, to some extent, involve "altered states". The novel draws on the practical accomplishments of many individuals, detailing them alongside suggestions that seeking a peak state of performance is the key to success. Steven Kotler delivers "Stealing Fire" with a strikingly unorthodox voice, examining the history of seeking altered states of mind and how things such as environment and drugs may help achieve coveted levels of insight and innovation. Chosen by CNBC and Strategy + Business as a Best Business Book of 2017, Kotler's novel aims to shed light on altered states and their significance in business and innovation.
A Brief Look Inside:

EVERY GOOD BOOK CONTAINS A WORLD FAR DEEPER than the surface of its pages. The characters and their world come alive, and the characters and its world still live on. Conversation Starters is peppered with questions designed to bring us beneath the surface of the page and invite us into the world that lives on.

These questions can be used to...

Create Hours of Conversation:

. Promote an atmosphere of discussion for groups
. Foster a deeper understanding of the book
. Assist in the study of the book, either individually or corporately
. Explore unseen realms of the book as never seen before


Disclaimer: This book you are about to enjoy is an independent resource meant to supplement the original book. If you have not yet read the original book, we encourage you to before purchasing this unofficial Conversation Starters.
Title:
Summary of Stealing Fire by Steven Kotler: Conversation Starters
Product dimensions:
68 pages, 9 X 6 X 0.16 in
Shipping dimensions:
68 pages, 9 X 6 X 0.16 in
Appropriate for ages:
All ages