Summary of Super Genes: by Deepak Chopra and Rudolph E. Tanzi Includes Analysis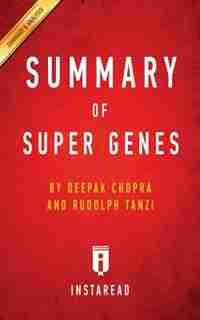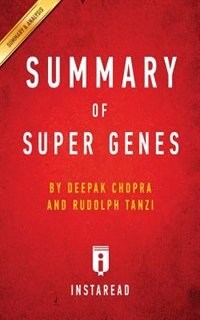 Buy In Store
Prices and offers may vary in store
Summary of Super Genes by Deepak Chopra & Rudolph Tanzi - Includes Analysis
Preview:
Super Genes by Deepak Chopra and Rudolph Tanzi is a scientific and spiritual overview of epigenetics, a field that studies the environmental factors that change the expression of genes. For example, DNA methylation may inactivate genes through the attachment of methyl groups to the chromosomes. These changes may occur as a result of experiences by the parents, such as famine, or from factors of children's upbringing, such as attentiveness of parenting. Such changes can allow an organism to adapt within one generation, or within the lifetime of a single individual. Unlike congenital diseases, which are fully penetrant, characteristics influenced by epigenetics are more difficult to predict. Specific fears and behaviors appear to be directly inherited in studies on mice and cows. One source of direct influence on the expression of the genome is the microbiome, the microbes that inhabit the human digestive system...
PLEASE NOTE: This is key takeaways and analysis of the book and NOT the original book.
Inside this Instaread of Super Genes:
Overview of the book
Important People
Key Takeaways
Analysis of Key Takeaways
About the Author
With Instaread, you can get the key takeaways and analysis of a book in 15 minutes. We read every chapter, identify the key takeaways and analyze them for your convenience.
Title:
Summary of Super Genes: by Deepak Chopra and Rudolph E. Tanzi Includes Analysis
Product dimensions:
34 pages, 8 X 5 X 0.07 in
Shipping dimensions:
34 pages, 8 X 5 X 0.07 in
Appropriate for ages:
All ages
Look for similar items by category: