Susan Mallery Lone Star Sisters Series: Books 1-3: Under Her Skin, Lip Service, Straight From The Hip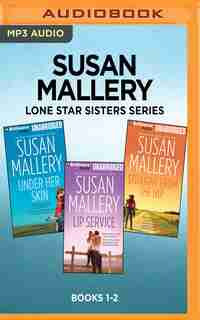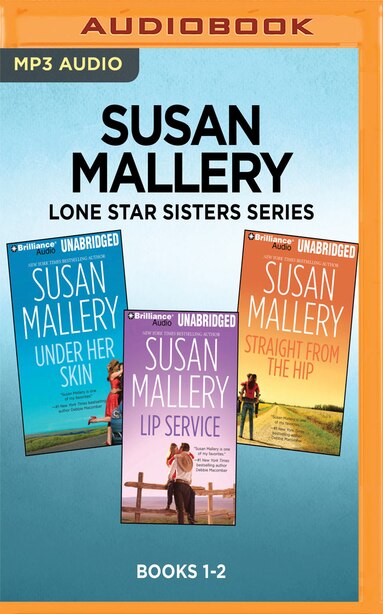 Find In Store
Prices and offers may vary in store
UNDER HER SKIN
Lexi Titan can just see the headlines. Faced with thirty days to come up with two million dollars, she is out of options. Marry Cruz Rodriguez or lose everything—the successful day spa she built herself, her tyrant of a father's respect. And the long-standing competition with her sisters for the family business. Cruz has money, success, good looks—everything but the blue blood needed to become a member of Texas society. If Lexi agrees to be his fiancée for six months, lending him her famous father's influence and connections, he'll hand her a check on the spot. And in six months they'll go their separate ways. But neither one is prepared for their passion to throw a wrench into what would seem to be the perfect deal….
LIP SERVICE
Skye Titan's father thinks he can still dictate his daughter's choice in men. Now widowed and a single mother, Skye isn't the yes-girl she once was. Especially since the love of her life is back in Texas after eight long years. He won't like the answers to the questions he's asking. About why she left him at the altar. Aabout her eight-year-old daughter. Former Navy SEAL Mitch Cassidy comes home to find nearly everything different. His wounds from battle have changed the way people treat him. His cattle ranch is suddenly organic. But time hasn't touched his desire for Skye—or the sting of her betrayal. Forget lip service. He's asking that luscious mouth of hers to reveal the truth. But will Mitch be able to put the past aside to help Skye get out from under her father's thumb…and help himself recover from a broken heart?
STRAIGHT FROM THE HIP
Izzy has always been the fearless Titan sister. When an oil rig blows up, leaving her barely able to see, her sisters find themselves as concerned by her emotional withdrawal as by the possibility that the explosion was no accident. Are the mind games their long-lost brother Garth has been playing turning physical? Or is someone else out to get them? When her sisters enroll her in a survivor training camp, Izzy is not happy. Nick, her instructor, is determined that she won't be left in the dark. In more ways than one. But if he tells her the truth behind why he's helping her, he'll never see her again. Unless they're both willing to take the biggest risk of all.
Title:
Susan Mallery Lone Star Sisters Series: Books 1-3: Under Her Skin, Lip Service, Straight From The Hip
Product dimensions:
6.75 X 5.25 X 0.6 in
Shipping dimensions:
6.75 X 5.25 X 0.6 in
Published:
February 24, 2017
Publisher:
Brilliance Audio
Appropriate for ages:
All ages