Synopsis of the Menopause Manifesto: Own your health with facts and feminism by Jen Gunter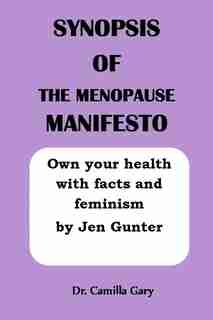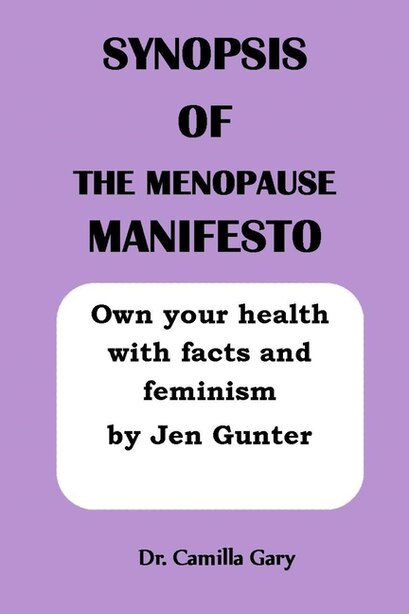 Find In Store
Prices and offers may vary in store
DISCLAIMER
This synopsis is not the work of the original author of the book, it's an independent work written and published by Dr. Camilla Gary. This is only a comprehensive guide brought out from the original book.

DETAILS ABOUT THE ORIGINAL BOOK
Dr. Jen Gunter is seen as the most fearless advocate for women's health, she has brought to the understanding and knowledge the misinterpretation about menopause with clear facts, real and clears practical theories, and also good advice.
She has also done this in her bestselling book titled the vagina bible.
Menopause is not a disease-it's a planned change, like puberty. And just like puberty, people should be educated on what's to come years in advance, rather than the current practice of leaving people on their own with bothersome symptoms and too much worrying information. Knowing what is happening, why, and what to do about it is very empowering and reassuring.
The only thing predictable about menopause is its unpredictability. Factor in widespread misinformation, a lack of research, and the culture of shame around women's bodies, and it's no wonder women are unsure what to expect during the menopause transition and beyond.
This book is filled with practical, reassuring information; this essential guide will revolutionize how women experience menopause including how their lives can be even better for it!

Scroll up and click the BUY button now to get a copy.

Title:
Synopsis of the Menopause Manifesto: Own your health with facts and feminism by Jen Gunter
Product dimensions:
48 pages, 9.02 X 5.98 X 0.1 in
Shipping dimensions:
48 pages, 9.02 X 5.98 X 0.1 in
Publisher:
independently published
Appropriate for ages:
All ages