T. Jefferson Parker Collection - California Girl & Silent Joe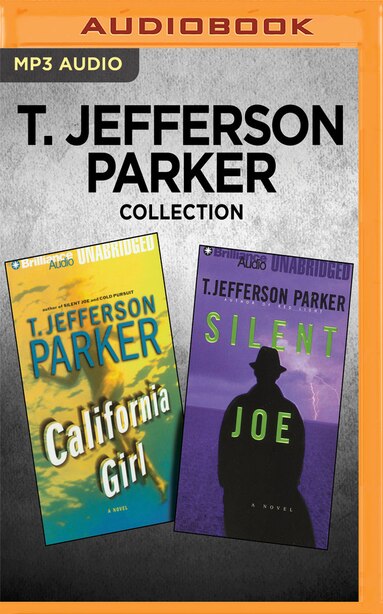 Buy In Store
Prices and offers may vary in store
CALIFORNIA GIRL
A different world then, a different world now…California in the 1960s, and the winds of change are raging. Orange groves uprooted for tract houses, people flooding into Orange County, and strange new ideas in the air about war, music, sex, and drugs, and new influences including Richard Nixon and Timothy Leary.
But for the Becker brothers, the past is always present and it comes crashing back when the body of the lovely and mysterious Janelle Vonn is discovered in an abandoned orange packinghouse. The Beckers and Vonns have a history, beginning years ago in high school with a rumble between the brothers of each clan.
But boys grow up. Now one Becker brother is a cop on his first homicide case. One's a minister yearning to perform just one miracle. One is a reporter drunk with ambition. And all three are about to collide with the changing world of 1968 as each brother, in his own special way, tries to find Janelle's killer.
As the suspects multiply and secrets are exposed, the Becker brothers are all drawn further into the case, deeper into the past, and closer to the danger.
SILENT JOE
With the horrible remnants of a childhood tragedy forever visible across his otherwise handsome face, Joe Trona is scarred in more ways than one. Rescued from an orphanage by Will Trona, a charismatic Orange County politician who sensed his dark potential, Joe is swept into the maelstrom of power and intimidation that surrounds his adoptive father's illustrious career. Serving as Will's right hand man, Joe is trained to protect and defend his father's territory—but he can't save the powerful man from his enemies. Will Trona is murdered, and Joe will stop at nothing to find out who did it.
Looking for clues as he sifts through the remains of his father's life—his girlfriends, acquaintances, deals, and enemies—Joe comes to realize how many secrets Will Trona possessed, and how many people he had the power to harm. But two leads keep rising to the surface: a little girl who was kidnapped by her mentally disturbed brother, and two rival gangs who seem to have joined forces. As Joe deepens his investigation—and as he is forced to confront painful events of his troubled childhood—these two seemingly disconnected threads will intersect. Just how and why form the crux of this intricate, intelligent mystery that satisfies the mind as well as the heart—and reveals yet again the impeccable detail, vivid characterization, and emotional complexity that make a T. Jefferson Parker novel impossible to resist.
Title:
T. Jefferson Parker Collection - California Girl & Silent Joe
Product dimensions:
6.75 X 5.25 X 0.68 in
Shipping dimensions:
6.75 X 5.25 X 0.68 in
Published:
February 24, 2017
Publisher:
Brilliance Audio
Appropriate for ages:
All ages