T. Jefferson Parker Collection - Storm Runners & The Fallen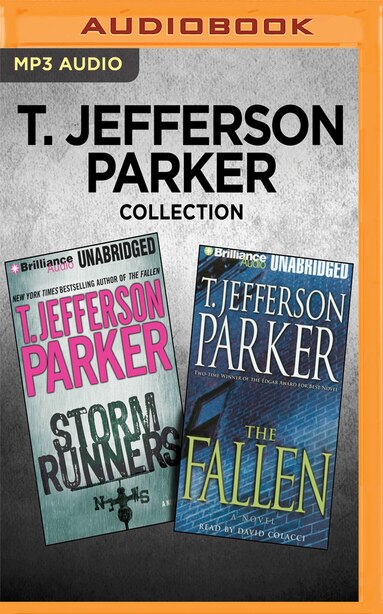 Buy In Store
Prices and offers may vary in store
STORM RUNNERS
Matt Stromsoe has come a long way since his wife and son were killed in an explosion meant for him. Wounded severely in both body and spirit, Stromsoe gave up the last thing that held any meaning for him - his job on the police force - and proceeded to hit rock bottom, hard.
That was a lifetime ago, and finally the spiral of personal destruction and despair seems to have come to an end. The man responsible for the murders – Stromsoe's best friend from childhood and his wife's old lover – is behind bars and Stromsoe has put the past behind him, rescued from the abyss by a former colleague who offers him a job at his private security firm. Stromsoe's first assignment is to protect local television personality Frankie Hatfield from a stalker. But the further Stromsoe is drawn into this case, the more he finds that the net of intrigue is wide and ultimately leads back to the man who killed his family. As events conspire against him, Stromsoe learns that prison is no safeguard against revenge.
THE FALLEN
My life was ordinary until three years ago when I was thrown out of a downtown hotel window. My name is Robbie Brownlaw, and I am a homicide detective for the city of San Diego. I am twenty-nine years old.
I now have synesthesia, a neurological condition where your senses get mixed up. Sometimes when people talk to me, I see their voices as colored shapes provoked by the emotions of the speakers, not by the words themselves. I have what amounts to a primitive lie detector. After three years, I don't pay a whole lot of attention to the colors and shapes of other people's feelings, unless they don't match up with their words.
When Garrett Asplundh's body is found under a San Diego bridge, Robbie Brownlaw and his partner, McKenzie Cortez, are called on to the case. After the tragic death of his child and the dissolution of his marriage, Garrett - regarded as an honest, straight-arrow officer - left the SDPD to become an ethics investigator, looking into the activities of his former colleagues. At first his death, which takes place on the eve of a reconciliation with his ex, looks like suicide, but the clues Brownlaw and Cortez find just don't add up. With pressure mounting from the police and the city's politicians, Brownlaw fights to find the truth, all the while trying to hold on to his own crumbling marriage. Was Garrett's death an "execution" or a crime of passion, a personal vendetta or the final step in an elaborate cover-up?
Title:
T. Jefferson Parker Collection - Storm Runners & The Fallen
Format:
Audio Book (CD)
Product dimensions:
6.75 X 5.25 X 0.68 in
Shipping dimensions:
6.75 X 5.25 X 0.68 in
Published:
24 février 2017
Publisher:
Brilliance Audio
Language:
English
The following ISBNs are associated with this title:
ISBN - 10:1536672718
ISBN - 13:9781536672718
Look for similar items by category: