Tamora Pierce - Immortals Quartet: Wild Magic, Wolf-Speaker, Emperor Mage, The Realms of the Gods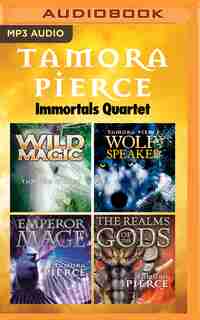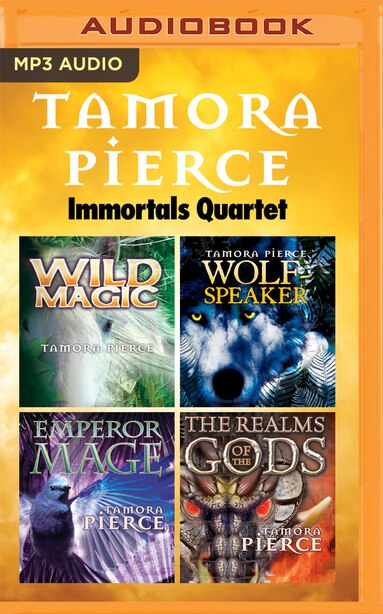 Buy In Store
Prices and offers may vary in store
Wild Magic
When Daine comes down from the mountains, she carries with her two things: a dark secret about her own past, and a strangely powerful magic that even she doesn't understand. Soon Daine has a job workingfor Onua, the queen's horsemistress, who is astonished at the girl's way with animals. It's almost as if she can speak to them…. Daine and Onua travel to Pirate's Swoop, where Daine finds herself swept into a war that threatens all of Tortall—a war where magic is one of the main weapons. Now Daine must master her own magic—and face her own dark memories—if she is to save her new home from destruction.
Wolf-Speaker
Responding to a call for help from the wolves of Long Lake Pack, Daine and the wizard Numair travel to Dunlath Valley, where they discover a catastrophe in the making. But when they try to intervene on the wolves' behalf, they encounter only derision from the Dunlath court. Working on their own to discover the reasons for destruction in the valley, Daine and Numair unearth a web of magic as treachery threatens the entire kingdom. Numair must hurry away to warn the king—leaving only Daine, the wolves, and her expanding group of animal allies to hold off disaster until his return. But will Daine's ever stronger Wild Magic be enough to protect her from the dangers of Dunlath Valley?
Emperor Mage
Daine is a simple mountain girl, and is not comfortable with the pomp and glitter of a great court. But when Emperor Ozorne asks that she accompany Tortall's diplomatic mission to Carthak so she can tend his ailing birds, it's a request that cannot be refused.Though Daine has the wizard Numair and the lady knight Alanna to help her, she soon finds herself trapped in a web of magic and intrigue stranger and more bewildering than any she has yet faced. For the emperor has overstepped his bounds, the gods are angry, and the Graveyard Hag herself has chosen Daine as her tool to change the situation. Saddled with a strange new power, Daine is already jittery and angry. Then a final, dreadful event pushes her over the edge, and she erupts in a ferocious display of rage and magic.
The Realms of the Gods
In the midst of a war, Daine and her mentor, Numair, are yanked into the Divine Realms, where the riddles of Daine's past are finally solved. Despite joyous reunions, the pair is desperate to return to their beloved Tortall, for the kingdom's survival depends on their great magics. A perilous journey across the Divine Realms leads Daine and Numair through danger to dragons; to a breathtaking confrontation with their great enemy, Ozorne; and to heartbreaking battle. At last Daine faces the Great Gods, who will force her to make the most important decision of her life.
Title:
Tamora Pierce - Immortals Quartet: Wild Magic, Wolf-Speaker, Emperor Mage, The Realms of the Gods
Product dimensions:
5.5 X 6.5 X 0.63 in
Shipping dimensions:
5.5 X 6.5 X 0.63 in
Publisher:
Brilliance Audio
Appropriate for ages:
All ages