The Art Of Andy Goldsworthy: Complete Works: Special Edition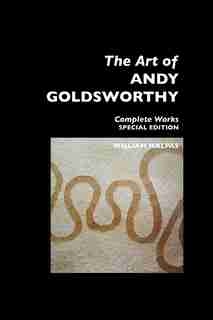 Find In Store
To check store inventory,
Prices and offers may vary in store
THE ART OF ANDY GOLDSWORTHY

This is the most comprehensive and detailed study of British artist Andy Goldsworthy, and is the only full-length exploration of Goldsworthy and his art available anywhere.

Fully illustrated, with a revised text. Bibliography and notes.

EXTRACT FROM THE CHAPTER ON GOLDSWORTHY'S LEAFWORKS

It is the leafworks that are the most colourful of Andy Goldsworthy's sculptures. What the leaf sculptures show is how beautiful the colours of nature are: Goldsworthy shows the viewer these subtle colours by contrasting one leaf with another. Maple patch grouped the red/ orange/ yellow of Japanese maple leaves together; Poppy leaves contrasted the red poppy leaves against the mid-green of an elderberry bush; a Stone Wood sculpture of 1992 consisted of poppy leaves wrapped around a hazel branch, the red constrasting vividly with the wet green leaves; Dock Leaves interwove red leaves in green grass stalks. Two sycamore leafworks of 1980 and 1981 are very simple: a leaf black from cow shit is placed against pale Autumn leaves; another leaf, bleached white, is set down on a bed of dark leaves. He pins together two colours of sycamore leaves (sycamore is a favourite Goldsworthy medium) in Sycamore leaf sections (1988), and hangs the line of leaves from a tree. Shot with the sun behind them, the photograph of the leaves shows them glowing green and gold, the two classic colours of poetry and alchemy. The Autumnal colours of course connote nostalgia, decadence, sensuality, Romanticism, time passing, the decay of the year, and so on, all those things John Keats wrote about in his 'Ode: To Autumn', and in a billion other poets' art. Goldsworthy's aim in the leaf pieces, though, draws attention to the fragility and delicacy of leaves, as well as their strength and function. A leaf, after all, is a complex biological factory, so the natural scientists say. 'There is a whole world in a single leaf', remarked Goldsworthy. Goldsworthy's leafworks do not have a scientific agenda. Rather, they celebrate the presence of leaves, the being-in-the-world of leaves, so to speak.

AUTHOR BIOGRAPHY

William Malpas has written books on Richard Long and land art, as well as three books on Andy Goldsworthy, including the forthcoming Andy Goldsworthy In America. Malpas's books on Richard Long and Andy Goldsworthy are the only full-length studies of these artists available.
Title:
The Art Of Andy Goldsworthy: Complete Works: Special Edition
Product dimensions:
400 pages, 9.21 X 6.14 X 0.82 in
Shipping dimensions:
400 pages, 9.21 X 6.14 X 0.82 in
Publisher:
Crescent Moon Publishing
Appropriate for ages:
All ages