The Art Of Money Getting - The Original Classic Edition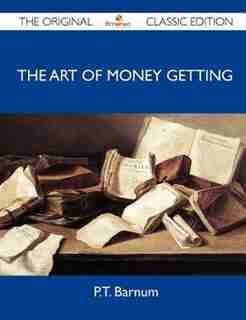 Buy In Store
Prices and offers may vary in store
The Art of Money Getting by P.T. Barnum - The Original Classic Edition

Finally available, a high quality book of the original classic edition.

This is a new and freshly published edition of this culturally important work, which is now, at last, again available to you.

Enjoy this classic work today. These selected paragraphs distill the contents and give you a quick look inside:

One may say; there is a man who has an income of fifty thousand dollars per annum, while I have but one thousand dollars; I knew that fellow when he was poor like myself; now he is rich and thinks he is better than I am; I will show him that I am as good as he is; I will go and buy a horse and buggy; no, I cannot do that, but I will go and hire one and ride this afternoon on the same road that he does, and thus prove to him that I am as good as he is.

...Men and women accustomed to gratify every whim and caprice, will find it hard, at first, to cut down their various unnecessary expenses, and will feel it a great self-denial to live in a smaller house than they have been accustomed to, with less expensive furniture, less company, less costly clothing, fewer servants, a less number of balls, parties, theater-goings, carriage-ridings, pleasure excursions, cigar-smokings, liquor-drinkings, and other extravagances; but, after all, if they will try the plan of laying by a nest-egg, or, in other words, a small sum of money, at interest or judiciously invested in land, they will be surprised at the pleasure to be derived from constantly adding to their little pile, as well as from all the economical habits which are engendered by this course.

The old suit of clothes, and the old bonnet and dress, will answer for another season; the Croton or spring water taste better than champagne; a cold bath and a brisk walk will prove more exhilarating than a ride in the finest coach; a social chat, an evenings reading in the family circle, or an hours play of hunt the slipper and blind mans buff will be far more pleasant than a fifty or five hundred dollar party, when the reflection on the difference in cost is indulged in by those who begin to know the pleasures of saving.

...When the sofa reached the house, it was found necessary to get chairs to match; then side-boards, carpets and tables to correspond with them, and so on through the entire stock of furniture; when at last it was found that the house itself was quite too small and old-fashioned for the furniture, and a new one was built to correspond with the new purchases; thus, added my friend, summing up an outlay of thirty thousand dollars, caused by that single sofa, and saddling on me, in the shape of servants, equipage, and the necessary expenses attendant upon keeping up a fine establishment, a yearly outlay of eleven thousand dollars, and a tight pinch at that: whereas, ten years ago, we lived with much more real comfort, because with much less care, on as many hundreds.

...When the tobacco-chewer goes to your country seat and you show him your grapery and fruit house, and the beauties of your garden, when you offer him some fresh, ripe fruit, and say, My friend, I have got here the most delicious apples, and pears, and peaches, and apricots; I have imported them from Spain, France and Italy-just see those luscious grapes; there is nothing more delicious nor more healthy than ripe fruit, so help yourself; I want to see you delight yourself with these things; he will roll the dear quid under his tongue and answer, No, I thank you, I have got tobacco in my mouth.
Title:
The Art Of Money Getting - The Original Classic Edition
Product dimensions:
20 pages, 9.69 X 7.44 X 0.04 in
Shipping dimensions:
20 pages, 9.69 X 7.44 X 0.04 in
Appropriate for ages:
All ages
Look for similar items by category: