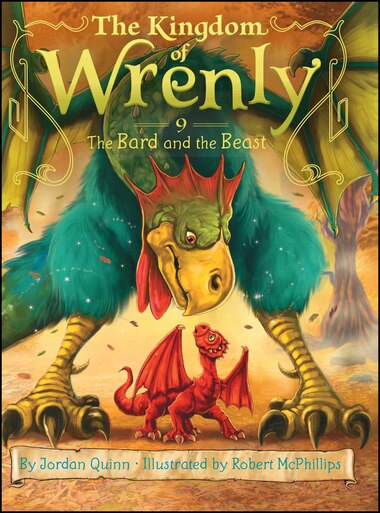 The Bard and the Beast
by

Jordan Quinn

Illustrator

Robert McPhillips
Hardcover

|

November 24, 2015
Pricing and Purchase Info
Prices and offers may vary in store
Prince Lucas discovers that sometimes music is the only way to defeat a savage beast in this newest adventure from the fantastical Kingdom of Wrenly series.

Prince Lucas does not want to learn to play the lute. He would much rather be outside exploring with his best friend Clara. When a traveling bard pays a visit to the castle, he tries to convince the young prince that there is magic in music, but Lucas isn't falling for it. And when the two go for a walk in the hills and stumble upon a ferocious monster, Lucas learns that the bard might just be telling the truth after all.

With easy-to-read language and illustrations on almost every page, The Kingdom of Wrenly chapter books are perfect for beginning readers.
Title:
The Bard and the Beast
Format:
Hardcover
Product dimensions:
128 pages, 7.31 X 5.5 X 0.6 in
Shipping dimensions:
128 pages, 7.31 X 5.5 X 0.6 in
Published:
November 24, 2015
Publisher:
Little Simon
Language:
English
The following ISBNs are associated with this title:
ISBN - 10:1481443976
ISBN - 13:9781481443975
Look for similar items by category:
Preview Your Review
Your Review Has Been Submitted
NO, I do not recommend this product.
Educational/Developmental Value:
Thank you. Your review has been submitted and will appear here shortly.
Read from the Book
The Bard and the Beast Music Lessons "Yes! Sir Archie won!" Prince Lucas shouted. "No, Sir Fred won!" cried Clara. "Squawk!" crowed Ruskin, Lucas's pet dragon. He was definitely on the prince's side. "Okay, let's call it a tie!" Lucas said. "No way!" argued Clara. "Sir Fred won fair and square!" Prince Lucas and his best friend, Clara, had just had a toad race. They argued and laughed as they ran down the castle halls. Then, all at once, Lucas's muddy leather boots skidded to a stop. Clara didn't see in time and bumped into Lucas. Ruskin smacked into the back of Clara's knees. Queen Tasha blocked the hallway. She tapped her black velvet shoe on the stone floor and stared disapprovingly at the mud-covered children. "Where on earth have you been, Lucas?" she said sternly. "You are late for your first music lesson!" Clara peeked out from behind Lucas. "Um, I'd better be going," she said uncomfortably. Then she turned and hurried toward the door. The queen kept her eyes on her son. Lucas wiped some toad slime on his pants and sighed heavily. "Come on, Mother," he complained. "You know I don't want to play a musical instrument!" "It's not up for discussion," his mother said. "Music is part of your royal education." Then she grabbed Lucas by the hand and marched him to the music room. Lucas stumbled along behind his mother. Master Aldrich, the royal music teacher, greeted them at the door. He had dark shoulder-length hair, a pointy nose, and a swirly mustache. He bowed to the queen. She nodded and left the room. Then Master Aldrich slid his glasses to the bridge of his nose and glared over them. "You're tardy," he declared as if Lucas didn't know. The teacher sniffed. "Well then," he went on, "shall we pick an instrument?" Master Aldrich walked—rather like a duck—across the room and sat down with a floating golden harp. The instrument hovered in the air as the music teacher began to pluck the strings with his long, skinny fingers. "Heavenly, isn't it?" he said. Lucas shrugged. "Too many strings for my taste," he said. Master Aldrich got up and pulled a recorder from a shelf. "Here's a simple instrument that's easy to learn," he said, putting the pipe to his lips. Lucas watched his teacher's fingers cover and uncover the holes on the recorder as he played a short tune. "Well?" Master Aldrich said, looking at the prince. "Too many holes," Lucas replied. Master Aldrich waddled across the room and grabbed a bagpipe from a hook on the wall. He tapped, pumped, and blew on the pipes. Soon the instrument began to whine. Lucas stuck his fingers in his ears. "Too earsplitting!" he declared. Master Aldrich set down the bagpipes, cleared his throat, and adjusted his glasses. "How can you hope to master a kingdom if you can't master something as simple as a musical instrument?" he said. Lucas shrugged again. "Music brings joy and happiness!" his teacher said excitedly. "It brings kingdoms together. It can even save lives!" Save lives? Master Aldrich sounded a little bit loopy to Lucas. I'd better pick an instrument to get him to stop talking, he thought. He settled on a stringed instrument with a long neck and a body shaped like pear sliced lengthwise. "Ah, splendid, my prince!" said Master Aldrich. "You've chosen the lute! It will take years of hard work to master, but the reward for playing beautiful music is priceless!" Oh no, thought Lucas. Years of hard work to master? What had the prince gotten himself into this time?