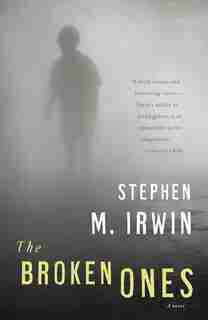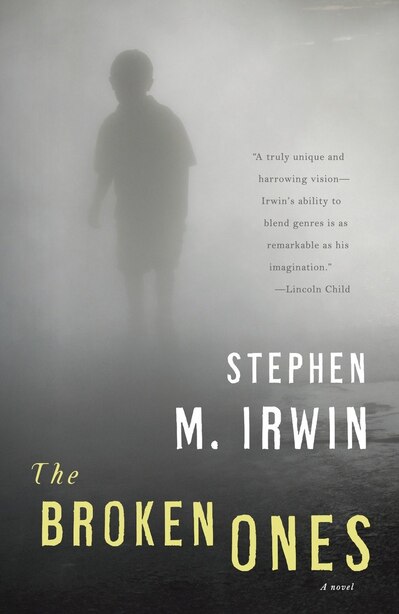 The Broken Ones
Paperback

|

August 13, 2013
Pricing and Purchase Info
$17.95
list price
save 11%
Prices and offers may vary in store
In the near-future murder is still the same. Its who's watching that's different.

The worldwide aftershock of what becomes known as "Gray Wednesday" is immediate and catastrophic, leaving governments barely functioning and economies devastated. Hollow-eyed apparitions appear, haunting their loved ones and others. But some things never change. When Detective Mariani discovers the grisly remains of an anonymous murder victim in the city sewage system, his investigation will pit him against a corrupt police department and a murky cabal conspiring for power in the new world order. Then there is the matter of the dead boy who haunts his every moment. . . .


Title:
The Broken Ones
Format:
Paperback
Dimensions:
368 pages, 7.99 X 5.14 X 0.77 in
Published:
August 13, 2013
Publisher:
Knopf Doubleday Publishing Group
Language:
English
The following ISBNs are associated with this title:
ISBN - 10:0307744442
ISBN - 13:9780307744449
Look for similar items by category:
Preview Your Review
Your Review Has Been Submitted
NO, I do not recommend this product.
Educational/Developmental Value:
Thank you. Your review has been submitted and will appear here shortly.
Read from the Book
Excerpted from the PrologueFrom page 1, The Argus,September 10EDITORIALThree Years on—Still No AnswersThe ability of humankind to emerge from calamity into better times has manifested again and again throughout our history. The plague-ridden and religiously extreme Middle Ages birthed the Renaissance, the opening of the world by sail, and the Enlightenment's bright lights of science. Last century's appalling World Wars, with their unprecedented casualties, spurred discoveries that have yielded extraordinary peacetime benefits: penicillin, rockets, and jet travel. It remains, however, difficult to imagine what reward could come from the dark event that occurred three years ago today, the repercussions of which continue to be felt by each of us, in every corner of the globe.On that Wednesday—commonly known as Gray Wednesday in the West, Black Wednesday in Russia, and the innocuous Day of Change in the People's Republic of China—few of us could have predicted how different our world would be today, three years on. None of us could have been expected to; no single event has so definitively tied psychological harm to economic depression and technological failure. The hallmarks of disaster, though, were instantly apparent: at just after 10:00 GMT, the earth's poles switched. Every compass in the world swung 180 degrees, and two hundred and sixteen passenger jets either collided or simply fell from the skies, with their navigation systems fatally flummoxed. No one knows how many smaller aircraft also fell, but estimates range between seven and sixteen thousand. Almost all post–Cold War satellites met a similar fate, with their onboard computing systemsinstantly and simultaneously failing, plunging global telecommunications into a new age of darkness from which we have only barely begun to recover. Few civilian organizations—indeed, few governments—have been able to launch new satellites because of the economic despair that now seems so deeply entrenched that many are regarding it as the new status quo.We still tell our children that the sun rises in the east and Santa Claus lives at the North Pole, but we all know that north is south and the world is upside down in so many ways. The state of the global economy is dire. Unemployment here remains at 21 percent; in the UK, the USA, and Germany, it is closer to 25 percent. Japan, which was still recovering from nuclear disaster when Gray Wednesday occurred, is worse still, with unemployment at around 30 percent and rising. We don't know what is occurring everywhere; Saudi Arabia, Pakistan, Serbia are among the countries that have sealed their borders. But in those nations which are still attempting to participate in world trade, it is not just their blue-collar industries that have been decimated by depression and suicide: all sectors of all industries were hit hard by Gray Wednesday. The lack of a reliable workforce in the mining sector has resulted in coal shortages and power outages. Oil companies have suffered similarly, resulting in a rapid escalation in the prices of crude oil and refined fuels like gasoline and diesel. Most manufacturing industries have reported significant downturns as a result of erratic supplies of material, power, and workers. Crop and livestock industries are, if anything, even worse off; the rice, tea, coffee, cocoa, and rubber industries have all shrunk enormously in scale, and the resultant explosion in commodities prices has escalated inflation in countries too numerous to mention. With the sharp collapse in the value of legal tender, people everywhere have turned to older-fashioned means of exchange. Black markets have burgeoned, and almost everyone now uses barter at least a little and sometimes exclusively, further reducing governments' tax incomes. Poorer governments mean poorly paid government workers and a commensurate vulnerability to bribery. The conviction last month of the federal agriculture minister for contempt of Parliament is the tip of a large iceberg. As companies collapse and their surviving contemporaries scramble to fill the voids, graft and blackmail are becoming well-honed tools in all sectors of business.The challenges to national economies have been worsened by a dramatic shift in global weather patterns in the past thirty-six months. Rain-fall patterns have changed on all continents, and average temperatures have swung by up to seven degrees Fahrenheit: summer heats are rising, and the past three winters in the Northern Hemisphere have been the coldest on record. Climatologists speculate that the cause of this was the switching of the poles, but detailed research may take decades to conduct and unravel. Some people are not prepared to wait that long: in Turkey two years ago, and in South Korea last month, members of religious sects committed suicide on a massive scale—four thousand lives in total. Death on a smaller, more murderous scale occurred in January, when four men and a woman drove a bus packed with explosives through the main gate to the Large Hadron Collider, near Geneva: the explosion killed them and twenty-three staff members.Nothing, however, has ameliorated the situation that Gray Wednesday has left us in. The federal Commission of Inquiry drags on, now under its second commissioner and still with no tangible results. Government-funded and private policy institutes have made innumerable recommendations to help preserve liquidity and protect jobs, but none have made any inroads toward finding a solution. Our country is not alone; the rest of the world is just as baffled. Our guests that arrived on September 10 three years ago seem fixed to stay; the psychological impact of their arrival may have to be judged by future generations. In the meantime, our economies run flat and our stomachs get emptier. The question remains: Where is the silver lining? Where, in short, is the hope?
Editorial Reviews
   Favorite Books of 2012, Chicago Tribune   Best Fiction of 2012: Thrillers, Kirkus Reviews   Best of 2012 Horror, Suspense Magazine"I was hooked from page one. The protagonist of The Broken Ones is a policeman in Australia, which (in Irwin's narrative world), has become a different country since a sudden reversal of polarity. This reversal has changed everything: now each live person is haunted by one ghost, visible only to that person. The consequences of this situation utterly change society. Detective Oscar Mariani is still trying to be a good cop in a world that does not appreciate good cops or reward them, and the murders he is determined to solve are horrendous. Intelligent, grim, and challenging."New York Times bestselling author Charlaine Harris, on CharlaineHarris.com"A truly unique and harrowing vision--Irwin''s ability to blend genres is as remarkable as his imagination."LINCOLN CHILD, #1 New York Times Bestselling Author"In this strange and uncanny second novel, Australian author (and filmmaker) Stephen M. Irwin combines the gumshoe fiction of Raymond Chandler and the retro-futurism of "Blade Runner" to concoct a doomsday scenario that feels eerily relevant...No one in this feverish novel emerges unscathed. You may not, either. I couldn''t shake the enveloping gloom or lyrical despair of The Broken Ones for days."Chicago Tribune"In the striking retro future of this novel, bizarre and familiar comfortably coincide. A flawlessly assembled thriller."Kirkus Reviews (Starred Review)"A well-paced, imaginative story."The Free Lance-Star"Blending the supernatural thriller with hard-boiled crime fiction, Australian Irwin, in his second novel, which follows the acclaimed The Dead Path (2010), depicts a bleak future. Three years after Grey Wednesday, on which the earth's poles suddenly switched, unemployment is rampant, while food and goods are in short supply. Perhaps most devastating of all, however, was the appearance of the ghosts. All are now haunted by the eyeless specters of people they once knew. As a result, suicide and murder rates have skyrocketed, and a unit has been created within the police department to exonerate perpetrators driven to murder by their ghosts. Rumpled, dogged detective Oscar Mariani works in that unit. He is poorly paid, constantly under threat of being shut down, and disrespected by mainstream policemen, many of whom are corrupt. But then he catches the case of a young woman whose body has been badly mutilated and marked with occult signs, and he is convinced her murder is connected to the highest levels of government. How he goes about solving his case while weighed down with guilt over his failed personal relationships provides much of the suspense in a story that also offers cinematic descriptions of a rain-drenched, ruined Brisbane and smoothly incorporated supernatural elements. A unique and thrilling blend of horror and crime." Booklist (Starred Review) "Stephen M. Irwin''s new book is a thrilling ride, cementing him as a formidable new talent in fiction."Book of the Month Club"Infusing equals parts of horror and crime, The Broken Ones is masterfully written and an entertaining read."The Birmingham Times"Highly original...Irwin's depiction of a world falling apart under the onslaught of supernatural forces, and the desperate measures some will take to remedy it, is one of the more memorable in recent weird fiction."Publishers Weekly"Genre-bending and imaginative, Irwin's sophomore novel is part fantasy, part supernatural crime thriller. Similar in style and content to the works of Cherie Priest and Richard Matheson, this will appeal to a variety of genre readers who enjoy intelligent fiction that pushes boundaries." Library Journal"Some of the best work being produced across all the art forms in this century derives its quality and its energy from the mixing up of forms and genres... This ambitious novel combines not just two genres, but three, mixing up the conventions of supernatural mystery, police procedural and speculative fiction to produce a futuristic dystopian society that has broken down after an invasion of ghosts, with a hero straight from the hard-boiled school of crime... The writing is at once witty, gritty and grim.  The horrors are genuinely horrible and the imagined scenario is satisfyingly rich and suggestive." ''Pick of the Week''Sydney Morning Herald