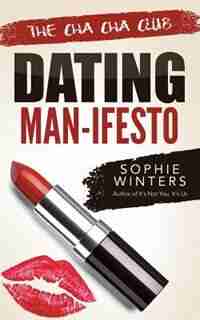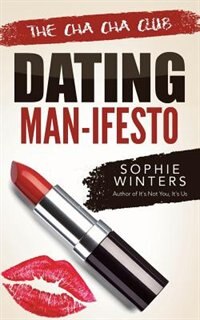 The Cha Cha Club Dating Man-ifesto
Paperback

|

August 10, 2016
Pricing and Purchase Info
$22.95
list price
save 11%
Prices and offers may vary in store
Do you feel unlucky in love? Well, that's about to change! Whether you're single or in a relationship, Sophie will help you understand men better, and attract the love you deserve with more confidence. Sophie shares 48 Guidelines to help you be more successful at dating and relationships. An uplifting and inspiring read, full of warmth and humor. Never preachy, but straight to the point, Sophie is like the best friend you wish you had.
Title:
The Cha Cha Club Dating Man-ifesto
Format:
Paperback
Product dimensions:
188 pages, 8 X 5 X 0.4 in
Shipping dimensions:
188 pages, 8 X 5 X 0.4 in
Published:
August 10, 2016
Publisher:
BookLocker.com Inc
Language:
English
The following ISBNs are associated with this title:
ISBN - 10:1634914775
ISBN - 13:9781634914772
Look for similar items by category:
Preview Your Review
Your Review Has Been Submitted
NO, I do not recommend this product.
Educational/Developmental Value:
Thank you. Your review has been submitted and will appear here shortly.
Table of Contents
Introduction Chapter 1: Welcome to the Club Flashback - Sophie Winters'' Dating Epiphany Flashback - Sophie Winters Makes a Deal with God. Or Herself. Who Knows Chapter 2: How to Begin a Lifelong Romance Getting Ready How to Be a Good Date Exercise: Real-life Romance Chapter 3: Dating Online Dating Tips for Online Dating Good Photos A Well-written Profile A Picture Is Worth a Thousand Words Dating Sites - Free versus Fee Responding to Emails and Chat Requests Red Flags The No-picture Dude The No-picture Dudette The Drive-by Guy The Super-keen Guy The Lurker But What If He Won''t Ask Me Out? Savvy Tips for First Dates Don''t - Do - Après-date Etiquette Possible Dating Outcomes Chart Signs the Date Went Well Who Should Pay On the First Date? What To Do When the Check Arrives Are You Saying This Is a Game? When Does the Woman Pay, if Ever? What if He Doesn''t Call Back? Houston, We Have a Problem Date Number Two and Beyond Chapter 4: Get Out There How to Be Approachable Men Are Terrified of Groups of Women Chapter 5: The Art of Flirting The Invitation Exercise: Flex Your Flirting Muscles Chapter 6: The Beauty Myth Exercise: Traits in a Mate Exercise: What Makes You Amazing? You Have a Signature Scent Chapter 7: Dating More Than One Man More on Polydating Sex Dating Quality Men Exercise: Are You a Quality Woman? Chapter 8: Develop Your Douche-ray Vision When to Walk Away, When to Run Signs You May Be Dating a Douche Bag Signs You May Be Dating a Super-psycho Douche Bag 7 Signs That Your Man May Be Cheating on You Chapter 9: The Art of Difficult Conversations How to Have a Difficult Conversation Set a Time to Talk with Your Man State the Reality Tell Him How You Feel Tell Him What You Want (not what you don''t want) Do Not Bring Up the Past Make a Request, Not a Demand or an Ultimatum Stay Positive Listen Give it Time Stay Busy While He Figures it Out Watch for Changes Chapter 10: Deal Breakers Stonewalling Expect the Unexpected A Final Word about Deal Breakers Chapter 11: How Men and Women Handle Breakups How Men and Women Handle Breakups - A Facebook Conversation Chapter 12: Finding Mr. Right Understanding Men 8 Secrets to Understanding Men Right Girl, Wrong Time The Dating Man-ifesto Guidelines Last Exercise: A Call to Action The 48 Guidelines to Help You Get More Cha Cha One Last Thing... About the Author Bonus: Take a sneak peek inside Sophie''s second book It''s Not You It''s Us: A Guide for Living Together Without Growing Apart Excerpt from - It''s Not You, It''s Us: A Guide for Living Together Without Growing Apart
Editorial Reviews
Great read! I laughed so hard at some parts that my husband actually came into the room to see what was up! Every mom should get this book for her daughters BEFORE they start to date...it could save them a lot of heartache. Where was this book 10 years ago, when I really needed it?! - Sandi, Amazon review A Must Read for Anybody! I wish I had read this book a long time ago. It not only deals with dating, but it brings up some important (and sometimes long forgotten) concepts regarding how to make better choices in your life and how to put yourself first. Things that are paramount to finding and maintaining a happy and fulfilling romantic relationship. Whether you''re still looking, recently involved, or an old pro on the relationship scene, this book is a must read! - Kristie, Amazon review It''s super easy and fun to read Ladies, buy this right now. It''s super easy and fun to read, logical, inspiring yet not overwhelming. Sophie gives clear and simple guidelines, follow them and you''ll see the difference in how men treat you. Do it today! - Jess, Amazon review An invitation for us women to get our ''cha-cha'' on! This book is the most solid, condensed, straight-to-the-point, inviting, non-judgmental and beautiful invitation to grow into a loving and healthy relationship with yourself and the man who wants share his life with you out of mutual love and respect...and sassiness and sexiness. :) - J.B., Amazon review Well-done and very genuine approach to living a confident and happy life with or without MR Right! - Anonymous, Amazon review Great advice! As a therapist who works with individuals and couples, I have so often taught what I found in it. Congratulations on writing a well-researched piece that provides accurate guidance for the reader. - Lynn, Amazon review Online Dating Site LOVES this book This is a fantastic and fun book to read. Being in the online dating business it''s sometimes hard to recommend a book that has answers in it that you need. This is that book! Buy it and have a ''cha cha'' moment. - Jonathon, Amazon review Fun and inspiring ...Sophie is like the best friend you wish you had: she will inspire you with her knowledge and humor, and provide you with useful tools to get you out there and to try something new in your search for the right partner. - A Reader, Amazon review Easy, Fun & Motivational I enjoyed this book. It was fun and easy to read and most of all it made me want to date and have fun in the process. It gave me a boost of confidence and motivation. - Natalie, Amazon review A fun read! An easy read and fun perspective on today''s dating challenges...very refreshing "guidelines" and deal breakers! A much better read than Mars/Venus. - Holly, Amazon review