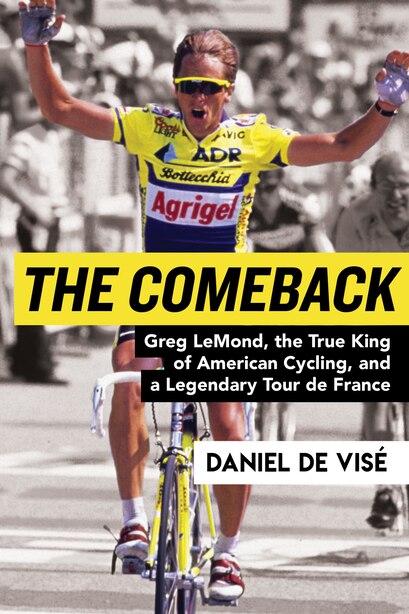 The Comeback: Greg Lemond, The True King Of American Cycling, And A Legendary Tour De France
Paperback

|

May 31, 2019
Pricing and Purchase Info
Prices and offers may vary in store
A true American hero, Greg LeMond''s career was punctuated by dramatic fame, devastation, and ultimately redemption. In July 1986, LeMond stunned the sporting world by becoming the first American to win the Tour de France, the world''s pre-eminent bicycle race, defeating French cycling legend Bernard Hinault. Nine months later, LeMond lay in a hospital bed, his life in peril after a hunting accident, his career as a bicycle racer seemingly over. And yet, barely two years after this crisis, LeMond mounted a comeback almost without parallel in professional sports, again winning the 1989 Tour - arguably the world''s most grueling athletic contest - by the almost impossibly narrow margin of 8 seconds over another French legend, Laurent Fignon. It remains the closest Tour de France in history. From the heights of global fame, LeMond would then crash during a calamitous confrontation with Lance Armstrong over allegations the latter was doping. Pulitzer Prize-winning journalist Daniel de Vise reveals the dramatic, ultra-competitive inner world of a sport rarely glimpsed up close, and builds a compelling case for LeMond as its great American hero.
Title:
The Comeback: Greg Lemond, The True King Of American Cycling, And A Legendary Tour De France
Format:
Paperback
Product dimensions:
384 pages, 8.11 X 5.54 X 1.11 in
Shipping dimensions:
384 pages, 8.11 X 5.54 X 1.11 in
Published:
May 31, 2019
Publisher:
Grove/Atlantic
Language:
English
The following ISBNs are associated with this title:
ISBN - 10:0802147186
ISBN - 13:9780802147189
Look for similar items by category:
Preview Your Review
Your Review Has Been Submitted
NO, I do not recommend this product.
Educational/Developmental Value:
Thank you. Your review has been submitted and will appear here shortly.
Editorial Reviews
Praise for The Comeback : [A] blend of chaos, kindness and cruelty typifies the scenes that journalist de Vise brings to life in this sympathetic-verging-on-reverential retelling of LeMond''s trailblazing career (first American to enter the tour, first to win it) . . . As an author in quest of his protagonist''s motivation, [de Vise] subjects it to extreme torque." - Allan Fallow, Washington Post "Most American fans of the Tour de France focus on the now discredited achievements of Lance Armstrong [but The Comeback ] sets the record straight. With Armstrong''s victories invalidated, LeMond is the only American to capture the Tour de France, winning in 1986, 1980, and 1990 . . . The new book documents LeMond''s significant contributions to the sport, maybe underestimated by casual racing fans . . . Other books have profiled LeMond''s achievements, but The Comeback offers more depth." - Lou Dzierzak, Minneapolis Star Tribune "The real hero, the name everyone should know, is Greg LeMond, the first American to win the Tour de France and the man who came back from a terrible hunting accident to win it for a third time by eight seconds, the closest finish in race history . . . De Vise keeps his focus on LeMond while writing a second biography of Laurent Fignon, LeMond''s rival in the 1989 race and a compelling, complicated figure in the history of cycling." - Jeff Baker, Seattle Times "A great book . . . Well written and thoroughly researched . . . Engrossing and hard to put down. If you''re a Greg LeMond fan, The Comeback is a must read because it''s a detailed accounting of his career and - more importantly - his life and person off the bike. It''s also an important reminder that American cycling did not begin and end with Lance Armstrong." - PEZ "A thoroughly well-researched work about Greg LeMond''s cycling exploits from childhood races, impressive pro career, postcareer life, and business pursuits . . . [ The Comeback ] documents LeMond''s entire career, not just his heroic comeback from a near fatal hunting accident . . . De Vise''s account stands out owing to its depth of coverage, captivating prose, and variety of historical and contemporary news sources. An impressive read for anyone interested in cycling." - Library Journal "Veteran journalist de Vise takes on a big story with that of LeMond . . . [De Vise] sometimes writes with the techno-geekery of the bicycle acolyte and sometimes with the breeziness of a practiced sportscaster . . . It''s a pleasure to ride in the peloton alongside LeMond, who emerges from this account as America''s once-and-future cycling great." - Kirkus Reviews "De Vise provides detailed accounts of a dizzying number of races throughout LeMond''s career . . . Vivid description of the sport as one of physical torture . . . [De Vise] lays bare the undeniable facts of Greg''s amazing talent. That he achieved all he did without the benefit of doping, without the support of an American cycling team, and with a catastrophic injury in mid-career, is remarkable. Greg''s life is a story worth understanding and his name is one worth knowing, especially in light of the string of discredited riders who followed him." - New York Journal of Books "The story of LeMond, the first American to win the Tour de France, is one of extreme rises and falls - physically, emotionally and publicly - and yet Armstrong emerged as the media darling, both during his high-profile career and the epic fallout from his doping scandal. For author and journalist Daniel de Vise, the disparity in recognition was vexing, and with his new biography, he hopes to promote the legacy of the true king of American cycling.''" - La Crosse Tribune "Greg LeMond was Lance Armstrong before Lance Armstrong - and he won his three Tours de France WITHOUT cheating. The Comeback is the story of a true hero and his remarkable comeback to win arguably the most dramatic Tour de France in history. This is a must read if you believe in miracles." - John Feinstein, bestselling author of A Season on the Brink and The First Major " The Comeback is an eye-popping ride, sweeping the reader through the extreme eccentricities of endurance cycling. But the heart of the story, the charismatic spirit and recrowning of America''s authentic cycling champion Greg LeMond, is what makes you cheer through the pages." - Diana Nyad, author of Find a Way and the only person to swim between Cuba and the United States "Once in a blue moon a sports book comes along appealing to a such a broad audience that it becomes a perennial favorite of neighborhood reading groups - Boys in the Boat and Seabiscuit being prime examples. Now make way for The Comeback by Daniel de Vise, a superbly well-crafted narrative. For devotees of the sport of bicycle racing, and for those with little knowledge of it, this book will satisfy in every way." - Paul Dickson, author of Bill Veeck and Leo Durocher "Greg LeMond is an American sporting hero whose story would surely be rejected by Hollywood as too fanciful. It includes taking on and beating the French at their own game, a near fatal shooting, a career in apparently terminal decline, an extraordinary comeback, and a bitter feud with his successor. Remarkably, it''s all true, and The Comeback is the first book to document the full LeMond story in all its astonishing, scarcely credible detail." - Richard Moore, author of Slaying the Badger: Greg LeMond, Bernard Hinault and the Greatest Tour de France and host of The Cycling Podcast "Daniel de Vise explores one of cycling''s epic duels, on the final day of the 1989 Tour de France when America''s Greg LeMond had recovered from a life-threatening shotgun blast to score a heroic come-from-behind triumph over France''s Laurent Fignon. In The Comeback, de Vise portrays the complex personalities of LeMond and Fignon in a narrative freighted with nuanced analyses, thorough research, and a narrative that rocks." - Peter Joffre Nye, author of Hearts of Lions and The Fast Times of Albert Champion "Daniel de Vise''s meticulously researched story of the professional and personal life of LeMond is an epic saga of America''s preeminent cyclist''s rise to the sport''s pinnacle followed by his near death from a hunting accident and amazing return to capture his second and third Tour de France victories. De Vise also chronicles the rise of doping in professional cycling near the end of LeMond''s racing career. LeMond''s reputation was at considerable risk as he challenged Lance Armstrong''s denials and duplicity and fought to clean up a sport that had been severely damaged by the almost universal use of banned drugs for too many years. Even those with little familiarity with the often arcane aspects of bicycle racing will be caught up in the drama, excitement and nuances of the sport. Highly recommended!" - Bob Bowen, President, U.S. Bicycling Hall of FamePraise for Andy & Don : "A lilting labor of love, a book that captures a golden moment in modern Americana. You''ll not only return again to Mayberry, you''ll feel as though you''ve never left." - Tom Shales, Pulitzer Prize-winning television critic and author of Live from New York "An intimate look into the lives of two thoroughly unique human beings who became not only household names but icons. What a thrill to take a peak down the alleys of Mayberry and beyond." - Billy Bob Thornton "Well-researched and discerning, Andy and Don shows us Griffith in both darkness and light: a haunted, powerful actor as well as the gentlest of comic straight men." - Scott Eyman New York Times bestselling author of John Wayne "A delightful, affectionate tribute to the show, and to the two stars whose unique chemistry, both on and off the screen, was the key to its enduring appeal." - Richard Zoglin, author of Hope "This is the book about The Andy Griffith Show you didn''t know you needed. De Vise shows that Griffith and his equally famous sidekick were far more complicated, troubled - and interesting - than their public personae ever let on." - Jennifer Keishin Armstrong, author of Mary and Lou and Rhoda and Ted "The true story of Andy Griffith''s and Don Knotts''s incredible friendship. A penetrating and moving tribute." - James Carville, political consultant "A rewarding dual biography that is the definitive story of their friendship . . . As a story about a TV show and a creative partnership, Andy and Don satisfies. It''s also a lively look inside the entertainment industry in the latter half of the 20th century. But more than anything, it''s the story of a beautiful friendship." - News & Observer "An engaging, well-researched portrait of what made one of the great comedy duos of the television age tick." - News & Record "The perfect holiday gift for your aunt, uncle, grandma, or hipster niece, this well-written, often eloquent chronicle is just what fans of the show have waited for every fan of The Andy Griffith Show -and the great actors and writers who made it come alive-will treasure it." - Missoulian " Andy and Don will be a must for any Andy Griffith Show fan and anyone with a taste for showbiz gossip." - Star-News "This is the story of their friendship, filled with laughter and stories about this classic TV pair. Andy and Don is a must read for any Andy Griffith Show fan." - Grand Forks Herald "[A] delightful book . . . A well written, respectful, and informative look at a