The Desire Map Experience: A Guide To Creating Goals With Soul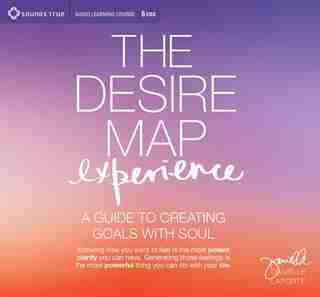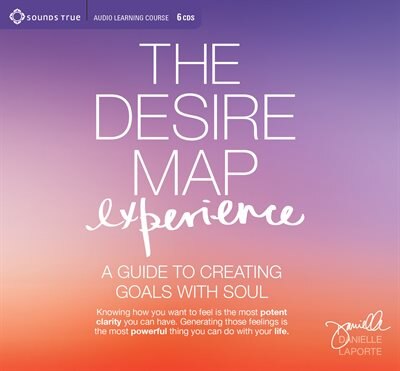 Find In Store
Prices and offers may vary in store
How do you feel about setting goals?

I''ve heard people say they feel energized, depressed, confused, terrified, pumped, ambivalent, lost . or all of the above. Here''s what I''ve realized:

Our relationship to success is inside-out.

When we make our New Year''s resolutions, bucket lists, big plans, or weekly to-dos, we''re hoping that when we "arrive" we''ll be fulfilled. Our hearts will swell as we cross the finish line, and then we can finally relax and savor our happiness.

Except more often than not, that doesn''t happen. Even when we meet our objectives, we wonder if we aimed too low, or took too long, or if we could have done it better. And when we fall short, we come down on ourselves like a ton of bricks. So we make the next goal, hoping it''ll give us everything the last one didn''t.

It''s a self-defeating cycle that''s burning us out. How do we change it?

Here''s the whole cosmic, life-liberating revelation:


You''re not actually chasing the goal. You''re chasing the feeling that you hope attaining the goal will give you.

Every craving, aspiration, or goal you have-from what you eat, wear, and own, to all the things you want to create or do-is driven by a desire to feel a certain way. That''s it.

And that''s where the Desire Map process starts.

In The Desire Map Experience, I''ll share a process that you''ll use to transform the way you relate to every aspect of your life. It''s not about learning a new time-budgeting method, filling out a questionnaire, or making another list to stick on your fridge.

Instead, you''ll get crystal clear about how you want to feel about everything you do.


The Desire Map is holistic life planning. Here''s how it works:


We''ll uncover your core desired feelings-they''ll be your new North Star for living a soul-centered life
. You''ll learn how to identify expectations you''ve picked up from your parents, the Joneses, the media, or the imaginary "they" you''re always trying to impress
. We''ll use guided reflections to go deep into what your soul is trying to tell you through your core desired feelings
. I''ll show you how to tune into critical signals from your instincts, your body, and the people around you
. We''ll apply Desire Mapping to all the major areas of your life-livelihood & lifestyle, body & wellness, creativity & learning, relationships & society, and essence & spirituality
. You''ll learn how to create practical plans with daily, weekly, and monthly actions that will bring more and more of your core desired feelings into your life
. I''ll be sharing poetry, stories, and inspirational truths to help you stay in touch with the sweetness of life
You''ll make this process your own. It''s not a one-size-fits-all deal. You''ll create your Desire Map in the way that lets your soul speak loud and clear in every day of your life.

Feeling good along the way to your goals doesn''t mean you won''t need to work your ass off-but when you do, you''ll do the work joyously. You''ll be creating goals that are life-affirming, nourishing, practical, forgiving, and true to who you are.


When you get in touch with your deepest desires, things start to shift.

I get stories every day from Desire Mappers who sold the house, got the job, dumped the chump, took the class, wrote the book, got fit, kicked the habit . and so much more.

Once you bring your goals in line with your soul, you''re going to feel energized and supported on your journey, even when the going gets rough.

You''ll start the day differently. Planning your week will take on a kind of liberating simplicity. You''ll surprise yourself. You''ll say no to the expectations and should-do''s that never felt very fun or rewarding in the first place. The universe will cheer you on with the unexpected gifts and synchronicities it throws your way.

You''ll get integrated-body, mind, heart, and soul. And the light of your core desired feelings will always lead you back home.

When we want to feel courageous more than we want to check off items on a list . when we want to feel free more than we want to please other people . when we want to feel beautiful more than we want to fit someone else''s image of who we should be . that''s when we become the authors of the lives we''re meant to live.

That''s The Desire Map Experience.
Title:
The Desire Map Experience: A Guide To Creating Goals With Soul
Product dimensions:
1 X 1 X 1 in
Shipping dimensions:
1 X 1 X 1 in
Published:
January 1, 2014
Appropriate for ages:
All ages