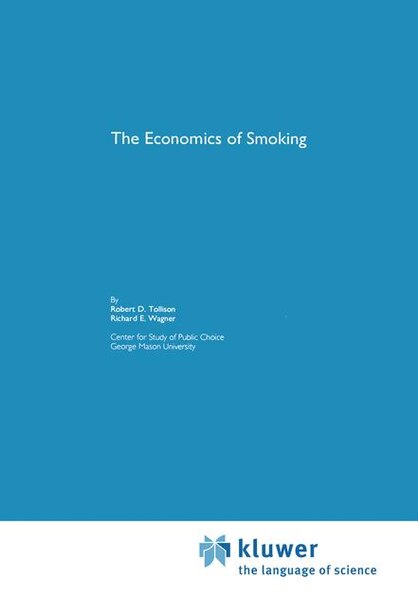 The Economics of Smoking
Paperback

|

September 28, 2012
Pricing and Purchase Info
$165.95
Prices and offers may vary in store
Cigarettes are under political attack at all_levels of government in the United States. From Washington, D. C. to state capitals to local govern­ ments, proposals abound to increase the cigarette excise tax, to impose smoking bans, to prevent cigarette advertising, to restrict the sale of cigarettes through vending machines, to cut off the export of cigarettes, to earmark the cigarette excise tax for health programs, to divest the stock of cigarette companies, and so on. And all of these are purportedly being advocated in the name of health. Undergirding and abetting the health argument is an economic argument that claims to place a value of up to $100 billion per year on the alleged health costs of smoking to the American economy, which is more than $3 per pack of cigarettes smoked. As our title suggests, our interest lies in the economics of smoking and not in the health issues surrounding smoking. We are professional economists and not medical scientists. We will focus on what, if any, economic consequences arise for nonsmokers when smokers smoke. For purposes of our discussion, we simply accept the premise that smoking damages health and proceed with our analysis. Since we have not studied the issue ourselves, we have no way of knowing whether such a premise is true. But it really does not matter for getting the economics of smoking right. The important point resides in who pays for whatever to smoking.
Title:
The Economics of Smoking
Format:
Paperback
Dimensions:
253 pages, 22.9 X 15.2 X 0.02 in
Published:
September 28, 2012
Publisher:
Springer-Verlag/Sci-Tech/Trade
Language:
English
The following ISBNs are associated with this title:
ISBN - 10:9401057338
ISBN - 13:9789401057332
Look for similar items by category:
Preview Your Review
Your Review Has Been Submitted
NO, I do not recommend this product.
Educational/Developmental Value:
Thank you. Your review has been submitted and will appear here shortly.
Table of Contents
1. Tobacco Warfare In America: An Overview.- A Battlefield Tour.- American Principles, Public Policy, and Tobacco Warfare.- Organization of this Book.- 2. Welfare Economics, Public Policy, And Smoking.- Smoking, the Market Process, and a Free Society.- Taxation and Regulation in a Market Economy.- Welfare Economics and Tobacco Policy.- Tobacco Taxation as Corrective Taxation.- Tobacco Taxation: An Overview.- 3. The Taxation And Regulation of Smoking: Principle vs. Expediency.- Realistic Politics and Tobacco Policy.- Knowledge and the Improbability of Corrective Taxation.- Political Incentive and Actual Tobacco Taxation.- Rationale, Reality, and Tobacco Regulation.- Tobacco Policy in Constitutional Perspective.- 4. Smoking And The Economic Cost Of Lost Production.- Smoking and Health: The Method of "Attributable Risk".- How Accurate are Measures of Attributable Risk?.- Economic Measurement of Indirect Costs.- Joint Costs and Improper Cost Attribution.- Who Loses Lost Production: Smokers or Nonsmokers?.- What about the Benefits of Smoking?.- 5. Markets, Insurance, And The Medical Costs Of Smokers.- Attribution of "Medical Costs" to Smoking.- Medical Costs, Personal Responsibility, and Insurance.- Life Insurance and Nonsmoker Discounts.- Health Insurance and Smoker-Nonsmoker Parity.- Smoking and Fire Costs.- Moral Hazard and Insurance Costs.- 6. Medicare, Medicaid, And The Social Cost Of Smoking.- Smokers and the Cost of Medicare.- Transfers and Social Costs: A Clarification.- Proposals for Earmarked Cigarette Taxes.- Principle, Expediency, and Wealth Transfers.- 7. Smoking, Business Costs, And Social Cost.- Smoking and the Efficiency of Team Production.- Smoking and Workplace Efficiency.- Workplace Costs: A Further Consideration.- Smoking and Economic Productivity: A Conceptual Framework.- Smoking and Productivity: Discussion of the Data.- 8. ETS And Governmental Protection Of Consumers And Workers.- The Economics of Clean Indoor Air Acts.- The Coase Theorem, Ownership Rights, and Markets.- An Alternative Explanation.- Tobacco and "Public Health".- 9. Advertising, "Addiction," And The Denial Of True Choice.- Separating Advertising Myth from Advertising Reality.- Impact of Cigarette Advertising on Smoking by Youth.- Cigarette Advertising is a Firm-Specific Investment.- International Evidence: Cigarette Advertising Bans do not Work.- The Constitution and the Protection of Commercial Speech.- Advertising and Addiction.- The New Economics of Addiction.- Consumer Sovereignty or Health Fascism?.- 10. Self Interest, Public Interest, And Legislation.- Corrective Cigarette Taxation: An Analytical Unicorn.- An Economic Approach to Legislation and Regulation.- Democratic Politics and Tax Policy.- Rent Seeking, Tax Resistance, and Social Waste.- The Social Cost of Tobacco Taxation: A Recalculation.- Economic Principles and the Anti-Cancer Bureaucracy.- Tobacco Taxation and Regulation: A Realistic Approach.- 11. Interest Groups And The Public''s Health.- Overview.- Market Processes and Personal Health.- Is Health Research a Public Good?.- Public Health and the Collective Interests of Physicians.- Self Interest in Public Interest Organizations.- 12. Principle And Expediency In Public Policy.- Principles of Constitutional Political Economy.- The Self-Ownership Foundations of a Democratic Polity.- Considerations from the Economic Theory of Legislation.- Implications for Public Policy Toward Tobacco.- Implications for Public Policy More Broadly Considered.- References.