The Greatest Beer Run Ever: A True Story of Friendship Stronger Than War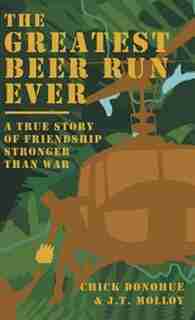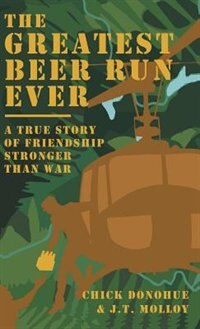 Buy In Store
Prices and offers may vary in store
In 1967, John (Chick) Donohue was a 26-year-old U.S. Marine Corps veteran working as a merchant seaman when he was challenged one night in a New York City bar. The men gathered at this hearth had lost family and friends in the ongoing war in Vietnam. Now, they were seeing protesters turn on the troops. One neighborhood patriot proposed an idea many might deem preposterous: One of them should sneak into Vietnam, track down their buddies in combat, and give each of them messages of support from back home, maybe some laughs - and beer.
Chick volunteered for the mission. He sailed to Vietnam on a cargo ship carrying a backpack full of American beer, landing in Qui Nho'n in 1968. Things went awry when Chick got caught in the Tet Offensive, starting in the early hours as an eyewitness to the battle to retake the U.S. Embassy in Saigon, where he became stuck for months.
Chick Donohue later became legendary as "the sandhog who went to Harvard." He worked for decades on behalf of New York's tunnel builders as the legislative and political director of Sandhogs Local 147.
This is the story of his epic beer run to Vietnam, in his own words and in those of the men he found in the war zone.
- - - - - - - - - - - - - - - - - - - - - - - - - - - - - - - -
"What a great story " - FIRST LIEUT. BRIAN MILES THACKER, Recipient, Medal of Honor
- - - - -
"'The Greatest Beer Run Ever' is the astounding true story of a young man's odyssey. On these pages we accompany Chick Donohue as he takes us on a fantastic voyage from the streets of Manhattan via the high seas to the jungles and cities of Vietnam at the height of a war fought mostly by forgotten blue collar kids. Back in 1968, Donohue was a man on a singular mission - to prove to the soldiers and Marines from the neighborhood that they were not forgotten and never would be. On the way, Donohue lets no obstacle get in his way - not bemused military officials startled by his presence in a combat zone nor Viet Cong rocket fire. This book is both a testament to the fading notions of loyalty and brotherhood and an elegy for the working class enclaves that once formed the backbone of a city and nation." - THOMAS KELLY, Author of "Payback," "The Rackets," and "Empire Rising" and executive producer, "Copper," "The Get Down," and "Civil"
- - - - -
"John (Chickie) Donohue happens to be one of the best storytellers anywhere. He knows that though life may be funny, it is no joke. In this book you will see through his eyes the absurdity of the human condition. Chickie takes us thousands of miles on a hilarious quest laced with sorrow, but never dull. You will laugh and cry, but you will not be sorry that you read this rollicking story." - MALACHY McCOURT, legend, and co-author, "Death Need Not Be Fatal"
Title:
The Greatest Beer Run Ever: A True Story of Friendship Stronger Than War
Product dimensions:
264 pages, 8.5 X 5.5 X 0.75 in
Shipping dimensions:
264 pages, 8.5 X 5.5 X 0.75 in
Publisher:
Sugarwhistle LLC
Appropriate for ages:
All ages
Look for similar items by category: