The Healthy Vegetarian Cookbook: Special Edition Cookbook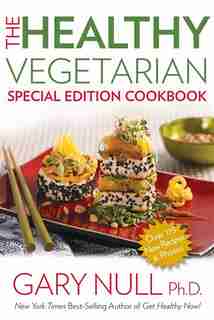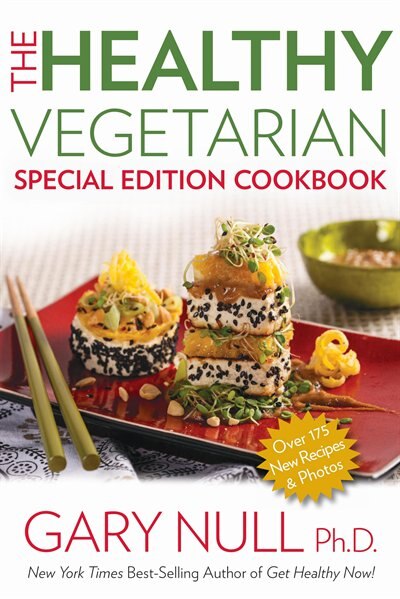 Find In Store
Prices and offers may vary in store
Plant-based eating never tasted so good, or was so good for you. With an estimated 47% of Americans consuming vegetarian meals, and the newly released 2015 USDA Dietary Guidelines concluding the value of a vegetarian diet for both increased health and planetary sustainability2, the number of people incorporating plant-based meals will continue to rise in America. In this latest offering from New York Times'' Bestselling author of the award-winning Anti-Arthritis, Anti-Inflammation Cookbook: Healing Through Natural Foods, Gary Null, Ph.D., readers enjoy a myriad of tasty and adventuresome but easy-to-prepare repasts from breakfasts to appetizers, soups and salads to salad dressings and sauces, as well as entrees and desserts. The cookbook showcases special sections on highly nutritious juices and smoothies, a cornerstone of the modern, time-constrained health-seekers. 
The Healthy Vegetarian Cookbook-companion book to the 475+ page The Healthy Vegetarian: Healing Yourself, Healing Our World-contains more than 200 delectable, health-promoting vegan vegetarian recipes from Dr. Null''s kitchen. This standout recipe book features more than 250 gorgeous, full-color food and nature photos, essays on the vegetarian lifestyle, as well as instruction on getting the most out of a plant-based diet, covering menu planning and meal rotation, optimizing protein content in vegetarian meals, and enhancing access to food''s nutritional content through various preparations-all for ensuring the reader''s success on the vegetarian path. Science has shown that plant-based eating is effective in the prevention and/or elimination of serious lifestyle diseases-heart disease, lung disease, cancer, arthritis, diabetes, obesity, and more-affecting millions of Americans today. Never have we been in greater need for securing health through the highly enriching and rewarding vegetarian diet and lifestyle; this latest offering from Dr. Null is certain to move us in this direction in an exceedingly appealing and delightful way. Sources: Stahler, Charles. "How Often Do Americans Eat Vegetarian Meals? And How Many Adults in the U.S. Are Vegetarian?" The Vegetarian Resource Group Harris Poll; May 18, 2012. http://bit.ly/1DV8Vcf (accessed 4/5/15). Millen, Barbara E., DrPH, RD, FADA, et al. "Scientific Report of the 2015 Dietary Guidelines Advisory Committee: Advisory Report to the Secrtary of Health and Human Services and the Secretary of Agriculture," February 2015": http://www.health.gov/dietaryguidelines/2015-scientific-report/ (accessed 4/5/15).
Title:
The Healthy Vegetarian Cookbook: Special Edition Cookbook
Product dimensions:
352 pages, 10.5 X 8 X 1 in
Shipping dimensions:
352 pages, 10.5 X 8 X 1 in
Published:
December 20, 2016
Publisher:
Essential Publishing, Inc.
Appropriate for ages:
All ages