The Jesus Machine: How James Dobson, Focus on the Family, and Evangelical America Are Winning the Culture War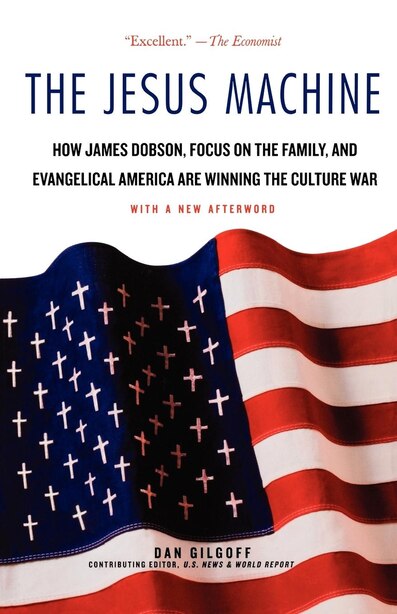 Buy In Store
Prices and offers may vary in store
Led by the immense behind-the-scenes influence of Dr. James Dobson, Focus on the Family has grown from its roots as a California radio show dispensing parenting advice to an unrivaled media ministry broadcasting on more than two thousand stations in the United States alone. Dobson has supplanted Jerry Falwell, Pat Robertson, and Ralph Reed as the political spokesman for tens of millions of American evangelical Christians--even though he is not a minister, but a family therapist with a doctorate in child development.
Dobson maintains that American political and social values are firmly rooted in Christian tradition--one that has come under siege beginning in the 1960s, as court rulings undermined the importance of religion in public policy. With the support of evangelical followers, Dobson has built a powerful political machine at both state and national levels to wage a crusade against abortion, gay rights, the teaching of evolution, stem cell research, and judicial activism.
Through painstaking research and interviews with leading evangelicals, including Ted Haggard, Jerry Falwell, Ralph Reed, and James Dobson himself, along with rare access to Focus on the Family and its affiliated organizations, Dan Gilgoff reveals the scope of Dobson's empire and its implications for the future of America.
This paperback edition includes a new afterword covering the Democratic and Republican presidential candidates--Obama, Clinton, Edwards, Huckabee, McCain, Giuliani, Romney, and Thompson--as they court Dobson and the evangelical vote in 2008.
Title:
The Jesus Machine: How James Dobson, Focus on the Family, and Evangelical America Are Winning the Culture War
Product dimensions:
352 pages, 7.83 X 5.88 X 1 in
Shipping dimensions:
352 pages, 7.83 X 5.88 X 1 in
Publisher:
St. Martin's Press
Appropriate for ages:
All ages
Look for similar items by category: