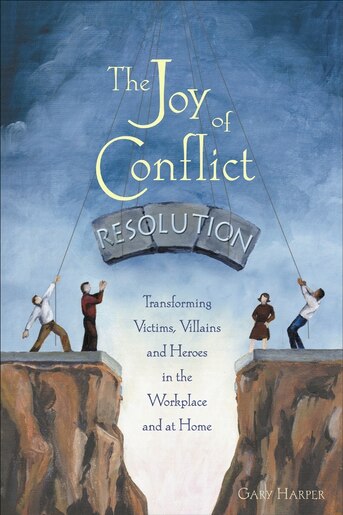 The Joy of Conflict Resolution: Transforming Victims, Villains And Heroes In The Workplace And At Home
Perfect

|

May 20, 2004
Pricing and Purchase Info
$19.95
list price
save 16%
Prices and offers may vary in store
All you need to understand the dynamics of conflict -- and the joy of resolution
The rapid rate of change in the workplace and among families often leads to conflict and confrontation which can undermine productivity and poison relationships. The Joy of Conflict Resolution helps readers understand conflict and why it arises through the lens of the "drama triangle" of victims, villains and heroes. In an accessible, engaging and light-hearted style that uses stories and humor to explore potentially emotionally charged situations, it provides proven and practical skills to move beyond confrontation to resolve conflicts collaboratively.
Title:
The Joy of Conflict Resolution: Transforming Victims, Villains And Heroes In The Workplace And At H...
Format:
Perfect
Product dimensions:
208 pages, 9 X 6 X 0.5 in
Shipping dimensions:
208 pages, 9 X 6 X 0.5 in
Published:
May 20, 2004
Publisher:
New Society Publishers
Language:
English
The following ISBNs are associated with this title:
ISBN - 10:0865715157
ISBN - 13:9780865715158
Look for similar items by category:
Preview Your Review
Your Review Has Been Submitted
NO, I do not recommend this product.
Educational/Developmental Value:
Thank you. Your review has been submitted and will appear here shortly.
Read from the Book
- 20040526
Table of Contents
Acknowledgments
Introduction
CHAPTER 1: VICTIMS, VILLAINS, AND HEROES
Fairy tales of conflict
Roles we play
Beyond the drama triangle
CHAPTER 2: LESSONS FROM THE SANDBOX
Grow up, already
My PhD advisor can beat up your PhD advisor
Themes from the playground
It''s hard to see the picture when you''re in the frame
Conflict as its own reward
The roots of defensiveness
CHAPTER 3: JUST LIKE THE MOVIES
Elements of conflict stories
What drives us?
Our conflict dramas
When did the knife go in?
The journey from confrontation to collaboration
CHAPTER 4: WELCOME TO TURM-OIL INC .
Co-workers in conflict
Black Friday
CHAPTER 5: THE ASSUMPTION ICEBERG
Book ''em, Dinah
Motive and impact
Book ''em, Dinah (revisited)
CHAPTER 6: THE WOBBLY STOOL OF CONFLICT
The three legs of conflict
Big Bob goes bananas
Diagnosing resistance
Identifying the problem
Respecting process needs
Stabilizing the emotion
Big Bob goes bananas (revisited)
CHAPTER 7: THE PERILS OF ANGER MOUNTAIN
Responses to anger
Significance of the anger arousal cycle
Strategies to defuse others'' anger
The time and place for apologies
CHAPTER 8: BEWARE THE CONFLICT GREMLINS
Strategies to manage our own anger
Get to know your gremlins
What to do about our gremlins
Listen to your inner coach
CHAPTER 9: THE POWER OF LISTENING
The North Wind and the Sun
Why listen?
Silence is golden
Proving you understand
How to get the full story
A metaphor is worth a thousand words
The importance of being genuine
CHAPTER 10: SPINNING THE STRAW OF DEFENSIVENESS
The chain reaction of defensiveness
Defining defensiveness
Spinning the gold of understanding
Forms of defensiveness: more lessons from the sandbox
Warming the climate
Doug separates the person from the problem
When you hit bedrock
CHAPTER 11: ESCAPING THE TRAP OF POSITIONS
No room at the inn for Vic
Trapped by positions
Naming the topic
The key to collaboration — interests and needs
Shifting from positions to interests
CHAPTER 12: PROBING THE DEPTHS OF CONFLICT
Shifting judgment to curiosity
All questions are not created equal
Peeling the onion for the real story
I''ll show you mine if ...
Ask only if you really want to know
CHAPTER 13: STANDING UP FOR OURSELVES (WITHOUT KNOCKING THE OTHER PERSON DOWN)
An alternative to fight or flight
Passive behavior
Aggressive behavior
"I" statements
The difficult person story
"I''m okay. They need professional help"
Describing the difficult behavior
First within, then without
The D-E-S statement
When the other person doesn''t respond
A few tips
CHAPTER 14: THE ROAD TO RESOLUTION
Preparing to meet
Doug''s preparation to meet with Marko
Steps to collaboration
The conflict resolution two-step
CHAPTER 15: TIPS FOR THE TRAVELER
Being a warrior of the heart
The inner work
Active curiosity
Focusing on specific skills
Changing the dance
Don''t go it alone
Other tips
Resources
Bibliography
Index
About the Author
Editorial Reviews
"Gary''s warmth, knowledge, and experience shine through this lively, fresh and inviting approach to conflict resolution. He guides us through the rough waters of conflict to the joy that comes when we connect deeper than our differences. Gary, is truly a Warrior of the Heart in every way." — Jerilyn Brusseau, Co-founder, PeaceTrees Vietnam "In language we can all understand and with situations we''ve all suffered through, Joy of Conflict is a must for employees, managers, parents and anyone who values their relationships with others." — Paul Choudhury, P.Eng. Manager, System Control, British Columbia Transmission Corporation "This book provides us with a new refreshing perspective, presenting difficult concepts in a very "user friendly" way which allows us to better understand the sources of conflict around us, providing practical tools that can be put to use by everyone. It is by far one of the best books I''ve seen on workplace conflict." — Jaylene Chew, Human Resources Professional "By using easy to relate to everyday stories, Gary encourages us to move from being ''stuck'' in our reoccurring patterns of conflict. The opportunities to reflect and practice at the end of each chapter makes learning new ways to respond in conflict accessible to everyone." — Pam White, Director, Centre for Conflict Resolution Justice Institute of BC "Gary Harper''s adroit use of the story-telling model and his common sense narrative approach casts a fresh perspective on the dynamics of conflict and is rich with the kind of insight that enhances problem-solving tool kits for organizations and individuals." — Kevin Evans, Vice President, Western Canada, Retail Council of Canada "This is a valuable read for anyone wanting a quick and accessible understanding of the conflict that has captured them and how to get out of it." — Gerald Monk, author of Narrative Mediation " The Joy of Conflict manages to open doors to the world of conflict and conflict resolution with humor, creativity and insight. It''s an adventure in reading and reflection that I would recommend to anyone who lives or works with anyone else." — Michael Fogel, J.D., LL.B., M.Ed. (Counselling Psychology) former judge, presently a mediator and conflict resolution/leadership educator " The Joy of Conflict Resolution and its simple portrayal of victims, villains, and heroes has enabled me effectively address issues by being aware of the role I play during a conflict. Through Gary''s illustrative humor, this book is an easy read and contains a wealth of information and tools on how to effectively deal with people. I think The Joy of Conflict Resolution would be a welcome addition to any technical support person''s daily reading." — George Young, MCSE Bentall Capital, Manager, IT Infrastructure "Gary''s story-telling approach transforms theory and experience into living colour. A wonderful approach of insight and skill development that I recommend without hesitation." — Neil Godin, President, Neil Godin International Ltd.