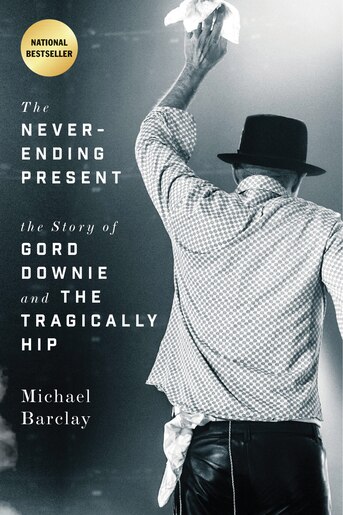 The Never-ending Present: The Story Of Gord Downie And The Tragically Hip
Paperback

|

May 7, 2019
Pricing and Purchase Info
$19.95
list price
save 13%
Prices and offers may vary in store
The long-awaited, first-ever print biography of "Canada''s band" - now in paperback!
"A clever, touching, and very informative book that may well be the definitive work on an important piece of Canadian pop culture." - Publishers Weekly, starred review
In the summer of 2016, more than a third of Canadians tuned in to watch the Tragically Hip''s final performance. Why? Partially because Gord Downie''s terminal brain cancer made the event much bigger than merely a musical occasion. But also because these five men were always more than just a chart-topping band. They defined a generation of Canadian rock music. They were a tabula rasa onto which fans could project their own ideas: of performance, of poetry, of history, of Canada itself.
Acclaimed music journalist Michael Barclay talks to dozens of the band''s peers and friends about not just the Hip''s music but about the opening bands, dealing with disease through art, Gord Downie''s role in reconciliation with Indigenous people, and the Hip''s role in Canadian culture. It''s a book for those who have always loved the Hip, and for everyone else. As Downie said at that final show watched by millions, "Everyone is invited. Everyone is involved."
Title:
The Never-ending Present: The Story Of Gord Downie And The Tragically Hip
Format:
Paperback
Product dimensions:
504 pages, 9 X 6 X 0.68 in
Shipping dimensions:
504 pages, 9 X 6 X 0.68 in
Published:
May 7, 2019
Publisher:
ECW Press
Language:
English
The following ISBNs are associated with this title:
ISBN - 10:177041469X
ISBN - 13:9781770414693
Look for similar items by category:
Preview Your Review
Your Review Has Been Submitted
NO, I do not recommend this product.
Educational/Developmental Value:
Thank you. Your review has been submitted and will appear here shortly.
Read from the Book
Day for Night Jimmy McDonough: "Did you want destroy your audience as soon as you got it?" Neil Young: "Turnover. Like in clubs where they turn over the audience. Did you ever notice that if the same audience stays, the second set usually isn''t as good as the first set? But if they turn the audience over, the second set could be better than the first set? Because with me that''s the way it is." -- Rock''n''roll should make you scared. It''d kinda what it does. Scared with the thrill of intoxication, of sexuality, of danger, of staring into either the darkest abyss or the most blinding light. If you''re the money man, however, your greatest fear is that the record just won''t sell. When Allan Gregg first heard Day for Night, he called Jake Gold. He told him, "Look, ''Nautical Disaster'' is a radio hit. The rest is almost unlistenable. They''re not finished. They have to go back into the studio." Gold brought this news to the band. It did not go over well. A meeting was called. "This is the finished record," the band insisted. Then, being Canadian, they offered Gregg a gentle out: "We think it might be better to have you as a friend than as a manager." Gregg was ready for this news. He''d had a hell of a year, during which the Hip''s ascension was the only good thing going for him. In the fall of 1992, he led the failed referendum campaign in favour of the Charlottetown Accord. One year later, he was campaign manager for prime minister Kim Campbell''s election campaign, in which the governing Progressive Conservatives were driven to a fifth-place finish in the general election, threatening to wipe the founding political party of the country off the map. On top of that, he was surrounded by cancer: both his father and his best friend died of it, and his wife was diagnosed. He wasn''t totally happy with recent band decisions, either: they had gone to Australia and filmed a video for "At the Hundredth Meridian" that Gregg thought was a "fucking abomination." He was exhausted. So when the Tragically Hip dropped off a mysterious, murky album on his desk with no obvious singles, he was less than receptive. "Look," he told them at the band meeting, "at the end of the day, your fucking name is on this record-not mine. If you can live with this shit, that''s up to you. But I won''t have any part of it." Though he remained a financial partner with Jake Gold in the Management Trust, Gregg receded into the background and didn''t have any direct involvement with the Tragically Hip again. Day For Night sold 300,000 copies in the first four days of its release on Sept. 6, 1994. It went on to sell 300,000 more. (Fully Completely, by comparison, took three months to sell its first 200,000 copies.) It spawned six radio singles and four videos. In February 1995, it allowed the band to launch the biggest-ever tour of Canada by a homegrown band, playing the arenas in ever major market, sometimes with multiple dates; it was a feat they would repeat two years later. It was by no means a sure bet; Allan Gregg had every reason to be antsy. The Tragically Hip had gone dark. It''s right there in the title. They left the radio-ready ways of Fully Completely behind and made a sludgy record that was more Eric''s Trip than Tom Cochrane. They could have gone bright pop. They could have cashed in and gone grunge, playing catch-up with Pearl Jam. They could have wrapped themselves in the flag. They didn''t. Because of Fully Completely''s blockbuster status, the Hip found themselves in a position to indulge. For the first time in their career, they were not eager to please. It was time to roll the dice. -- An artist''s first album after a massive success is always tricky. Do you try to climb the same mountain? Do you try to climb a similar mountain? Or do you try deep-sea diving instead? Fleetwood Mac''s Tusk. Prince''s Around the World in a Day. Bruce Springsteen''s Tunnel of Love. REM''s Automatic for the People. Nirvana''s In Utero. Radiohead''s Kid A. All those records rejected a formula that had reaped considerable commercial reward just a few years before, a formula that made all those artists household names. All those records were welcomed by a collective WTF, only to embraced as classics, some sooner than later. The Hip didn''t necessarily know what they wanted, but they knew what they didn''t: a repeat of the Fully Completely experience. Downie had described the London studio where it was made as a "fairly sterile environment," and that they "were lucky enough to pull a record out of it that we liked and had some sense of atmosphere. We vowed never to do that again." They knew who they wanted to help them shake up their sound. The choice was obvious: Daniel Lanois, with whom they''d toured on the 1993 Another Roadside Attraction tour. His first two solo albums, Acadie and For the Beauty of Wynona, were Hip favourites. And, obviously, he''d made three of the biggest international records of the last 10 years: Peter Gabriel''s So and U2''s The Joshua Tree and Achtung Baby. Not to mention Robbie Robertson''s solo album, the Neville Brothers'' Yellow Moon, Bob Dylan''s Oh Mercy, and a slew of great Canadian new wave records in the early ''80s (Martha and the Muffins, Parachute Club, Luba), as well as his work with Brian Eno on ambient music. The biggest new rock band in Canada working with the country''s most internationally acclaimed producer: it seemed like a perfect fit. Except that Lanois turned them down. But the Hip were also friendly with Lanois''s right-hand man, engineer Mark Howard, who was responsible for helping Lanois translate his ideas to tape, and also assisted in setting up studios in wonderfully weird parts of North America. It was Howard who, during the first Another Roadside Attraction, recorded the "Land" single in Calgary, featuring Midnight Oil, Crash Vegas, Lanois and the Hip. Watching him work was a revelation after Fully Completely, which Howard says, "was just a common way of making records. They hated it so much. When they saw how I made that song with them on the road, it opened their eyes to thinking, ''Wow, we could make a whole record like this.'' " The Hip decided to go back to New Orleans and hire Howard as co-producer. After years under Lanois''s wing, this was his first production credit for a major client. Lanois wasn''t around; he and Howard had just finished setting up shop in a Mexican mountain cave. "The walls were all natural rock and there was a grass roof over it and it looked over the Sea of Cortez," says Howard. After making that new studio functional, Howard flew back to New Orleans and started work on what would be Day For Night.
Table of Contents
Intro
Chapter One: Beginnings
Chapter Two: Up to Here / Road Apples
Chapter Three: Tribute bands
Chapter Four: Fully Completely / Another Roadside Attraction
Chapter Five: American albatross
Chapter Six: Day For Night / Another Roadside Attraction II
Chapter Seven: Machismo and femininity in performance
Chapter Eight: Trouble at the Henhouse / Live Between Us / Another Roadside Attraction III
Chapter Nine: Hipped? Check.
Chapter Ten: Phantom Power/ Music @ Work
Chapter Eleven: "It''s better for us if you don''t understand."
Chapter Twelve: Coke Machine Glow
Chapter Thirteen: Poetry
Chapter Fourteen: In Violet Light/ Battle of the Nudes / In Between Evolution / That Night in Toronto / Greatest Hits
Chapter Fifteen: Surviving as Canadian classic rock band
Chapter Sixteen: World Container / We are the Same
Chapter Seventeen: Next generations
Chapter Eighteen: The Grand Bounce / Now for Plan A / Sadies album / Fully Completely
Chapter Nineteen: 2016: Man Machine Poem / tour.
Chapter Twenty: Cancer and other curses
Chapter Twenty-One: Secret Path and reconciliation
Chapter Twenty-Two: Aug. 20, 2016
Epilogue: the aftermath
Editorial Reviews
"Barclay''s remarkable chronicle of the Tragically Hip is as wide as it is deep. He sets down their story with a historian''s care and an artist''s rambling curiosity, revisiting each note with wit, expertise and so much heart. It''s eminently readable, clever and funny - what an achievement." - Sean Michaels, Giller Prize-winning author of Us Conductors "Laying out the history of the band from the early years of its members and its founding in Kingston in the 1980s through to Downie''s final weeks, The Never-Ending Present is indeed as definitive a work on the band as anything that exists, and stands on its own against last year''s excellent documentary of the band, Long Time Running." - Winnipeg Free Press "Barclay combines his admiration of the band with his knowledge of the music industry to make a clever, touching, and very informative book that may well be the definitive work on an important piece of Canadian pop culture." - Publishersweekly.com starred review "As a fan, this is an immensely pleasurable read, full of anecdotes, info and lyrical insight I had never seen before. Curious, casual fans ?and serious Hip heads will find so much to love about this book. This is a monumental, definitive chronicle of the band." - Stephen Dame, HipMuseum.com "The Never-Ending Present climaxes with that exclamation mark, that night in August 2016, and even though the material borrows heavily from Barclay''s in-depth reporting and the time for Maclean''s, I minded little; it was appointment reading for me then, and it is a full and evocative accounting of the occasion now. It helps to explain why an event that had every reason to seem sad and funereal instead ended up indeed feeling like ''a national celebration.''" - Literary Review of Canada